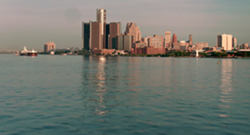 What does the future of food in Detroit look like?
That's a question that opens up discussions on all sorts of sometimes
uncomfortable topics
on race, power, control, gentrification, ownership, diversity, media coverage, and other topics that often get lost beneath some of the surface hype and business-food stories about the "7.2".
It's also a conversation that involves celebrating all the positive steps taken by the city's collective food community and the huge of growth its seen in all directions in recent years.
On Monday, Build Institute and FoodLab Detroit are co-hosting an Open City panel discussion at Common Pub with leaders in different areas of Detroit's food scene who will talk on such topics, while also appreciating the progress. A program of Build Institute, Open City is a monthly networking forum that convenes aspiring and experienced entrepreneurs.
As put on social media, the event is designed "To celebrate, and most importantly to push the conversation further than 'What's the hot new restaurant?' We want to bring together a panel of provocateurs who are actually moving the needle in exploring more healthy, fresh, delicious, affordable and environmentally friendly food options for all of Detroiters."
The talk is moderated by Russell Street Deli co-owner Ben Hall. Panelists include Malik Yakini, executive director of Detroit Black Community Food Security Network; Maxcel Hardy, president and founder of Hardy Hospitality Group; Lester Gouvia, owner of Norma G's Caribbean Cuisine; and Edrique Goudia, co-owner of Gabriel Hall.
It's a time to cheer, and it's a time to maybe feel a little uncomfortable, which is a good thing. Join in at 6 p.m. at Common Pub at 5440 Cass Ave., Detroit.