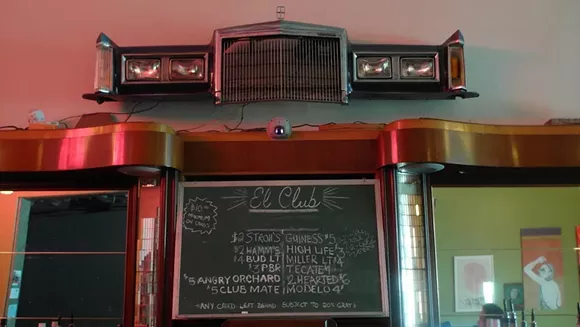 When your average bar food just won't do, a number of watering holes are offering up some creative alternatives.
First up, we have the updated menu from pizza maker Matt "Pepe Z" Ziolkowski at El Club.
Among more intriguing 'zas, a "green" pizza, specifically the West Vernor Taco Truck - topped with carnitas, radish, cilantro, pickled jalapeno, onion, cotija cheese, salsa verde sauce, and a lime wedge garnish.
Clearly a nod to the many taquerias that dot the neighborhood, the West Vernor just might make for the perfect meal when paired with a rock en español show.
Elsewhere downtown, Café D'Mongo's speakeasy has introduced a rotating series of "gourmet" grilled cheese sandwiches with Detroit-centric names like The White Boy Rick, made with 313 white bread from Avalon, white cheddar, fontina, and Havarti cheeses.
Meanwhile, we've been hearing good things about the new sammies and loaded fries at the new Black Eagle inside the Bosco lounge in Ferndale. We were particularly curious about one of the spot's December offerings, the "Roseanne" (as in the popular 90s sitcom). With loose ground beef, American cheese, mayo, pickle, onion, and a special sauce,
it actually reminds us of the NYC bodega cult classic, "chopped cheese."
We've got all three of these munchies on our radar, and will be sure to check them out during our next pub crawl.
El Club is at 4114 Vernor Highway; D'Mongo's, at 1439 Griswold; and Black Eagle is at 22930 Woodward in Ferndale.

See also:
El Club kids find a sweet pizza with Pepe Z

See also:
One-Eyed Betty's chef leaves to start pop-up at the Bosco