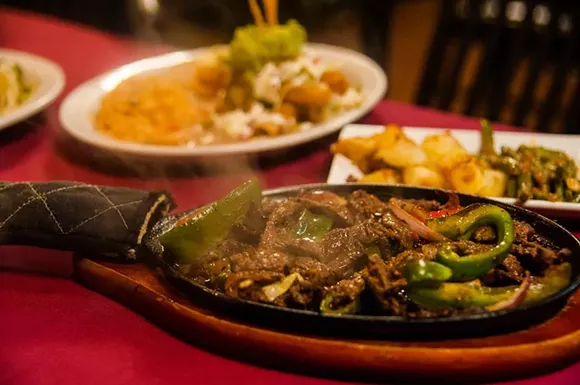 El Asador chef-owner Luis Garza is making a slight, but significant adjustment in his kitchen that, given our region's huge Muslim population, seems just fit: he's going halal.
Starting Jan. 31, the southwest Detroit Mexican steakhouse menu will offer most of its signature dishes in the traditional method, which means abstaining from the use of alcohol, pork, or meat that's not been slaughtered in accordance with Islamic law. Only the pork chorizo will be non-halal, which Garza assures will be cooked separate from other dishes.
Garza says he decided to make the switch after talking with some of his Muslim customers, who told him they loved the spot's vegetarian and seafood options, but could not partake in the strips, fajitas, and other beef and poultry dishes that are popular to the menu.
This is just another sign that brown people of all ethnicities play an increasingly influential role in our food culture. And in southwest Detroit in particular, where taquerias and shawarma shops are just about as commonplace as Coneys, it just makes sense.
Nationally, halal food is a $20 billion business,
according to Bloomberg,
with retailers from Whole Foods to Kroger offering halal-friendly options.
Halal-centric menus have long been the norm in the many Arabic and South Asian-owned eateries. And in cities like Dearborn and Hamtramck, we've got a number of cool hybrid spots like Brome Burgers and Amar Pizza that cook American food with a Muslim twist.
Saeed Khan, a professor of Asian and Near East studies at Wayne State University, says the trend is appealing for folks, not just for religious reasons, but for those who prefer an ethical, organic, and clean manner of meat slaughter.
"It's becoming more common because of market forces," he tells us. "It just goes to show that economics, ahem, 'trumps' ideology."
Combining the emerging popularity of halal food with Mexican - already among America's most beloved cuisines - is a natural next step in our dining scene.
El Asador is at 1312 Springwells.
See also:
Brome Burgers & Shakes
See also:
Amar's famous ghost pepper pizzas are expanding to the suburbs