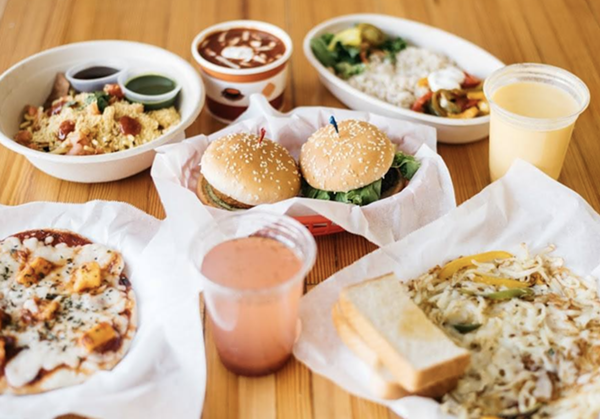 Veg-O-Rama owner Prafulla Kharkar has big plans for his vegetarian Indian fusion fast food restaurant — he tells
Metro Times
he wants to see it grow into a national chain that rivals McDonald's. Following the success of his first location in Ypsilanti, he's starting down that path with a new store in Canton.
The second Veg-O-Rama will open near the end of February at 44930 Ford Road, with locations in Farmington, Royal Oak, and Detroit to follow at some point after. Once four shops are open, Kharkar says he will begin franchising.
He says his shop has been well received and will continue to be successful, because "70 percent of customers are meat consumers."
"We don't want to be restricted so just vegetarians eat here. We want to sell good food so everyone can join it," says Kharkar, an entrepreneur who previously launched
several information
technology companies and ran those until he began cooking about seven years ago, finding more fulfillment in that.
Expect the same menu as what's at the Ypsilanti location, which Veg-O-Rama just expanded from 30 to 75 items, and now includes a range of vegan dishes, vegan smoothies, and vegan milkshakes. Kharkar notes that all but four items on it are vegan.
The restaurant's main attraction is its burgers, with options like the Golden Crunchy Bird's Nest Burger, which is a patty of coleslaw, chickpea flour base, and Cajun spices; The Love Seed Beet Them All is prepared with shredded beets, roasted sunflower seeds, flax seed, buckwheat, chickpea flour, and spices; and the Golden Crunchy Potato Burger is made with potatoes and Indian spices.
Subs include options like the Tamarind BBQ Jackfruit
Sandwich,
and a section devoted to "pizza/bowls/wraps" that offers choices like spicy Manchurian and butter paneer. At breakfast, Veg-O-Rama serves dishes like the "Amazing Indian Tomato 'Omelette.'"
So many restaurants, so little time. Find out the latest Detroit dining news with our weekly food newsletter delivered every Friday morning.