According to cocktail lore, what we have come to know as the Bloody Mary may have been an accident. Though the Bloody Mary started making the rounds in the 1930s, it is believed that one Fernando Petiot invented the drink on a whim in 1921 while working at the New York Bar in Paris. At the time the drink consisted of only two ingredients — tomato juice and vodka.

We don't have to tell you how far we've come since those days. In fact, we'd rather show you. "Extreme" may be in the eyes (and mouths) of the beholder, but we think you'll agree that these five Bloody Marys are pushing it to the limit in metro Detroit.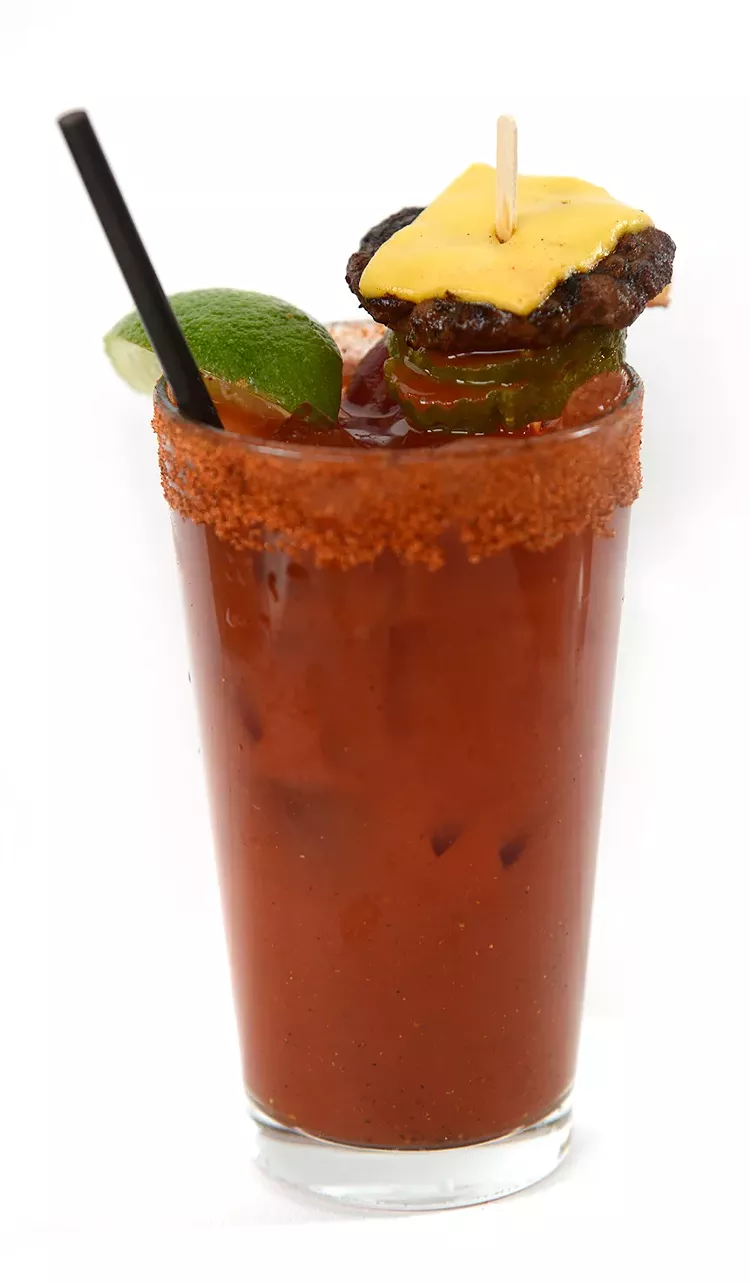 Vinsetta Garage
Secret Menu Bloody Mary, $11
This Bloody Mary has a bite — a bite-sized burger, that is. Vinsetta Garage's Bloody sports a cheeseburger slider (sans bun) as the mouth-watering garnish, along with cheddar cheese, pickles, and bacon. The Sriracha-centric blend leans on the spicy side and calls to mind a sophisticated sloppy joe. Vinsetta Garage offers its Bloody with either Valentine's Vodka or Two James Whiskey if you're feeling completely off the rails.
Vinsetta Garage is located at 27799 Woodward Ave., Berkley; 248-548-7711; vinsettagarage.com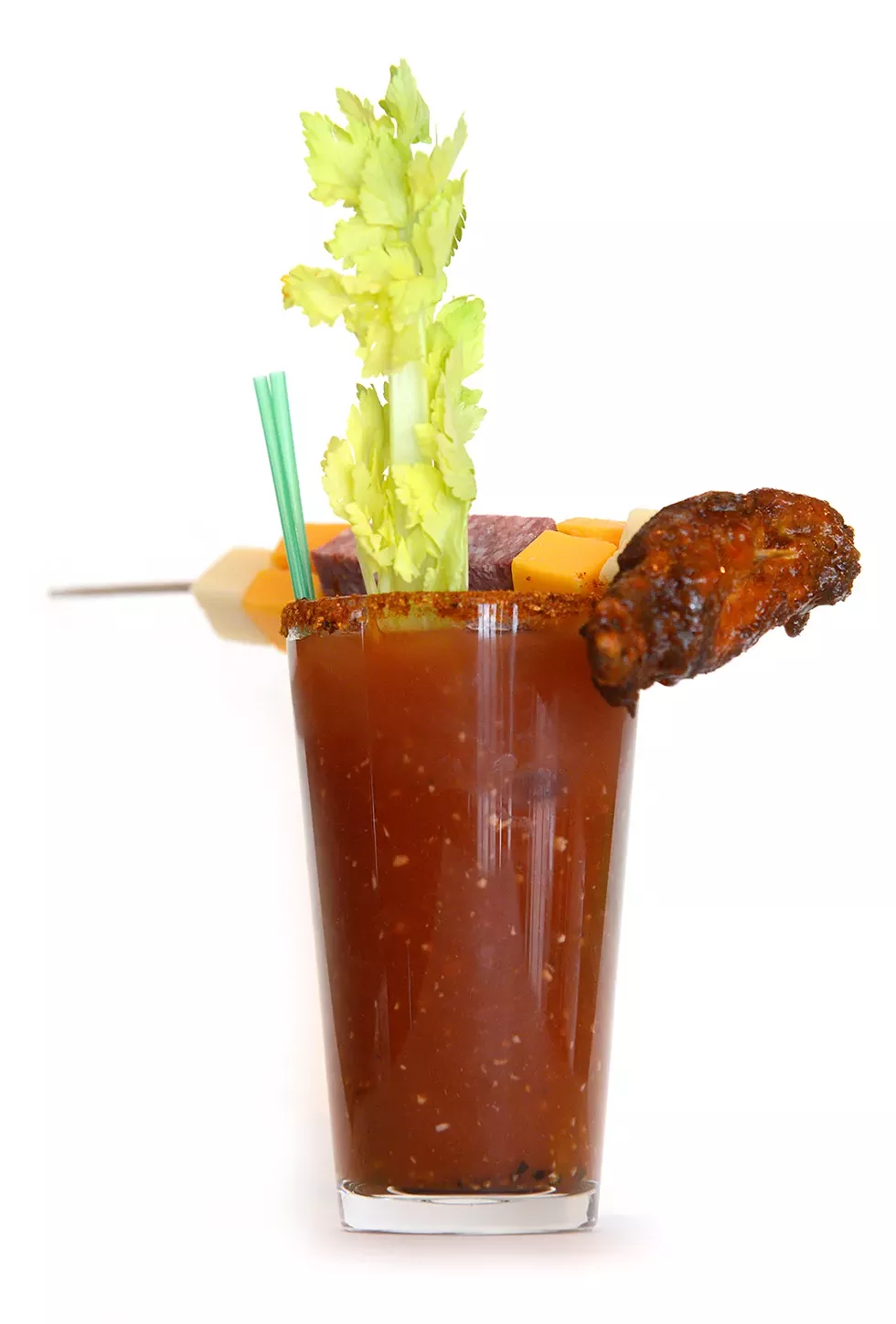 Sweetwater Tavern
Grandpa Steve's Famous Bloody Mary, $9.25
Don't bother asking what makes Grandpa Steve's Famous Bloody Mary so damn special. Like the tavern's famous chicken wing recipe, it's a secret, and to be honest we don't want to know — we just want more. Sweetwater's Bloody Mary is topped with celery and a pickle, and the skewer consists of alternating aged swiss and cheddar cheese cubes, salami, and a chicken wing. The wings, which are delivered fresh from Eastern Market daily and marinated for 24 hours, elevate the smoky spice of the Bloody Mary mix. Pro-tip: Toss your chewed up chicken bone into the glass for an added kick.
Sweetwater Tavern is located at 400 E. Congress St., Detroit; 313-962-2210; sweetwatertavern.net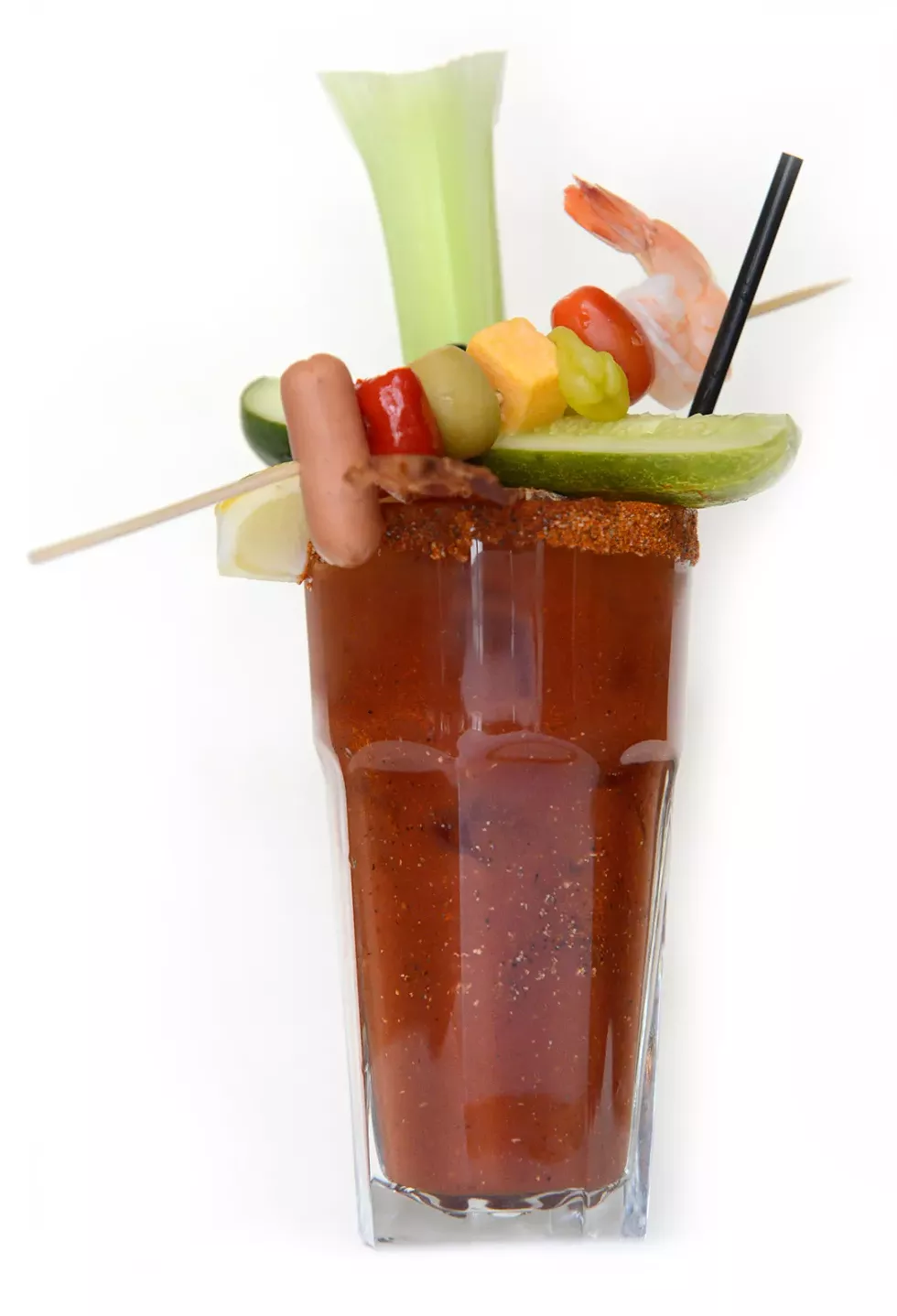 Grand Trunk Pub
Hair of the Dog, $15
Grand Trunk Pub's Hair of the Dog Bloody Mary is a peppery, savory blend — and it's potent. Made with an Old Bay, worcestershire-heavy house-made mix and Ugly Dog Bacon Vodka, Hair of the Dog is all bite. The skewer — thoughtfully arranged from shrimp to cocktail weenie — compliments the burn of the Bloody. Add tomato, pepperoncini, olive, red pepper, a pickle spear, cheddar cheese, lemon and lime slices, and a celery stalk (along with a Full Circle beer back), and you'll want to snap some photos before you dive in.
Grand Trunk Pub is located at 612 Woodward Ave., Detroit; 313-961-3043; grandtrunkpub.com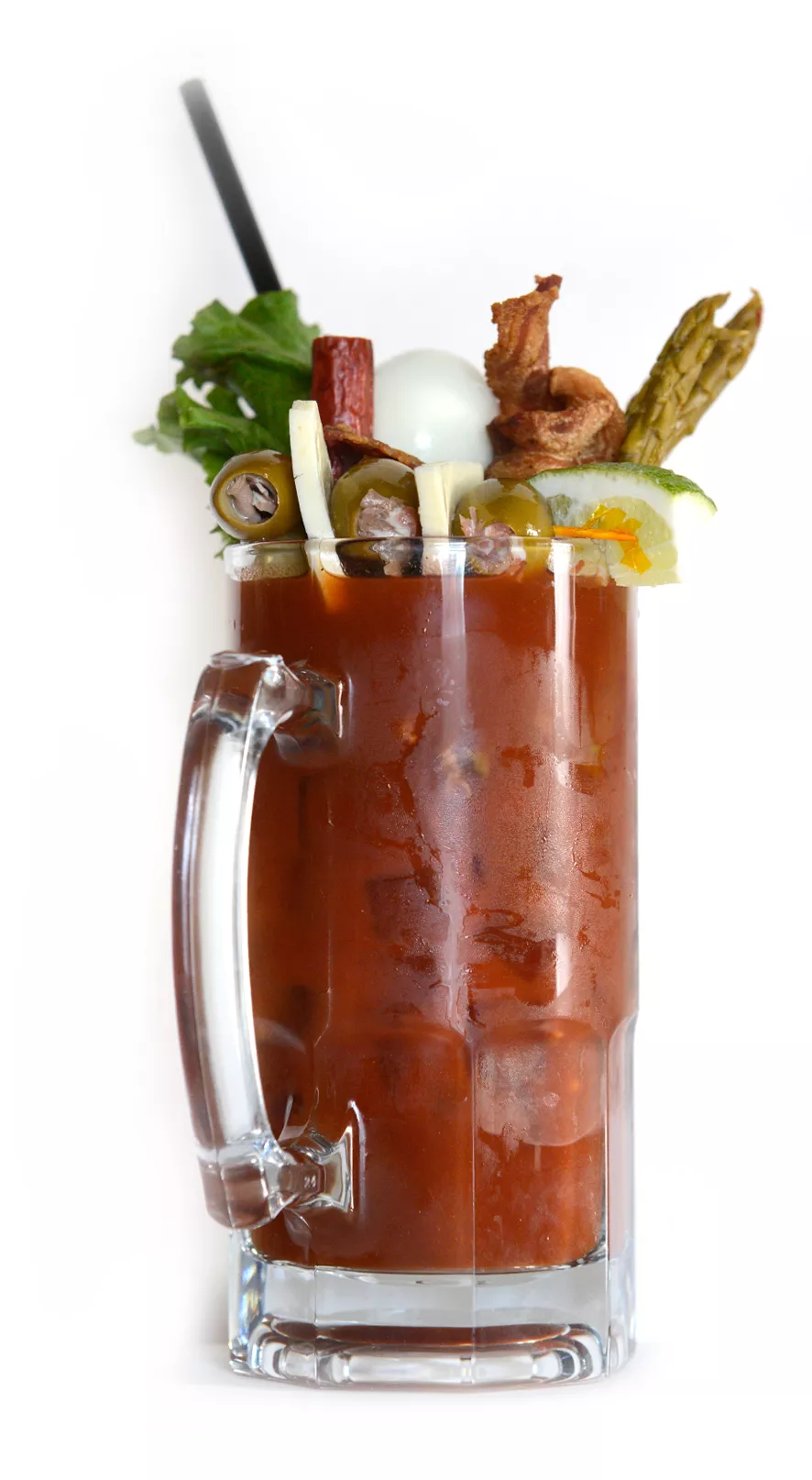 Vivio's Food & Spirits
The Big D, $20
Two words: Meat. Straw. OK, so we'll need more than two words to describe the bountiful monstrosity that is Vivio's Big D. At 32 oz., your best bet is to bring your face to the mug as lifting it risks injury. Yes, this bad boy comes with plates and silverware — you'll have to eat your way to the bottom, as the Big D is topped with a colony of bacon, a crispy lettuce leaf, spicy asparagus spears, prosciutto-stuffed olives, sliced provolone, a meat straw, pickle spear, and even a hard boiled egg nestled among the jungle of flavor. But the Big D wows most with the flavors of the Bloody itself. The secret? Vivio's unique vodka infusion process.
Vivio's Food & Spirits is located in Eastern Market at 2460 Market St., Detroit; 313-393-1711; vivios.net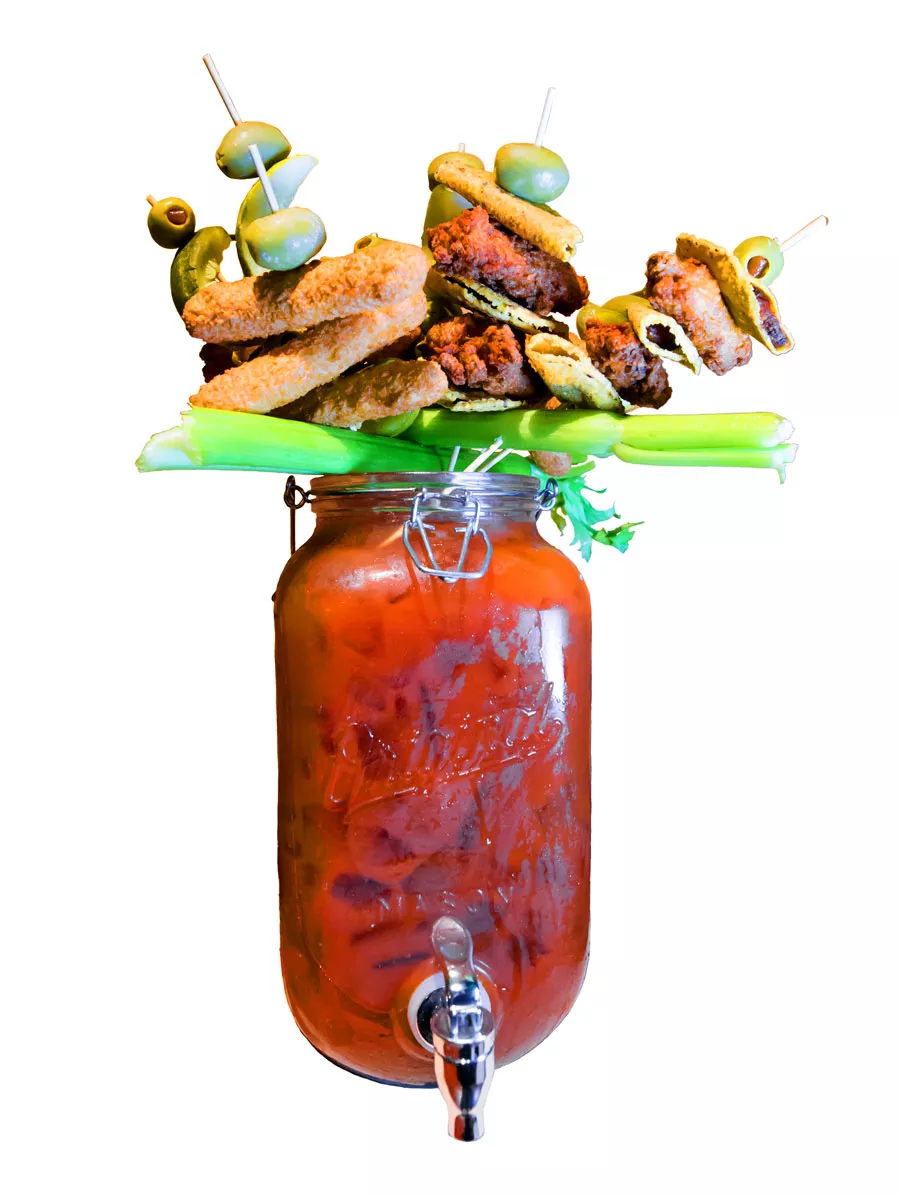 Mallie's Sports Grill & Bar
Monster Bloody Mary, $39.99 or $49.99 for premium vodka
Mallie's Sports Grill & Bar is no stranger to breaking records, rules, or diets. As the home of the 2-pound taco, the 10-pound burger, and the Guiness World Record for largest commercially available burger clocking in at nearly 1,800 pounds (and a $9,000 price tag), it's no surprise that Mallie's would destroy the extreme Bloody Mary competition. Enter the "Monster Bloody Mary." The Zing Zang mix is served up in a 1-gallon vat with a spout for sharing, and the Monster is topped with 10 skewers, all of which use celery stalks to brace the weight of the mess of mozzarella sticks, olives, pickles, chicken wings, and mini-tacos that adorn alternating skewers.
Mallie's Sports Grill & Bar is located at 19400 Northline Rd., Southgate; 734-287-0800; malliesgrill.com
Other honorable libations
Brooklyn Street Local
Virgin Mary, $3.50
You won't find any booze in Brooklyn Street Local's Virgin Mary — which makes it the perfect hangover cure.
1266 Michigan Ave., Detroit; 313-262-6547; brooklynstreetlocal.com
Toast Birmingham
The Garden Mary, $11
If you steer away from spice, look no further than Toast's ultra-refreshing Garden Mary, made with dill-cucumber infused vodka.
203 Pierce St., Birmingham; 248-258-6278; eatattoast.com
Gold Cash Gold
Pickle Juice Bloody, $9
Almost every Bloody Mary you find comes with a pickle. But how many of them contain pickle juice in the mix? Gold Cash Gold's pickle juice cocktail is a top pick for pickle lovers.
2100 Michigan Ave., Detroit; 313-242-0770; goldcashgolddetroit.com
Union Street Detroit
Bloody Mary bar, $9
You want it your way? Union Street's Bloody Mary bar allows you to find the perfect mix of sweet and savory. Glazed bacon strips, waffle squares, and hard boiled eggs are among the topping choices available — not to mention every pickle, sauce, and spice you could dream of.
4145 Woodward Ave., Detroit; 313-831-3965; unionstreetdetroit.com