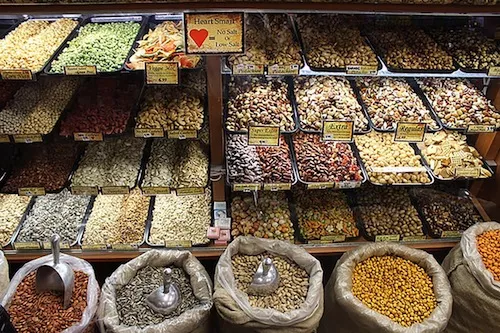 Here's something we like to show off: A story in a nationally read media venue that takes a favorable look at metro Detroit. In this case, it's a piece last week in
Eater
, and the article is an upbeat, appealing feature story about how Arab-Americans are at the center of a rising food scene.
It's a story, specifically, a photo essay, about how immigration from the Middle East is helping our area as industrious newcomers open businesses, especially related to food. The photos show several Detroit-area businesses, including Saad Wholesale Meats in Eastern Market, the largest butcher of halal meats in metro Detroit, but much of the coverage and photography is of businesses in Dearborn.
Arabic immigrants helped Dearborn deal with the disinvestment it faced when its European ethnics began moving north and west from the city's east side. It's a process that I, personally, remember. The very last of the old-fashioned businesses along Greenfield and Warren were closing, unless they'd been bought by Arab-Americans, who'd often sink their family's fortune into buying a business and getting it running. The story even references Warren Avenue's old
Camelot Theatre
, where I sat through G-rated pictures as a kid; it's now the sprawling, block-wide
SuperGreenlandMarket
.
One expert quoted in the article estimated that there are 200 Arab-owned businesses along Warren Avenue alone, and about half of them connected to food. That's something
we've pointed out before
, as when the
Yalla Eat!
tours, sponsored by the Arab American National Museum, introduce groups to the wealth of restaurants, groceries, sweets shops, and markets on Dearborn's east side.
Of course, some people just can't be pleased, and complain about how the "old neighborhood" has changed. Many of them are the same people who decamped from Warren Avenue for points distant. Perhaps they would have preferred Warren to resemble Chene in Detroit, where almost none of the businesses have found new owners to breathe life into them? They'd rather we had fewer people to open job-creating businesses where workers can live the American Dream?
Yes, it's a ludicrous proposition, but such outrageous sentiments get aired day after day, from xenophobes living in Livonia to President-Elect Trump. Luckily, this stand-out photo essay in Eater shows a vibrant community we'd count ourselves lucky to see more of.