You might have seen the recent video: A grizzled and exuberant Easter Bunny (played by Detroit actor and friend of Metro Times Jimmy Doom), decked out in a beer-spattered pink onesie and faux fur, races pell-mell down an undisclosed brick-lined Detroit alley. In his hands, he clutches cases of beer that almost spill from his grasp as he sprints along, grinning maniacally. It's a brilliant spot by the folks at Doner, and it's helping launch a new generation of dad beers.
Once upon a time, Detroit was full of cheap, German-style pilsner and lager producers. Names like Pfeiffer, Goebel, and, of course, Stroh's dotted the liquor store shelves and provided easy drinking long before anyone uttered the phrase "session IPA." Lawnmower beers, some call them.
When partners Carl Erickson, Eric Stief, and Pat Kruse got together to brew a new beer, they had this kind of drinking experience in mind. The trio grew up together and had one favorite lager on their canoeing trips years ago: Altes Beer. Founded more than 100 years ago, the brand stopped brewing in Detroit in 1974, at the height — or depths, really — of beer consolidation that gobbled up most of the other old Detroit beer brands. By the 1990s, it was discontinued.
But Stief, Erickson, and Kruse were determined to bring back their beloved Altes. Stief had an undergraduate degree in food engineering from MSU and a long-ago internship at one of Maryland's first craft breweries, Wild Goose. Erickson and Kruse brought 20 plus years of business and legal acumen. All three were lifelong metro Detroiters with a love for the Detroit of the '60s, '70s, and '80s, back when Altes sponsored the Detroit Tigers and Lions.
They brewed their Bavarian-style lager at home in the beginning, then moved over to Traffic Jam & Snug for a trial run that lasted several years. This winter, after years of tweaking the recipe, they began large-scale production and canning at Brew Detroit.
Using imported German hops and 100 percent barley, Altes aims to re-create the type of beer Detroiters drank a hundred years ago, when European — and especially German — brewmasters dictated tastes. "Frankly, it was the kind of beer that the European immigrants who built the auto industry would've been drinking," says Stief. The flavor is a throwback to the Bavarian-style beers popular in the industrial Midwest through most of the 20th century: simple, crisp, and relatively uncomplicated in flavor.
At 5.2 percent ABV and an IBU (International Bitterness Unit) of just 23, Altes is dramatically different from the dry-hopped IPAs currently dominating tap handles around town. With a frothy head and a malt-forward flavor (a result of all that barley), Altes is a meticulously re-created version of your granddad's favorite no-frills suds. "I think a lot of people still enjoy the craft IPAs and barrel-aged beers, but they might want to drink two or more," says Erickson. "That's where we come in." It's an American craft approach to a German Helles lager.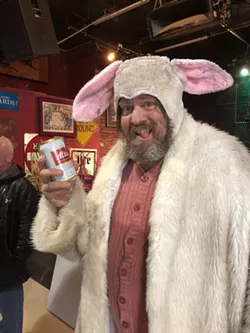 Given the trio's collective love of old Detroit beers and the nostalgic impulses of Detroiters, it was serendipitous that the Altes label and copyright were free and clear. Forming the Altes Detroit Brewing Company, Kruse, Erickson, and Stief got to work scaling up the product for wider distribution.
Believing that, as Stief says, "the brand will sell the first glass, the product will sell the second glass," the Altes team waited until both the marketing and the brewing process were fully ready before their first major event. On Tigers Opening Day this year, Nemo's in Corktown offered one single keg of Altes beer. It sold out in 89 minutes.
"I swear there's an emotional pull to this because people haven't tasted it in a long time, and this just brings them back" to their earlier memories, Stief says — at least for the over-40 crowd who remember Altes in the first place. They're counting on younger drinkers, too, though, with their Detroit-focused marketing and placement in key bars and liquor stores in nine southeast Michigan counties.
April 20 marked the official launch of Altes beer. Banking on the tag line "A Detroit Tradition Restored," Altes hosted a chaotic beer hunt at the Old Miami on Easter Saturday, with more than 300 cans and cases hidden in the yard, bar, and bathrooms.
It took about 10 minutes for participants to find all of the cans, and a few scraped knees were recorded — including that of the Altes Bunny himself. He is reported to be recovering well.
Altes beer can be found at the Old Miami and other bars in southeast Michigan, as well as at select liquor and grocery stores, through Rave distributing.
So many restaurants, so little time. Sign up for our weekly food newsletter delivered every Friday morning for the latest Detroit dining news.