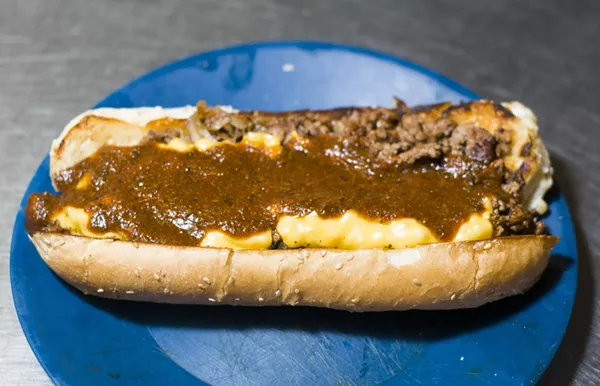 A dish with a name like "Boogaloo sandwich" is going to compel to most to ask "What is
that
?"
Someone in the know might tell you, or a little bit of quick research will reveal, that it's a gourmet sloppy Joe, a loose burger, a barbecue sandwich, a hoagie, or a Detroit-style sloppy Joe. But that's underselling it in the same way that calling a coney dog a "chili dog" doesn't quite do the coney justice.
Indeed, the Boogaloo is something more. While simple like a sloppy Joe, there's far more depth to the sauce, and that's showcased in the otherwise basic equation. It's pretty evident that someone who knows something more than Manwich is behind the Boogaloo.
That someone was Brothers Bar-B-Que co-owner Jean Johnson. Sometime during the late '60s she invented the sandwich in the well-loved barbecue spot, which ran locations downtown and in Northwest Detroit. For a few decades, everyone from downtown residents and businessmen to kids from Northwest's Mumford High School went to Brothers for the Boogaloo.
At the time, Johnson assembled the sandwich with ground pork (it's now typically made with beef), sautéed onions, and melted American cheese on a grilled, eight-inch sub bun. But the component that set it apart then and now is mixed in with the meat — Jean's Sauce of The Islands. Jean's is a tangy, herby, slightly sweet tomato-based sauce with a little kick and perhaps a Jamaican element in there. Some might place it in the same condiment phylum as barbecue sauce, but labeling it such wouldn't be accurate.
Overall, the Boogaloo is bolder and slightly more sophisticated than its loose and sloppy cousins.
It became so popular that it even got a mention in 1988 in the
New York Times
: "Just across the street from the gleaming Renaissance Center, Brothers has an atmosphere that is strictly Down Home. Pork ribs are the specialty, slathered in Jean Johnson's sweet, spicy Sauce of the Islands. Another favorite is the Boogaloo sandwich - French bread filled with ground pork, cheese, onions, green peppers and sauce."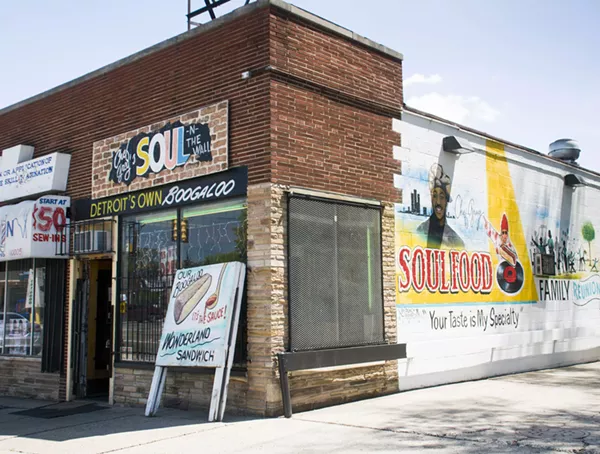 But Brothers closed sometime in the mid-'90s, and with it the Boogaloo disappeared from Detroit's foodscape. Local lore suggests imitations surfaced from time to time, as they did during Brothers' tenure, but it seemed the Boogaloo remained a thing of the past.
That is, until around a decade ago. In 2007, Greg Beard opened Greg's Soul "N" The Wall in the tiny brick storefront that used to house Brothers on Curtis near Wyoming Road. At the outset, Soul "N" The Wall didn't offer Boogaloo sandwiches. But a few years after opening, two customers from the shop's Brothers days ordered one, prompting Beard to think, "Maybe I should revive the the Boogaloo."
Which is awesome, because there's perhaps no one under the sun better suited for the task than Beard. He's animated, speaks fast, and is full of one-liners. He's passionate about cooking, his Northwest neighborhood, and the city's history. He's worked in kitchens around the country, is a trained chef who knows his stuff, and he has bigger plans.
In short, he's lively, fun, bold, and one-of-a-kind, much like the Boogaloo.
In the brick storefront — which is covered with colorful signage and murals of Beard and the Boogaloo — Beard's counter-man, Floyd, cracks jokes with the customers and Beard. He relentlessly razzes me for only requesting an interview with Beard — Floyd insists he's the real story here. Every now and then Beard takes a moment from cooking the succession of carryout orders to join in on the joking. There's a lot of laughter in Soul "N" The Wall, and it's easy to see why there's steady carryout traffic here.
But it wasn't the new home of the Boogaloo until Beard did what most seemed to think was impossible — he cracked the Jean's Sauce Of The Islands code, mostly.
As Beard tells the story, "People came in and said 'That Boogaloo was the bombest sandwich around — I wish that sandwich would make a come back.' So I went into the lab, started getting creative, started going through trial and error, telling people 'OK, taste this, taste that, taste this, taste that.' People said 'Oh, yes, this is it!' I'm talking about true Boogaloo people who are 40, 50, 60 years old. They tried the sandwiches and they said 'Oh, yes! This is it! Yes, this is it!'"
What is it, exactly? Beard won't say. He tells me molasses is one of the secrets, as is garlic. But beyond that, it's a tough guess. There's a lot going on, and he highlights that by having me take a big spoonful of the deep red sauce and pouring it on the back of my tongue.
"Let it melt across your tongue," Beard instructs. I do, and when my eyes widen as my taste buds try to processes the busy sauce, he smiles big and nods. "See, I told ya."
It should also be noted that though Soul "N" The Wall is a carryout spot, it isn't fast food. Sandwiches are cooked to order, the sauce is made from scratch with fresh ingredients, and Beard buys his bread from Warren's Tringali's Bakery.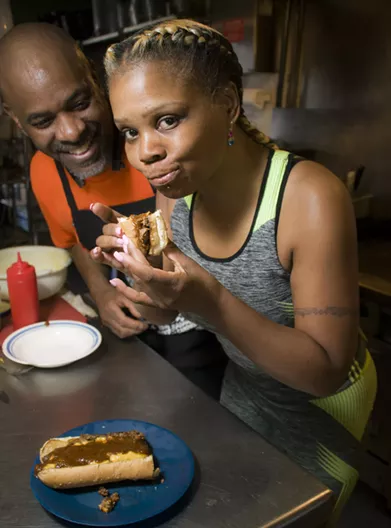 In this iteration, the Boogaloo is known as the Boogaloo Wonderland Sandwich. Beard added the latter part as an homage to his good friend Allee Willis, who also went to Mumford and co-wrote Earth, Wind, And Fire's hit "Boogie Wonderland." (Perhaps her best known cut is the
Friends
theme song, "I'll Be There For You.")
What's next for the Boogaloo Wonderland? Beard wants everyone to try it, and he'll prepare it with chicken, steak, or veggies to accommodate different tastes, and he's willing to add jalapeno or habanero. But, ultimately, he sees the sauce as a dipping condiment stocked on grocery store shelves nationwide. It's a versatile sauce, and he's used it for dipping mozzarella sticks, as a chili base, as a pizza sauce, and so on.
But for now you can find it on a sandwich that's more than a sloppy Joe, not just for its sauce, but because it's unique to Detroit; unique to Brothers and Soul "N" The Wall; and holds a noted spot in the city's history.
Chef Greg's Soul "N" The Wall is located 10009 Curtis St., Detroit.

So many restaurants, so little time. Find out the latest Detroit dining news with our weekly food newsletter delivered every Friday morning.