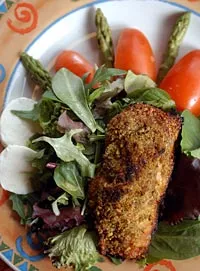 I thought I'd stepped into Union Street's past when I opened the door to the women's room and found a fellow. "Don't mind us," the man said of his weeping companion and her friend. "We're just crisis-ing."
I didn't mind; it made me think of Union Street's history, when anything went. Some of that ever-transforming history is suggested in Union Street's customer mix. As manager Jack Palazzolo puts it, "You have the black tie crowd sitting next to people with earrings in their nose."
For my money, Union Street has leaned too far from its roots and toward the suburban theatergoers, with prices to match (like 19 bucks for a pasta special). And the food — "eclectic to some extent, and also traditional," says Palazzolo — seems to operate under the theory that if five ingredients are good, ten are better.
Still, the joint is definitely multiracial (OK, biracial), a big plus, and if CCS hipsters don't mind sharing space with suits, and vice versa, that's to their credit, and to Union Street's.
The location was first a restaurant in the '30s — Arturo's — run by relatives of the guys who owned Lelli's (until recently nearby) and Mario's (which remains). Arturo's was said to have been frequented by dancers from the Greystone Ballroom, which once stood down the street.
Arturo's art deco theme is still evident in ceiling flourishes, leaded glass, pale green sconces and that orange neon indirect lighting.
During the '60s this was a student hangout, Mad Anthony's. In the '70s a new owner brought in jazz, blues and the outsized moose head that gazes over the host's station. The '80s saw an art gallery and poetry readings, with John Sinclair among the regular readers. In the mid-'90s, art, music and poetry made way for more seating. Catering became a profitable sideline.
The resulting place is too loud for a restaurant but too tame for an interesting bar. When it's full, service is way slow and the decibels soar. When it's not full, it feels kind of desolate.
Nonetheless, folks of all types regularly fill Union Street up.
What to eat: First, take advantage of the chance to split a plate, though they'll charge you two bucks extra. Portions are huge. Who but a football player should eat half a chicken, an ear of corn, macaroni-and-cheese and peach cobbler? And that's just the entrée.
A couple of dishes are justifiably popular. A mound of whitefish pâté comes with crackers, melons and grapes — more than enough to derail two diners' dinners. It's smoky, mild and Michigan-made. Apricot chicken strudel is redolent of bacon and portobellos and baked in phyllo, with a sweet Chardonnay cream sauce.
Dragon's eggs, on the other hand, are battered and deep-fried bar food, made overly hot with "rasta sauce." It's chicken breast stuffed with Gorgonzola, but you taste only the heat. If you must try these, order one a la carte for $2, rather than the whole $9 salad.
The house meat loaf loads on the ingredients — ground beef, ham, provolone, mashed potatoes and palomino sauce — but ends up too bland and fine-grained.
Similarly, pistachio-crusted salmon salad yields a sum less than its parts. Salmon, fresh mozzarella, asparagus and mixed greens are good components, but a gloppy honey-mustard dressing is not the way to pull them together. Ask for a substitute.
Lemon-tequila BBQ chicken is pretty much wrong from start to finish. The sauce tastes of neither lemon nor tequila but just garden-variety barbecue sauce. As for the out-of-season corn on the cob — don't go there. There ought to be more cheese in macaroni and cheese, and the peaches in the cobbler deserve a better bed than undercooked dough.
Far better — as a cheese fix, at least — is the Insalata con Gorgonzola. The delicate flavor of the pine nuts is masked, but the red grapes and chewy sun-dried tomatoes are a perfect foil for the biting tang of the plentiful cheese.
Also worth trying is black bean soup. Having lived in Guatemala, I know my black beans, and this is one of the better gringo versions, with plenty of onion and a dollop of sour cream half the size of the soup. Crab cakes with a curry sauce and a thick seafood chowder are also agreeable, the latter tasting of the sea rather than of white sauce, as so many do.
I didn't even mention breakfast, the 13 sandwiches, the steaks and ribs. Union Street has plenty to choose from. If all else fails, there's always Spanish coffee, a cosmopolitan martini or, if you go there New Year's Eve, free champagne, party hats, noisemakers, balloons and a countdown.
Jane Slaughter dines for Metro Times. E-mail [email protected].