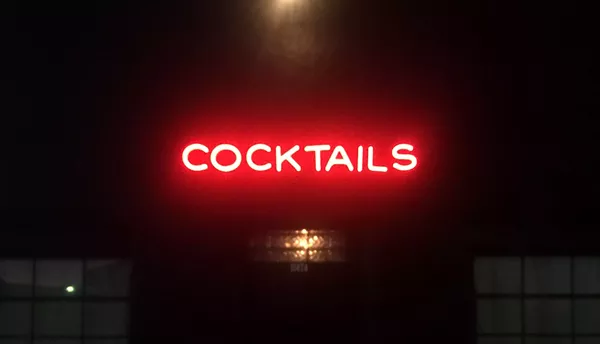 Hamtramck's former Carbon bar/nightclub will soon be something decidedly different from its former self. That's because Los Angeles native and muralist Shark Toof is converting the somewhat aggressive hangout spot into a much more chill bar.
It's the first bar for Shark Toof, who moved to the area after having several gallery shows in town and getting involved with Murals in The Market.
Though there have been a few sneak peeks over the last month, the official opening is planned for a TBD date in October. Shark Toof says he's still tightening up his cocktail, beer, and cider lists, making cosmetic renovations, and wrapping up an exterior project — namely, the installation of a giant, red fiberglass shark that will shoot from the wall.
"I'm still sussing out parts of it, but it's in motion," Shark Toof says.
When High Dive does open, expect a selection of signature craft cocktails. That includes the Hamtramck Mule, which was served during recent previews and included a preserved strawberry topper "just to shake up that normal ginger taste." The Shark Punch that he says was a hit during Labor Day will also be available. What's in it that everyone loves? "I think we'll probably keep it Colonel Sanders," Shark Toof jokes.
He'll also offer high-end rums, tequilas, and whiskeys, along with drinks mixed with a selection of Faygo, thus the "high" and "dive" parts of the formula are well-represented.
As for food, there are a couple possibilities for down the road. Toof owns a pizza oven that could be put to use. He's also considering serving one of his favorite Detroit meals that he gets at a meat counter in Eastern Market. The counter offers chicken wings and rib tips for around 50 cents per pound. They're served in a small bag, and are hit with a bottle of hot sauce on the counter. Such an approach is something different for Hamtramck, and likely wouldn't require full food licensing, Shark Toof says.
Inside, the space will have a different feel than it did during its Carbon days. Shark Toof previously ran a vintage business while working at an art store in the 1980s in Los Angeles, and says he's "attracted to old things." He's particularly drawn to the Eastlake Movement of the Victorian-era, and the bar "started to really take on this parlor look — borderline burlesque, but mostly an old parlor."
The space will be divided up into several "rooms" that Shark Toof says work well with the subtly art deco building. That starts with the area around the pool table. Shark Toof says men always seem to be the ones playing pool — especially at a place like Carbon — so he tried to make the area more inviting to women. He did so by first installing above the pool table an art deco lamp with rose-colored, hand-blown glass shades, and he says women were using the table during the Labor Day festival preview.
The bar also holds booths — which Shark Toof notes is a rarity in Hamtramck — along with marble tabletops from the 1880s. Another more intimate "room" will offer vintage couches around a fireplace. The bar and bar back are custom made by someone who wasn't a professional, Shark Toof says, so it possess a folk art feel that he loves.
As for music, there won't be a jukebox or television. Some nights might have 1920s music, but Shark Toof is also into punk, metal, grindcore, electronic, acid house, and everything in between, so there'll likely be a mix. Deejays and live music are also a possibility.
The sum is something a bit different for Hamtramck and metro Detroit.
"I really want people to have that sensation when you walk in somewhere and say 'Where has this bar been all my life?' I want to take people out of their element," Shark Toof says.
Though he's putting together a slightly classier bar, he stresses that he's not building "The Ritz Carlton," and customers shouldn't expect "Ferndale prices." Cheap beers will run $2 to $3, and craft cocktails will be in the $8 range.
"When I purchased this bar, it wasn't like 'Oh my god, I'm going to make all this money.' I just want to make something that's communal and inclusive," he says, but he also doesn't want to repeat the dive bar formula.
Shark Toof moved here (though he still he hasn't found a permanent home in town) after doing a solo gallery show at the Inner State Gallery. He fell in love in the city, and frequently returned to hang out with friends. Carbon was on his radar for several years, but, having run two businesses — the vintage shop and murals — he knows the energy and commitment properly starting one involves.
And Shark Toof was hesitant to leave Los Angeles, where he says, "it's comfy — we have nice weather, and there are no upsetting days, unless you create them." But, eventually, he came around to the idea of building the new bar and is excited to fully dive into Hamtramck.
"I really enjoy the creative community in Detroit. It's very inspiring and motivates you to do things," he says.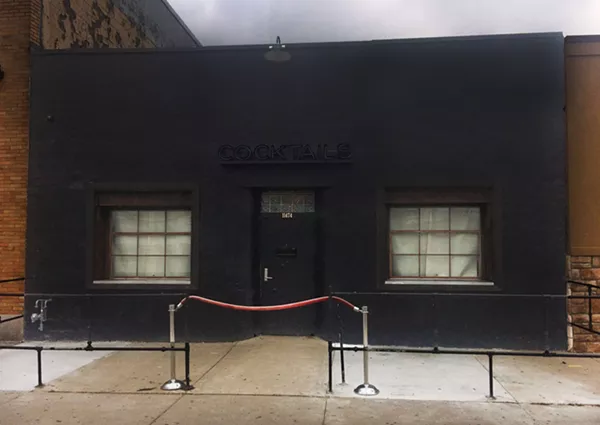 So many restaurants, so little time. Find out the latest Detroit dining news with our weekly food newsletter delivered every Friday morning.