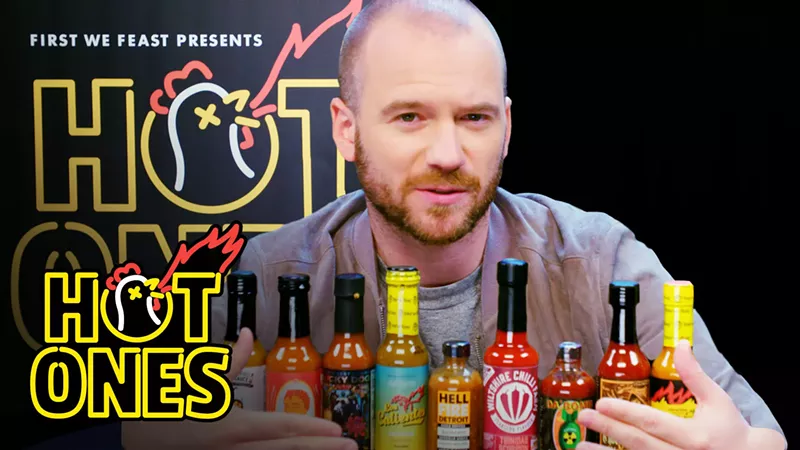 Have you seen
Hot Ones
, "the show with hot questions, and even hotter wings?"
The premise is so simple it's genius: Over the course of an interview, host Sean Evans and his guest eat 10 chicken wings. With each wing, Evans provides an increasingly hotter hot sauce and asks a question.
These sauces get
hot
: Evans ends with a sauce called "The Last Dab," which clocks in at a scorching 3.3 million Scoville Heat Units. By the end of the interview, the guests — which have included the likes of
Charlize Theron
,
Jeff Goldblum
, and
Key & Peele
— are usually babbling nonsense, chugging water by the pitcher, and otherwise squirming in pain. It's quite possibly the best interview show ever, and certainly the spiciest.
Anyway, as
Hot Ones
heads, we were geeked to learn that the new season features a lineup of new-to-the-show sauces, which includes the Motor City's own HellFire Detroit Habanero sauce.
Evans introduces the lineup in a new teaser clip. Of HellFire Detroit, Evans called the sauce "straightforward and satisfying," adding:
"Fire-roasted Habaneros, vinegar, a touch of sea salt, and olive oil. That's it. Straight fire. No fillers. In the words of Trick Trick, 'Welcome to Detroit City.'"
The sauce clocks in at 100,000-300,000 Scoville Units, making it one of the hotter sauces in the lineup. We can't wait to see it in action! It's available for sale from
hellfiredetroit.com
if you want to see if you can handle the heat.
Hot Ones
Season 9 premieres at 11 a.m. EST on Thursday, May 30, and new episodes air on Thursdays on
First We Feast's YouTube channel
. You can check out the teaser below:
So many restaurants, so little time. Sign up for our weekly food newsletter delivered every Friday morning for the latest Detroit dining news.