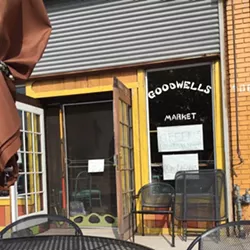 Long before Whole Foods took hold, prior to the $12 raw juice sold at Drought, or the veggie-based menu at Seva restaurant, there was Goodwells.
It sat next door to Avalon International Breads along the Cass Corridor and offered Detroiters healthy, natural dining options for just a little bit of money (we LOVED those bean tostadas). Fans applauded the black-owned business for being at the vanguard for quietly providing organic food choices in a city that's long held a reputation as a food desert.
Alas, it appears the 10-year-old food oasis has shuttered with little notice. Eater Detroit
reports
that the Goodwells space on Willis off Cass is now vacant and that the ownership was seen making their for the past few weeks.
As of late Monday, we have not been able to reach co-owner James Wood or others affiliated with the shop to confirm this information.
Sadly though, the apparent closure does not really surprise us. In a 2015 Model D
story
, writer Aaron Foley writes that trouble started for Goodwells shortly after Whole Foods opened its doors in 2013, effectively cutting deep into its sales within a year. At the time, Foley reported that things appeared to pick up for the grocer.
Alas, it would seem that has not remained the case. We will be sure to follow up with more details if and when they become available.