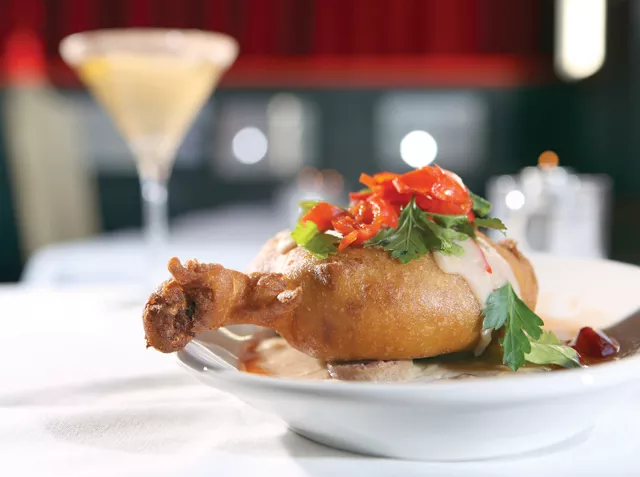 Rodin
15 E. Kirby St., Midtown
313-285-9218
Handicap accessible
Small plates: $8-$18
Open 4 p.m.-2 a.m. Tuesday through Saturday, and Sunday brunch will begin at the end of January.
Clever, to name a French-inspired restaurant after the sculptor whose most famous work sits just a few feet away, in front of the DIA. Perhaps "The Thinker" is contemplating how far Torya Blanchard has come in the four years since she opened a tiny walk-up downtown serving nothing but coffee and crêpes.
Open since Dec. 12 in the corner of the Park Shelton that long ago was Utrecht's, the narrow space has a bare concrete floor, green-and-white striped pillars bookending the bar, and French posters on the walls. On a recent Thursday, Mayor Bing was doing appetizers before heading downtown to a second repast.
Blanchard wanted a French restaurant, what with her time in Paris as an au pair and the success of Good Girls Go to Paris in the same block. But "it would have been too easy to do boeuf Bourguignon," she says. Instead, she wanted "French but not so literal, a play on it."
So she and chef Kate Williams have written the menu fancifully, with loose — very loose — English translations of some classic French dishes. That is, both the dishes and their names are interpreted freely. Coq au vin becomes "chicken wings," but they're coated with candied bacon dust and topped with a bit of celery and cilantro. Duck confit cassoulet becomes "chicken-fried duck," and Brie en croute is fried ravioli. Beignets are "coffee and doughnuts," without the coffee.
Just about all the dishes are fancy without being silly (save the bacon dust). More important, they're delicious, just 14 choices plus popcorn à la truffle maple bacon or herb Parmesan. Parmesan is a repeating theme, even in dessert.
Your server informs you that the sharable small plates will be brought in the order they're ready, but we still got our soup and salad first. The Rodin soup, chickpea, potato and leeks, was one of our favorite dishes, a large bowl, very thick, with a tart note. On the night we visited, cauliflower had been substituted for the chickpeas, at no loss. Also fabulous are the pommes frites — the menu doesn't deign to translate this one — skinny shoestrings sprinkled with black and red pepper, garlic and Parmesan.
Among the more entrée-like dishes, my favorite was "fish and chips" — bourride (which in France would be a fish stew). The fish is tender salmon, with roasted potatoes and garlic pimento aioli, the latter an unflattering orange but doing everything a garlic aioli should.
No. 2 in my book were the ravioli, though I couldn't taste the Brie inside at all. Four big, long ravioli, clearly hand-cut, are sweet, with a yam spread and spicy with cinnamon. Each bite was a different flavor.
Those chicken wings are coated with a sticky red wine reduction, not like coq au vin at all but with their own sweetness. Smoky littleneck clams are served as a soft casserole with leeks and Pernod, tart artichoke hearts providing the dominant flavor. Cauliflower salad is actually a cooked dish, warm fried cauliflower with capers and a vinegary vinaigrette.
A tender duck leg is served with a bland white bean gravy and a bit of sausage; I thought it could have used more of its "chili drizzle." The only dish I found unsuccessful was choucroute — sauerkraut — with pork; the cabbage was crisp rather than stewed as kraut traditionally is, but the pork was a little tough and the dish had a bitter undertaste, perhaps from the orange demi-glace/glaze.
Dessert: Williams' beignets are shaped like doughnut holes and served warm with hazelnuts — inspired — and honey. Crêpes Suzette aren't crêpes here but flapjacks with maple bacon ice cream and a good strong whiskey sauce. Nobody's attempted to translate quintessentially American s'mores into French — plus, perhaps? They're a long way from the campfire: chocolate challah bread pudding with marshmallow cream and graham cracker ice cream.
The all-French wine list was chosen by Putnam Weekly and is mostly from small vineyards. Blanchard offers 15 bottles and just four pours by the glass, including a tannic Cotes du Rhone. Almost all the (non-classic) cocktails ($7-$11) have some French element, such as Chambord or Chartreuse, but there are a couple based on bourbon or Maker's Mark, and the Amour features tequila.
Rodin deserves to succeed, and why shouldn't it, right across from the DIA and every other venue in what we used to call the Cultural Center? My only fear is that the pricing, at $17 and $18 for some of the small plates, will keep attendance down.
Live jazz is planned for Thursdays and Saturdays, and DJs with dancing the other nights. Parking is free at the structure next door, with validation.
Jane Slaughter dines for Metro Times. Send comments to [email protected]