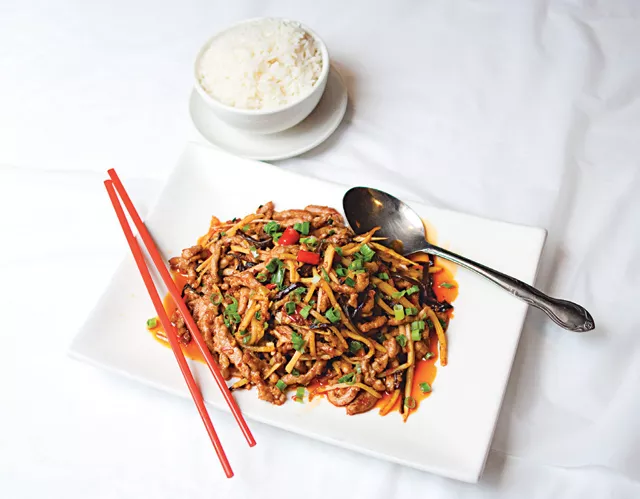 Trizest Restaurant
33170 Dequindre Rd.
Sterling Heights
586-268-1450
Handicap accessible
Soups and apps: $1-$8
Entrées: $8-$13
It's not often that a Chinese restaurant surprises you. The overwhelming majority of these low-priced eateries cater to a clientele that believes almond boneless chicken is actually a dish that originated in China, and that you'll almost always find the standard menu items of fried rice, lo mein, chow mein, chop suey, egg foo young, sweet and sour, etc. ... Even the exotic-sounding General Tso's chicken may or may not have been invented in New York in the 1970s. 
Though Trizest does serve most of the above-mentioned Americanized dishes, there is also a section devoted to authentic Chinese dishes. We're not experts on authentic Chinese cuisine by any means. Frankly, a country as large as China has culinary traditions so diverse that diners would need to travel, study and eat for years just to wrap their brains around the idea of what's really "authentic." But we can declare with confidence that all of the dishes that we've tried from the authentic side of the menu were quite different than typical Chinese take-out. 
Indeed, on our initial visit, we could barely see past the first dish of fish-fragrant pork. Though no seafood is used in this method of preparation, usually associated with fish in Sichuan cuisine, it's easy to disregard as strange or, at the very least, oddly named. But the mingling of hot, sour, salty and sweet flavors and the agreeably caramelized, matchstick-sized slivers of pork make this dish alone worth a visit to Trizest. You won't find the pork swimming in thick gravy and even with the prodigious use of oil; the overall sensation on the palate is lighter than expected. 
If you think fish-fragrant pork sounds bad, you probably won't be into pig's blood curd in hot bean sauce or quick-fried spicy pork intestine. Pork with slivers of fresh jalapeño or dried tofu are a bit more mainstream. There's also the choice of "side pork" steamed, braised or double-cooked. Clearly, the menu has plenty of options for exploration. 
There's aren't quite as many selections to consider under the beef, chicken and lamb headings — though it's notable that you can order lamb at all. In the face of its scorching heat, we plowed through the Sichuan lamb. Like the fish-fragrant pork, the lamb dish was not gravy-based. The lamb meat was shaved thin, well-caramelized and particularly tender. And even though almost a quarter of the dish is made up of fresh and dried chili peppers, the flavor of the lamb is still recognizable. We would also have tried the cumin lamb had we more stomach room. 
Order the shrimp with spicy salt and receive a plate full of peel-and-eat shrimp (heads included). Despite the name, the shrimp were only mildly spiced but remarkable for their tenderness and full flavor. The only dish that wasn't a winner was also from the seafood selections. Still as tasty as all of the other dishes we sampled, kung bao squid suffered from spending a few seconds too long in the wok, and some of the pieces had the marked rubbery texture of overcooking. The specials placard had a dish called squirrel-shaped fish that sounds like fun. 
Of the few options without meat, tofu and eggplant show up in more than one arrangement. You'll see the typical egg rolls and potstickers as appetizers as well as small plates like yibin flame noodles and toffee banana. We like to use hot-and-sour soup as a measure of quality at Chinese restaurants. While Trizest doesn't make the best that we've had in Detroit, theirs is surely near the top of the list. 
Located in a commonplace Sterling Heights strip mall, the interior of Trizest has plenty of seating including a few family-sized tables. It's filled with colorful Chinese ornamentation, naturally. The unfortunate bubble-gum pop music selection contrasted poorly with the rest of the vibe.  
Trizest obviously categorizes its clientele into two groups. The first time we ate there, the waitress had replaced the traditional bowls and chopsticks with plates and forks before we knew it. She seemed surprised when we asked for them back. 
While it's unlikely that the food at Trizest is going to change your worldview forever, it is refreshing to be able to try a few Chinese dishes that transcend the ordinary. The fact that all of the food is well prepared is good news for both culturally adventurous diners that are looking to dip their taste buds into Sichuan cuisine and the not-so-daring friends and family that accompany them. 
Trizest Restaurant serves authentic and American-Chinese cuisine 11 a.m. to 9:30 p.m. Monday through Thursday, 11 a.m. to 10 p.m., Friday, noon to 10 p.m. Saturday, and noon to 9 p.m. Sunday.