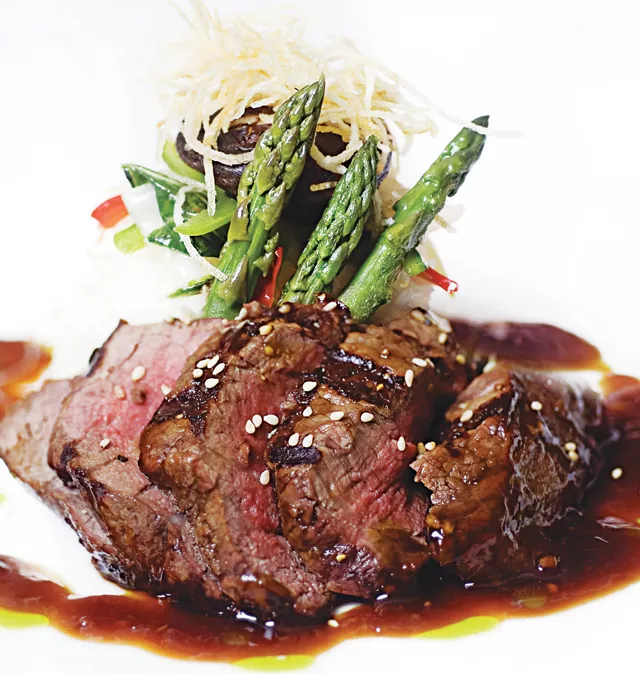 $=$5-10; $$=$10-25; $$$=$25-50; $$$$=$50+
Big Rock Chop House 245 S. Eton St., Birmingham; 248-647-7774; bigrockchophouse.com; $$$: Oozing Northern lodge appeal, with a variety of dining rooms, located in Birmingham's historic train station. It resembles the kind of place where Hemingway would spend a lot of time and a good portion of his book advances. Expect hand-cut, aged beef, cooked to order, which can be pricey but worth it when you get your mouthwatering fillets ($35 for 8-ounce, $40 for 12-ounce), a 16-ounce New York strip ($36), or a colossal 24-ounce porterhouse ($40). And it's not just beef for dinner; other protein offerings include sole, salmon, sea bass, lamb, ostrich, duck, and even buffalo. It's also a brewpub, offering house-brewed beers, including lager, Belgian white, IPA, red ale, and Russian imperial stout (11.8 percent ABV!).
Clawson Steak House 56 S. Rochester Rd., Clawson; 248-588-5788; clawsonsteakhouse.com; $$: The roadhouse-nightclub on Rochester Road, just south of Fourteen Mile, opened in 1958. It has remained in that decade for several generations of locals who flock there to dine on beef washed down with highballs or red wine, and to dance the night away. Aside from the mildly pricey signature steaks and chops, other dinners, which include soup and salad, average around $16. And the more than 100-bottle wine list, four-fifths of which are devoted to red wine, offers many solid selections well below $30. Obviously, the moderate cost of a night at the Clawson Steak House is one reason for its continuing popularity, especially for birthday and anniversary celebrations. Another is the overall dependability, if not flashiness, of its kitchen. From 7:30 p.m. to 12:30 a.m. Wednesday-Thursday, and from 8 p.m. to 1 a.m. Friday-Saturday, you'll be able to dance the night away to the rhythms of the Mark James Band. The versatile three-piece, along with a vocalist, plays tunes from Tommy Dorsey for the early crowd, through Elvis, Motown, the Beatles, Latin, disco — and whatever else patrons might request.
Coach Insignia 200 Renaissance Center, 72nd Floor, Detroit; 313-567-2622; $$$$: If a house guest or out-of-town visitor announces, "I want to take you out tonight to a very special restaurant, perhaps with an interesting view of the city," the first choice would have to be Coach Insignia, perched spectacularly on the 71st and 72nd floors of the Marriott Hotel in the Renaissance Center. The flagship of the Matt Prentice chain offers an unsurpassed view, which begins with the always-thrilling ride to the top in the restaurant's private elevator. A closed-off banquet area offers Detroit-only views while the rest of the ceiling-to-floor windows look out at the city's shoreline, the river, and especially Windsor. Decorated tastefully with automobile memorabilia, Coach Insignia takes its name from the RenCen's major tenants, GM and its Body by Fisher, as well as from the same Fisher family's California winery where the "body" appears in its fine vintages under the Coach Insignia label. Several of the mains come in at under $30, but none of the meats. Steaks and chops include a 12-ounce prime New York strip ($45), a 24-ounce porterhouse ($52), a center-cut Angus filet mignon ($33 for 7 ounces, $43 for 10 ounces), a 16-ounce Angus rib-eye ($39) and steak au poivre ($50). Madeline Triffon, our region's most celebrated sommelier, has constructed a long and versatile wine list with a handful of bottles in the low- and mid-20s.
Joe Muer Seafood 400 Renaissance Center, Suite 1404, Detroit; 313 567-6837; joemuerseafood.com; $$: Primarily a seafood joint, you can enjoy beef while your friends dine on fish. Meaty choices include the appetizer of beef tenderloin carpaccio, char-grilled filet mignon with zip sauce, prime rib-eye and braised beef short ribs. Naturally, the fruit of the sea dominates, but think of the surf-and-turf possibilities!
The Hill Seafood & Chop House 123 Kercheval Ave., Grosse Pointe Farms; 313-886-8101; thehillgrossepointe.com; $$$: With a stylish interior, the Hill serves plenty of steaks and chops, a few costing less than $30 but most $33 and more. The steaks include the usual cuts (filet mignon, New York strip) and some unusual ones (Australian lamb shanks, beef short rib), all prepared to spec. Meat lovers will also find lamb sliders featuring melted Brie, Michigan cherry relish, bacon and Gaufrette potatoes. Or you can max out with the over-the-top $51 "surf and turf," which includes a 7-ounce filet mignon, twin 4-ounce Maine tails, roasted fingerlings with melted Maytag blue cheese and asparagus. Seafood is a strong point: The calamari appetizer is out of the ordinary. Desserts are quintessentially American: The molten lava cake ($7) has a luscious liquid chocolate center.
Katana Nu-Asian Steakhouse 111 S. Main St., Royal Oak; 248-591-9900; $$$: From the flashy tableside performances put on by knife-wielding chefs to the big and brassy flavors of the dishes, it's an American-oriented show. It's called teppanyaki — "hibachi table cooking" — with diners seated around big cooking surfaces, each manned by an aproned and toqued chef. There are 10 chairs at each cooking station, so you'll end up sharing with others. The waitress takes your order for seafood (tuna, sea bass, scallops, etc.), meat or "Zen dinners" with vegetables, tofu or portobellos. Most often ordered are steak and lobster. Most extravagant: the yokozuna combination of lobster, scallops and filet mignon. Heaps of chopped vegetables — celery, mushrooms, squash and more — are arrayed around the sides of the surface, along with the ordered flesh. The chef goes through some impressive banging and flipping of knives and gets to work. Each diner's selection is quickly sautéed, arranged on a plate with the vegetables and presented with three dipping sauces: a creamy one for the seafood, a hot mustard and a ginger. In addition to the main-attraction grills, diners can also sit at regular tables and order from the small plates menu, which has more of a fusion bent.
Kiernan's Steak House 21931 Michigan Ave., Dearborn; 313-565-4260; $$$: A dimly lit lounge and main dining room provide a cozy atmosphere for lunch or dinner. Daily specials are served. Kiernan's is known for its steaks and veal.
Knight's Steak House 2324 Dexter Ave., Ann Arbor; 734-665-8644; knightsrestaurants.com; $$: Where a fairly older crowd of townies enjoys old-time dining in a somewhat casual environment. Expect both kinds of food: surf and turf, including perch, crab, filet mignon, New York strip, Delmonico, sirloin, porterhouse, prime rib, pork tenderloin schnitzel, baby back ribs, char-grilled London broil and much, much more.
Morton's: The Steakhouse 888 W. Big Beaver Rd., Troy; 248-404-9845; mortons.com; $$$: Snazzy Chicago chain specializes in serving the actual best beef possible. Not those select cuts from the supermarket. Not those choice cuts that are cleverly branded and well-marketed. But the limited stock of prime beef (less than 3 percent of the total supply), with beautiful marbling. "Marbled" meat has fat finely speckled throughout it, which keeps the meat's fibers from tightening up during cooking. Then Morton's sears the flavor into the steaks by cooking them briefly at very high temperatures. That would be enough for a quality steakhouse, but Morton's offers all the trimmings: upscale appetizers (tuna tartare, jumbo lump crabmeat cocktail, oysters Rockefeller and half-shell), quality sides (sautéed brussels sprouts with bacon and shallots, potatoes Lyonnaise), sumptuous desserts (New York cheesecake, Key lime pie, crème brûlée), as well as seafood (Chilean sea bass, colossal shrimp Alexander, lobster tail, whole baked Maine lobster). Or drop in to the restaurant's lounge, Bar 12.21 for their bar bites menu, which includes mini-prime cheeseburgers, petite filet mignon sandwiches and more.
Mr. Paul's 29850 Groesbeck Hwy., Roseville; 586-777-7770; $$: There was a time when every town had a Mr. Paul's, where locals, wearing coats and ties and skirts and heels, came to celebrate birthdays, graduations and engagements. East siders still party at Mr. Paul's — albeit in less formal attire. Founded in 1968, the staff at Mr. Paul's prepares the labor-intensive, flamboyant tableside dishes and still finds time to serve, bus and chat up their guests, many of whom have been regulars for years. Once you enter the freestanding, ordinary building in a nondescript, mostly light-industrial area on Groesbeck Highway, Mr. Paul's appears frozen in time in terms of decor, service and cuisine. The dimly lit, low-ceilinged, brick-walled structure can seat 200. Almost everyone starts with the Caesar salad ($13.95 for two), carefully hand-crafted tableside by the brothers who perform graceful acrobatic maneuvers to transfer ingredients from one part of their cart to a wooden bowl. The creamy, mildly garlicky end product ranks among the best in town. At most of Paul's tables, at least one of the patrons, usually more, are there for the beef dishes that average a reasonable $25. The most popular is the Chateaubriand for two, another tableside extravaganza, arriving flambé from the kitchen. Although both are perfectly tender, the Black Angus New York strip is more flavorful than the fillet. Fish mains are highlighted by pickerel, stuffed flounder and Dover sole. Not surprisingly, the elegant wine list is weighted toward the reds, dominated by big California and French varietals, most of which cost more than $50.
No.VI Chophouse inside the Crowne Plaza Hotel, 27000 Sheraton Rd., Novi; 248-305-5210; $$$: As plush a steak and seafood house as can be found in the area, this one offers top-of-the-line fare in a sophisticated setting. All of the meats are prime quality, aged, and cooked at 1,700 degrees, so expect to plunk down good money for fine proteins. Expect filet mignon ($32 for 8 ounces, $42 for 10-ounces), a 14-ounce New York strip ($39), a 24-ounce porterhouse ($46), and such delicacies as steak au poivre ($42) and beef Wellington ($32). Seafood offerings include seared big eye tuna, pan-roasted sea scallops, grilled Atlantic salmon, Alaskan king crab legs, live Maine lobsters and more.
Roast 1128 Washington Blvd., Detroit; 313-961-2500; roastdetroit.com; $$: This is no ordinary steakhouse or barbecue joint. It's true that they offer several cuts of beef, all naturally raised and dry-aged for a minimum of 21 days. The same amount of gastronomic attention is paid to the poultry and seafood dishes. Even the optional sides have their own unique signature. Restrained lighting, white linens and floor-to-ceiling windows pervade the two rooms. Oozing from the sound system are chill-out lounge beats at just the right volume. Many of the most interesting dishes appear on the appetizer menu, including a charcuterie and smoked seafood plate for two or more. Both the thick rib-eye and strip steaks are ideally prepared to order and full of flavor with only a simple rub of sea salt and oregano. Optional sauces and toppings are priced separately and include crab Béarnaise, blue cheese onions, salsa verde and roasted wild mushrooms among others. Open 5-10 p.m. Sunday-Thursday, 5-11 p.m. Friday and Saturday. No smoking. For more information, see roastdetroit.com.
Rochester Chop House 306 Main St., Rochester; 248-651-2266; kruseandmuerrestaurants.com; $$$: Classic chophouse atmosphere, often with live piano music in the background. Expect generous portions of steak and seafood; alternatively, the raw bar in the front offers lighter fare.
Ruth's Chris Steak House 755 W. Big Beaver Rd., Suite 151, Troy; 248-269-8424; $$: The clubhouse-like dining room has lots of wood and brass, and white-linen-swathed tables. Steaks, ranging from a small filet mignon to a huge Porterhouse, come to the tables on platters sizzling with butter. That hints at the New Orleans origins of the now-international chain of very good steakhouses. Extras are all a la carte, in classic steakhouse fashion.
See any inaccuracies or omissions? Let us know! Call 313-202-8043 or e-mail [email protected]