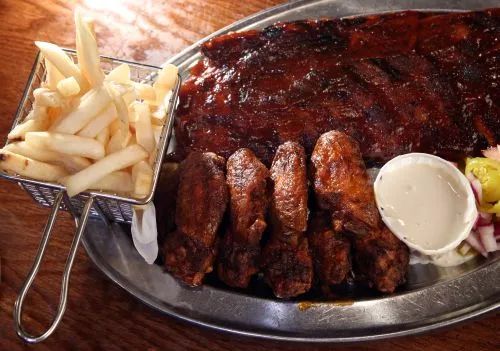 Aunt Bessie's BBQ Ribs and Soul 1141 E. Seven Mile Rd., Detroit; 313-575-5332; auntbessiesribs.com: Carryout and cash only. Originally started in a vacant lot on the corner of Wyoming and Lyndon to fundraise for a political campaign, Aunt Bessie's grew a following rapidly, and became an established barbecue joint in 1980. Thirty years later, and it happily remains with us, with a refined barbecue menu made up of family recipes from Mississippi, Alabama, Georgia and Detroit. You'll find such classics as pork chops and ribs, as well as more adventurous fare that includes pigs feet, plus a number of homemade sides to accompany. When you've finished your meal, there are 10 desserts to choose among, including cakes, cobblers and pies.
Bad Brad's BBQ 35611 Green St., New Baltimore; 586-716-9977; 6525 23 Mile Rd., Shelby Twp.; 586-254-7010; badbradsbbq.net: Bad Brad's motto is "From our smoker to your plate," summing up their intention to give diners the best barbecue possible. They start every day at 5 a.m., cooking beef brisket and pork shoulder in fruit wood and hickory smoke for as long as 14 hours. Get a taste of the meat in one of their many cleverly named sandwiches (all $9) or choose among sliced or chopped brisket, pulled pork or chicken, or pork sausage. You can also go "whole hog" with a half ($16) or a full ($25) slab of St. Louis-style ribs.
Bert's Marketplace 2727 Russell St., Detroit; 313-567-2030: On summer Saturdays, Eastern Market seems to be bursting at every seam. Stalls and sheds overflow with colorful produce as merchants set up shop along Russell Street. And Bert's is not only a great place to sit and do some Eastern Market people-watching, you can also enjoy some serious barbecue. (You also get a front seat to some of the most unusual karaoke performances ever!) In keeping with Bert's bare-bones, working-class atmosphere, their food is more down-home than much of the soul food you find in restaurants, which has often been upgraded from its humble origins. The menu runs from catfish to 'cue, and on warm market days when the grillmasters are in full view outside, you'll be able to see before you buy!
Billy Sims BBQ 25025 Telegraph Rd., Southfield; 248-809-2861; see billysimsbbq.com for locations in Lincoln Park and Troy: Former Lions running back Billy Sims retired back in 1984, but he's still scoring touchdowns for the city of Detroit. Last summer, the down-to-earth legend, who started his culinary run 10 years ago in Tulsa, Okla., brought it back home by opening Billy Sims BBQ in Southfield. With more than 20 locations throughout Oklahoma, Missouri, Texas and now Michigan, Sims doesn't own the restaurants, but he's heavily involved in the process, making sure the food is nothing less than delicious. The restaurant staff takes pride in not using any ovens or fryers to cook the meats. Everything is smoked over pecan wood to achieve that down South, Texas-Oklahoma feel. Billy Sims BBQ's Jasmyn Dunlap tells us, "We do all of our meats with a dry rub and we smoke them for about seven to nine hours a day." The barbecue mini-empire offers nine types of smoked meats: brisket (sliced or chopped), pulled pork, chicken or turkey breast, hot links, Polish sausage, bologna and ribs. Customers also have the option of building their own combo plates by choosing two, three or four of any of the nine smoked meats. Specialty dishes include "The Heisman," which features "piled high" chopped brisket or pulled pork, a slice of bologna and a hot link, as well as "The Triple 20," with pulled pork topped with coleslaw and provolone cheese and drizzled in a secret sauce. There's also a variety of "sideliners" (get it?) to choose from, including potato salad, baked beans, baked potatoes, green beans, coleslaw and chips. "We're about to open one in Ann Arbor and in Ford Field within the coming months, so before the end of the year," Dunlap says. "I know they plan to do another one in Westland before the end of the year also." Open 11 a.m.-9 p.m. Sunday-Thursday and 11 a.m.-10 p.m. Friday-Saturday.
Blue Tractor 207 E. Washington St., Ann Arbor; 734-222-4095; bluetractor.net: Looking the part is important for any restaurant, and Blue Tractor does it well. Decorated in wood and rough metalwork, it exudes the feel of a big, rustic barn, ideally suited for serving up barbecue to 100 close friends. A long bar stretches across one wall, the establishment's house-brewed beers listed next to its respectable bourbon selection. The menu is full of down-home fixings, and inventive specials year-round keep switching it up. The barbecue? Mostly slow-cooked proteins that get a douse of rub or sauce during final grilling, including baby-back ribs, Carolina pulled pork, barbecue "beer can" chicken, and even some more interesting-sounding choices, such as bacon-wrapped meatloaf, apricot-mustard turkey and smoked barbecue duck. The spare ribs stand out for being extraordinarily moist.
Bone Yard Bar-B-Q 7010 N. Telegraph Rd., Dearborn Heights; 313-561-0102; 13100 Hall Rd., Sterling Heights; 586-731-1600; see theboneyardbbq.com for more locations: Since 1972, the Bone Yard has been cooking up barbecued ribs using open-flame rotisseries, racking up awards over the course of 41 years. The ribs are the house specialty, natch, and the slabs run from about six bones for $11.45 to about 15 bones for $22.65. Even the Bone Yard's starters seem formidable, with such choices as jalapeño poppers and mozzarella sticks, yes, but the Bone Yard sampler (ribs, wings, tenders, mozz sticks and onion rings), "Pork Slammers" and the "Onion Tower," hand-cut Spanish onions breaded and gently fried, piled up and served with the restaurant's original sauce.
Detroit BBQ Company 586-855-9012; facebook.com/Detbbqco: Here's an interesting innovation: Instead of having a brick-and-mortar restaurant, rove around the metro area greeting customers with the best barbecue you can muster. Recent destinations have included Royal Oak Farmers' Market and Warren's Kuhnhenn Brewing Co. Curious? Want a taste? See their Facebook page or have a bite at Pig & Whiskey this week!
Lazybones Smokehouse 27475 Groesbeck Hwy., Roseville; 586-775-7427; lazybonessmokehouse.net: Our readers say this is the best barbecue joint in Macomb County. Why? Because this east side spot has sandwiches starting around $8 and $18.99 for a slab of ribs. Lazybones boasts Black Angus beef, Grade-A fresh pork, and Amish country chickens, done broasted, pit-smoked or grill-ready for pick-up. And for those who want to throw a home party without running the grill, Lazybones has party pans big enough to hold 100 ribs or the equivalent in pulled pork. But note well — if you expect Lazybones ribs to be the sauce-soaked, fall-off-the-bone sort that rules in Detroit and southeastern Michigan, you may be disappointed. But free your mind — these are the dry-rubbed, mopped and slow-smoked ribs that give ol' boys fits down yonder, and there's no good reason to restrict yourself to one style of barbecue.
Little Z's BBQ 22428 Greater Mack, St. Clair Shores; 586-585-1000; littlezsbbq.com: Want to try everything at Little Z's? We suggest Z's BBQ Sampler, a $25.95 combo that bested three hungry, hard-eating diners. The quality of the barbecue is stellar. The St. Louis pork ribs are perfectly pink under a tasty bark. The "Detroit-style" burnt ends are like charred little steaks. One of the hardest meats to do right, brisket, comes in slices that hold together wonderfully, yet disintegrate if you try to slice them slightly against the grain. The chicken is moist, the smoked sausage works well with Z's sweet sauce. The braised short ribs pull apart with a fork twist. Z's offers an array of sauces, ranging from sweet to hot, including Z's Sweet, Honey Mustard, Cherry Apple, Honey Garlic, Z's Bold, Crazy Asian, Spicy Buffalo and Firestein is Burning. But for diners who ask for it, they'll offer two more vinegar-based sauces: Carolina Mustard and Alabama White, a mixture that usually includes pepper, mayo and vinegar.
Lockhart's BBQ 202 E. Third St., Royal Oak; 248-584-4227; lockhartsbbq.com: Lockhart's, named after a town reputed to be the barbecue capital of Texas, is a handsomely retrofitted space on the high-ceilinged first floor of an old bank building. The stainless-steel open kitchen turns out reasonably priced, hefty portions. The main courses, served authentically on paper in metal trays and with a white bread sopper, involve brisket, ribs, pulled pork, sausage, chicken and ham — and combinations thereof — all smoked ever so slowly over local white oak and hickory. One can sample most of the meats in the "special" combo of brisket, half-rack of ribs, sausage and pulled pork. Or if that mix is intimidating, a half-chicken and ribs or brisket and pulled pork are less daunting combos. The full bar has a selection of Michigan beers, perfect with the 'cue. Aside from the renditions of smoked meats, sandwich offerings also feature fried catfish, smoked salmon and smoked chicken salad.
Nunn's Barbecue Restaurant 19196 Conant St., Detroit; 313-893-7210: Takeout and cash only. Another one of Detroit's old-line barbecue joints, Nunn's (or, Nunn's II as it's called; the first Nunn's burned down) churns out a steady diet of pit-style ribs cooked to perfection, all ready for your carry-out order. No sit-down here, but the ribs are supreme — one rib aficionado we know says they're the best ribs on the east side. We also recommend the Kenta Cake, a unique specialty at Nunn's.
Parks Old-Style Bar-B-Q 7444 Beaubien St., Detroit; 313-873-7444; parksoldstylebar-b-q.com: Sit-down dining ends at 7 p.m.; carryout till close. Tucked away from East Grand Boulevard on the edge of New Center and the old North End, Parks Old-Style stands between Custer and Horton streets, on the east side of Beaubien. It was built, from the ground up, in 1963-1964 and has stood the test of time. Unusual for many inner-city barbecue joints, it actually has seating for customers. Parks also stands out due to the vinegar-based sauce on its trimmed ribs ($21.09 a slab), though behind it are subtler flavors, including mustard and perhaps cayenne. Owner Roderick Parks admits it perhaps is an acquired taste, though he points out it has "delighted the multitudes since 1964," adding that Parks "also features a 'sweet' sauce for the sensitive palate and an extremely hot sauce for the more venturesome." You also get the Parks promise: "I'll put my ribs, chicken and sauce up against anyone, anytime."
The Pub BBQ on Hall Road 13100 Hall Rd., Sterling Heights; 586-991-6348; thepubonhallroad.com: Taking barbecue and melding it with a sports bar concept, the Pub BBQ offers a menu crowded with pizzas, burgers, sandwiches, salads, pastas and such, but also includes a few versatile combo platters, including four meats for $21, that mix of pulled pork, pulled chicken, sliced or chopped beef brisket, and smoked sausage. Heck, add a quarter rack of ribs for $6.
Red, Hot and Blue 33800 Van Dyke Ave., Sterling Heights; 586-979-6400: Here are some formidable meals. You can get sandwiches, ranging from the pulled pork and chicken versions to the smoked sausage sandwich and on to something called the "Pig Squealin' Combo." There are also ribs (wet, dry or sweet), platters ("Five Meat Treat," "Delta Double" and "Tennessee Triple"), as well as such Southern faves as catfish, ribs and crispers, and fried Gulf shrimp. Sides include sweet potatoes, garlic-mashed potatoes, beans and more.
Red Rock Barbecue 207 W. Michigan Ave., Ypsilanti; 734-340-2381; redrockypsi.com: At Red Rock, the menu is meaty: Even the starters are heavy on the protein. Sliders — traditional, brisket or pulled pork — are available. The burnt ends of the brisket are served in bite-sized chunks. They're naturally quite dry given the preparation, but with a little sauce, they're delicious. And Red Rock also serves a basket of eight chicken wings with a great crispy exterior. Four homemade sauces adorn the table, all straightforward but made very well: A vinegar-based sauce, a simple tomato-based sauce, a mustard sauce, and a sweet and spicy, the last of which is arguably the most interesting. There's a gentle sweetness to the dry rub on the St. Louis-style spare ribs, available in a half ($17) or full slab ($24), and when we ordered, they were cooked to that ideal point where they're still moist and not yet falling off the bone. For entrées, Red Rock also prepares a smoked half-chicken ($13), pulled pork ($13), thinly sliced brisket ($15.50), and a large portion of their mac 'n' cheese ($13), which arrives quite creamy underneath a perfect amount of crusty, singed cheese.
Red Smoke Barbecue 573 Monroe St., Detroit; 313-962-2100; redsmokebarbeque.com: Red Smoke, located in Greektown, serves up barbecue that's somewhat upscale. The decor is clean and modern, with comfortably soft lighting. The brick walls are finished with a thin layer of translucent plaster, and the open kitchen sports shiny, rust-colored ceramic tiles and a wheeled cart full of split hickory logs. Order a plate of pulled pork to try out all the sauces. There is sweet and smoky Mississippi mud, tangy honey mustard, fruity cherry molasses, smoky roasted poblano, and the spiciest sauce of them all carries the house moniker. The beef brisket is also fork-tender, and the pork ribs are dry-rubbed and far tastier. The meat has just enough connective tissue left to keep it attached to the bone but it comes right off in the teeth.
Round House BBQ 2760 W. Jefferson Ave., Trenton; 734-671-6100; roundhousebbq.com: Architecturally unique, Round House BBQ is entered via a breezeway connecting a stainless steel diner to a round-shaped former ice-cream parlor. The stainless steel number is part-kitchen, part high-key dining area, whereas the round house has a moodier setup with a small bar. Either way, it's a family restaurant and a crowd-pleaser at that, thanks to the quality barbecue. Our pulled pork could have been a little crispier (we love the burnt ends), but the brisket was perfect — a hard feat to accomplish — the ribs were excellent, and the sides were pretty darn good too. Try the corn fritters, which come with a cinnamon dipping sauce, or the baked beans, freshened up with bits of bacon, rib and onion.
R.U.B. BBQ 18 W. Adams St., Detroit; 313-964-0782; rubbbqdetroit.com: The stars are the meats, of course, and R.U.B. does better on those than on its sides. Fabulously tasty is an appetizer of "pig wings," though they come with the sauce cooked on instead of letting the diner choose. If the correct formula for rib tenderness has the meat splitting down the middle, rather than cleaving cleanly away from the bone, R.U.B. has accomplished that goal with its baby backs, which leave some shreds for gnawing. Also pleasing are the pulled items, both mellow pork and smoky chicken moist as can be. Prominent in each booth is a six-pack of squeeze-bottle sauces. R.U.B. is proud of its home-state dedication, including a collection of more than 20 Michigan brews.
Real BBQ 3695 Dix-Toledo Rd., Lincoln Park; 313-769-5010; realbarbq.com: Opened just last year, they tout their high-quality smoked meats, which include choice Angus beef, Southern-style ribs, chicken, turkey, sausage and pulled pork sandwiches, as well as a host of sides, including baked beans and mac 'n' cheese. The sandwiches are affordably priced — all less than $7. Their "Smokehouse Combo Four" offers four meats atop hand-cut fries for $24.99.
Satchel's BBQ 3035 Washtenaw Ave., Ann Arbor; 734-971-5100; satchelsbbq.com: This barbecue spot is reminiscent of the old stands that used to adorn the streets of Ann Arbor. Run by a self-proclaimed "hillbilly from Alabama that likes to cook barbecue," Satchel's is laid back, built on simplicity. Meats are smoked over hickory, fruitwood and hardwood, and end with a thick skin of dry rub. Many of the dishes aren't in need of dressing, but if you feel inclined there are four sauces to choose from, plus a smattering of sides to round out your meal. The dining room is spacious, with blue walls, bluesy music and back-porch wood furniture. If you have trouble finding the place, just look for smoke. Satchel's keeps its gigantic black smokers on the street, to tantalize potential patrons' taste buds.
Slows Bar BQ 2138 Michigan Ave., Detroit; 313-962-9828; slowsbarbq.com: There's a reason the owners named the place Bar BQ — the ambience is more bar than restaurant. Yet the food gets just as much attention as the beers and the informative, reasonably priced wine list. Slows' baby back ribs are appropriately tender and succulent. "Slows Spicy" sauce goes best on these; it's fruity and hot but doesn't go overboard. The correct cooking and saucing of pulled pork is an obsession in North Carolina, and on that you'd use "NC Sauce." St. Louis spare ribs are done blacker than the back ribs; many would like "Sweet Slows" sauce on these, with its woodsy tang. Beef-eaters can try hickory-smoked short ribs or a pound of thin-sliced brisket. All of this food keeps the place packed, and a steady crowd waits at the bar.
Slows to Go 4107 Cass Ave., Detroit; 877-569-7246; slowstogo.com: Anybody who has dropped in to Slows Bar-B-Q for one of their famous slow-cooked barbecue dishes knows it can be hard to find a table. Or a seat at the bar. Or even a place to stand, sometimes! Well, things changed with the opening last year of Slows to Go, where 'cue-hungry devotees of Slows can get their orders to go between 11 a.m. and 5 p.m. With a smoker capacity seven times that of the sit-down restaurant and a menu nearly as extensive, Slows to Go is an affordable ($9.95 for a pound of rib tips), quick, and saucily delicious alternative to the Corktown location.
Smoke & Spice 7470 Tecumseh Rd. E., Windsor; 519-252-4999; smokenspice.com: The ribs appear unpromising: rather black and dry-looking, with a startlingly pink interior. But in the mouth they are multifaceted chunks of meat, a combination of smoke, tenderness and earthy animal goodness. You may not want to sully that flavor with the sauces: a slightly sweet, mostly tangy tomato-based barbecue sauce; a chipotle; and a runny mustard that's the most unusual and complex of the three. Wings are not an afterthought: Unlike tasteless industrial poultry, these birds are luscious and meaty, smokier than most wings, which tend to taste just of sauce. Pulled pork and beef brisket are the other two main meats, though there's also a mild and tender catfish with remoulade and spicy breading, and an apple wood-smoked half chicken worth checking out, if the wings are an indication.
Smokin' BarBQ 37310 Gratiot Ave., Clinton Twp.; 586-469-3000; smokinbarbq.com: At Smokin', all meals for dining-in are served on trays, in some cases quite literally. Expect a full, uncut slab of ribs on a plastic platter lined with checkered paper for $19.99 (or $22.99 with two sides). Combo platters, sandwiches and sides often get their own containers, a mix of sturdy reusable plastic trays and disposable take-out containers. The sandwiches are a little easier to handle: A burger, catfish or any of the smoked meats are available between bread, but consider one of their named specialties, each accompanied with slaw and a side for $8.99. Rapid service is among their chief aims. Food ordered at the counter takes fewer than five minutes to arrive. Open 10:30 a.m.-9 p.m. Monday through Thursday, 10:30 a.m.-10 p.m. Friday and Saturday, noon-8 p.m. Sunday.
Sweetwater Tavern 400 E. Congress St., Detroit, 313-962-2210: Downtown in the shadow of the towering Millender Center, this venerable Detroit business, in a historic building that was renovated six years ago, is famous for its Sweetwater Wings. And that's no surprise when the wings come in fresh from Eastern Market and are marinated in their special spices for 24 hours. Sweetwater doesn't offer a huge variety of different barbecue sauces, but their single sauce definitely doesn't disappoint. Their pulled-pork sandwich, dubbed "The Big Pig," uses only tender pork that's been slow-cooked in spices before being pulled off the bone, piled on a roll and served with a slice of onion and coleslaw.
Tunnel Bar-B-Q 58 Park St., Windsor; 519-258-3663: Visible pretty much the second you leave the tunnel, the TBQ has a full line of sauces and spices to light the fire in your food-life. If all those original recipes aren't enough, get a load of the bakery's strawberry Romanoff, deep dish pecan pie, any number of homemade desserts. Ten varieties of bottled beer will wet your whistle, enjoyed at the restaurant's new bar (a former smoking room). Just remember your passport.
Union Woodshop 18 S. Main St., Clarkston; 248-625-5660; unionwoodshop.com: Located on Main Street in downtown Clarkston, the upscale Union Woodshop has a look that is the antithesis of barbecue joints found on the dirt roads hidden from rural highways in the Carolinas and in Texas. The joint's food, however, shares the flavors that can usually only be derived from low-and-slow wood-smoking, which creates the pink smoke ring that is a sign of authentic country 'cue. From tender brisket and pulled pork to ribs and chicken, there are no disappointments here. The pizzas, cooked in a wood-burning oven, are as good as the barbecued meats. Do not miss the mac and cheese!
Uptown BBQ 15700 Livernois Ave., Detroit; 313-862-7427; uptownbbq.com: Takeout and cash only. Wedged between the Lodge Expressway and the University of Detroit Mercy, Uptown is one of those small joints where your order can be placed through a hole in the Plexiglas that seals in the cooking area. The ribs are excellent, full of pit-cooked smoky flavor, with the short ends a bit crispy but not overdone, just like the perfect backyard barbecue. An order of ribs is a deal, as Uptown charges $17.97 for a trimmed slab drizzled with sauce. Owner Nathaniel Fanning's signature sauce works well with the meat, sweet and mild, not hot — and so good you'll likely end up sucking the bones clean. It's not just ribs: Shrimp is another specialty, and their soul food sides are a force to be reckoned with.
Vicki's Barbecue & Shrimp 3845 W. Warren Ave., Detroit; 313-894-9906: Takeout and cash only. At Vicki's, it's worth watching the cook cut the slabs artfully. With a knife, she cleaves each rib, leaving a fringe of meat to hold it all together. Using a pair of tongs, she folds it in half, dunks it in the sauce completely, then pops it into a polystyrene tray and seals it up airtight with plastic wrap. For the hot ribs, the only difference is the application of hot powder to the top and bottom of the ribs, as well as one more generous pour of hot sauce on top for good measure. A sign advises that you may tip the cooks for this graceful operation, and we recommend it. Vicki's is a bit expensive, costing around $20 a slab when we went a few years ago, but with quality like this, who'd argue over pennies. What's more, slabs come with four pieces of white bread and a serving of the one side at Vicki's that's worth ordering: Little wax-paper bags of fresh-fried fries. There'll likely be so much sauce left over you'll be able to dunk your fries in it. Also: One recent visitor included TV's Anthony Bourdain.
Zingerman's Roadhouse 2501 Jackson Ave., Ann Arbor; 734-663-3663: The Roadhouse is a sprawling place with a semi-open kitchen, full bar, two dining rooms and — yes, indeed — very good food, which includes pit-smoked beef brisket, chicken-fried steak, pit-smoked spare ribs, and a barbecued pork entrée that's blended with your choice of barbecue sauce, including "Eastern North Carolina vinegar BBQ sauce," "Memphis tomato BBQ sauce" and "South Carolina mustard BBQ sauce."
Zukin's Rib Shack 967 Dix Hwy., Lincoln Park; 313-388-1170; zukinsribshack.com; $$: Pickup or delivery only. A classic barbecue joint, Zurkin's serves classic home-cooked fare like fried chicken, butterfly shrimp and steak subs, but the restaurant is famous for its spare ribs, which are coated in a tangy homemade sauce. There's no sit-down dining, but you can pick up or ask for delivery, available for Lincoln Park, Allen Park and Melvindale.
Special thanks to editorial intern Eric Walters for his assistance researching this column.
Did we miss your favorite barbecue joint? Did we make any mistakes? Let us know! Call 313-202-8043 or email [email protected]