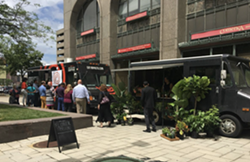 While New Center has always held a few good restaurants, there isn't much culinary variety in the neighborhood.
That's at least partly changing with the launch of Feast at The Fisher, a Monday through Thursday pop up series that's held across from the theater. On Fridays, Fridays at the Fisher, which features local food trucks, Pot+Box's flower truck, and the Eastern Market food stand is held outside the building on West Grand Boulevard.
Among the participants so far are Sweet Potato Sensation, Maccabees Trader, Impasto, Plaza Deli, The Spot falafel, Detroit Juice and Fuel, Paradise Natural Foods, Guerrilla Food, Susan's Tarts, and more.
Beyond the pop ups and food trucks, two new restaurants are in the works, though no details are yet available. A third restaurant, New York City's City Bakery,
is planning
its first location in the historic art deco building.