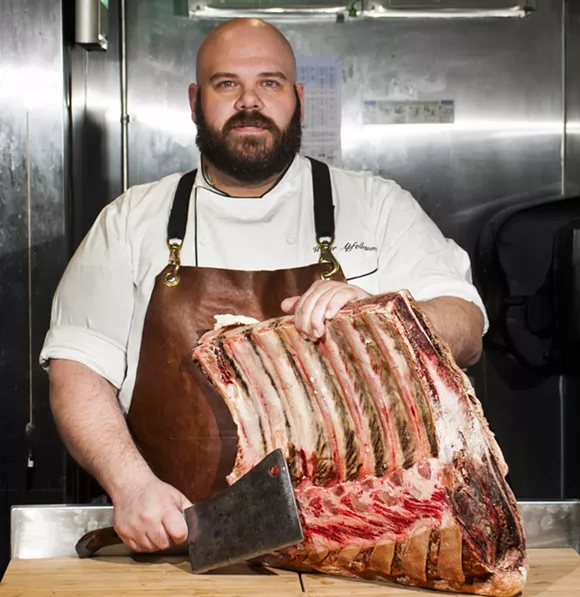 Chat with Prime + Proper's executive butcher Walter Apfelbaum for a few moments and it quickly becomes apparent that his love and passion for meat is only matched by his desire to share his knowledge of the art of butchery.
He's one part butcher, one part meat prof, and oozes passion for both. That's the combination driving the concept at Prime + Proper, a new downtown steakhouse set to open in the coming months at State and Griswold. It's the newest venture of Townhouse's Jeremy Sasson, who hired Apfelbaum to develop what can be described as a far more interactive steakhouse than anything we've previously seen in Detroit.
When it opens, diners won't just walk through the doors, sit down at a table, and point to a cut on the menu. Ordering at Prime + Proper will instead involve a learning experience on the part of the diner and Apfelbaum designed to pair customers with the perfect protein. That means diners will be checking out the open butcher shop, looking at the dry aging meats, chatting with Apfelbaum for a few minutes, and generally getting acquainted with the cuts. The process gives Apfelbaum a chance to get to know you and start his meaty matchmaking.
"It's about education. This is an experience, not something at an everyday steakhouse. You don't just choose what looks good on the menu … a steakhouse should be a lot more than that," he tells
MT
. "We want you to use all the senses in the experience – seeing, smelling, touching, tasting. We want to educate you. Most people go to steakhouse and say 'Give me that filet or a ribeye' but they don't understand what they're ordering.
"If you're going to get a ribeye, let's figure out how to get a perfect ribeye for your personality and tastes."
But, really? A meet and greet before you'll cook us a steak? That seems excessive. "Trust me on this process," Apfelbaum says, and "you'll be rewarded."
"It's hard to describe, but when you get to read people, it's your personality type and the way you carry yourself that helps us figure out (the best cut). Once I
get
you, once I
know
you, then we put the order in, I'll bring it out to the table, and say 'This is what you're having tonight,' and people are always like, 'This is amazing! Here's my fist born!' because, for the first time, they're eating how they're supposed to at a steakhouse."
And each order isn't just another plate: "This is who I am. This is a representation of Walter," Apfelbaum tells me. "It's not a job, not a career, it's my soul."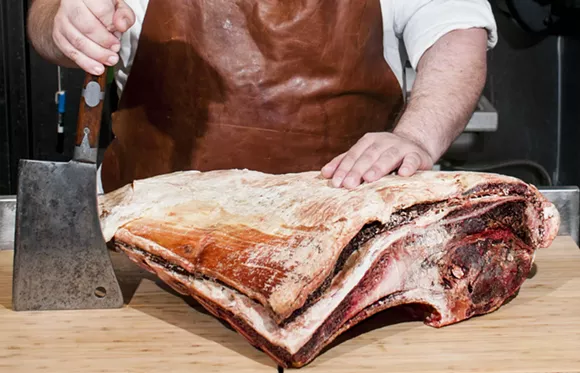 The concept and approaching Apfelbaum could be intimidating for some people. Walter is a giant dude with a big voice and a bigger cleaver hacking up large slabs of meat. He could fit into an Eli Roth movie, but is as approachable and friendly as anyone in the Detroit food scene. And he's spent nearly his entire life learning butchery, so he isn't some random meat quack advising on your cut.
Growing up in a German household on the Jersey Shore, Apfelbaum lived in a far more European culinary world in which families bought their seafood from a fish monger, bread from a true baker, and purchased meats from a dedicated butcher. That butcher and Apfelbaum became tight buds, and while hanging around the shop he learned about every part of the animal and what a happy cow means for the meat on your plate.
"I'm extremely picky about what meat I get and how I get it," Apfelbaum says. "I want to make sure every single cut is amazing, and is going to give you the sensation of a sweet, sweet symphony, so when you bite it, you're lost. There's so much going on in your mouth that you're lost. You can taste the nuttiness from the animal's natural diet, which is the way it's supposed to be."
After working in a range of butcher shops, Apfelbaum enrolled in the Culinary Institute of America, graduating as the only butcher in his class. That afforded him the opportunity to learn a part of the equation that other butchers often ignore, but as Apfelbaum points out: "What's the point in breaking (an animal) down if you don't know how to prepare it?"
Like many of the divisions of the culinary arts, that type of dedication to butchery all but disappeared over the last 60 years as consumers opted for the convenience of prepackaged cuts in corporate supermarkets over quality. But Apfelbaum never wavered in his approach, and that's paying off as younger generations take more interest in properly grown and prepared food. After spending eight years running the NYY Steakhouse in the Seminole Casino in Florida, Apfelbaum is excited to jump into an increasingly sophisticated and quickly evolving market in Detroit.
"When I got to Florida, people were still going to grocery stores. I said 'Come on, you need some small time butchers. Talk to fish guys. We're in Florida for god's sake! Go get fresh seafood! Stop going to Red Lobster,'" he says. "When I got up here, Jeremy took me to the Eastern Market and I said 'Holy mackerel! this is what I'm talking about!'
"It's absolutely incredible and gorgeous. I love the scents and I love that people here are appreciating food and wanting to educate themselves."