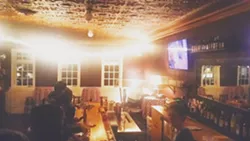 The Atlas Bar on the corner of Brombach and Yemans in Hamtramck was one of those storied watering holes where many a Hamtramckan earned their dive bar stripes. The underaged were overlooked, there were plenty of dark nooks for fooling around and, situated in a house, it perfectly fit the old-school, working-class vibe of the neighborhood.
A fire in 2011 in the upper flat put Atlas out of commission for years. But on the eve of Thanksgiving Eve (the biggest bar night of the year), the spot quietly opened. Reimagined as Polka Dot (though regulars from before will likely stick with the original name), the place has transformed from a shady, dank bar to a sleek spot that some have already likened to a French cafe.
When we visited on Tuesday night, there was no signage outside, just a propped open door on the corner, letting those in the know aware that the place was open for business. Walk inside and the first thing you'll notice is just how new it looks. Anyone familiar with the divey nature of neighborhood bars in Hamtramck knows just how old most of them feel. A lot of regulars in these places still smoke, giving them a long-standing stench.
Not at Polka Dot. The property's current owner, Carolyn Wietrzykowski who also runs Polish Village Cafe with her family, went through great pains to spruce up the place. Wooden pews and booths that once towered in one corner are gone, as is the stage that was set up near the front door. The original tin ceiling has been painted over in a rusty, copper color, walls in burgundy and cream and doorways have been accented by white French molding. The floor has also been equipped with several bistro-style round tables with checkerboard table cloths. Makes us wonder if Wietrzykowski is making room to bring some of her Polish fare in for customers.
Polka Dot carried the bar-bones basic beers and spirits on opening night, so customers were left with limited mixed drinks options. Still, there was an air of curiosity and awe on many of the faces we sat next to at the bar. Perhaps a feeling of uneasiness at the new look, we're not sure. But this certainly brings back a lot of memories for folks.