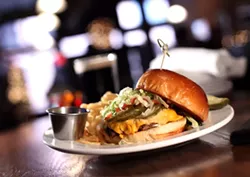 Firebird Tavern
419 Monroe St., Detroit
313-782-4189
Appetizers: $4-$10
Sandwiches and salads: $8-$12
Hours: 11 a.m.-12 a.m. Monday-Wednesday, 11 a.m.-2 a.m. Thursday-Saturday, occasional Sundays with special events or games.
Talk about having big shoes to fill: Formerly Marilyn's on Monroe, the iconic name and pop-art portrait have given way to Firebird Tavern's rising phoenix. Owners Owen Burke and Tony Piraino, formerly of Pulse Lounge, say simply that "our goal and mission for Firebird is to be a true American Tavern," a place where anyone will feel comfortable at any time of the day, arrived for any reason.
The interior of Firebird fits with this shot at tavern tradition: Dark wood, exposed brick and stained glass accents create an environment that might be at home in the building's early years (indeed, much of the interior is original and was restored before the tavern's opening), but is brought into modernity with televisions and an electronic jukebox. Clearly, Firebird wants to straddle history and convenience, and strikes a good balance: It's as much a bar to watch a game as it is a place to meet your friends for a bite to eat.
The menu at Firebird is relatively small: eight appetizers, six sandwiches, three salads and only one dessert — ice cream. This might be perceived by some as a disadvantage, but here it results in very well-executed tavern food that anyone could enjoy.
If you fancy french fries, you should order the poutine to start, tossed in gravy that belongs on a gourmet plate, interspersed with cheese curds that are just melted enough to be stringy. It's a succulent bite, if a little messy, and far preferable to your generic chili cheese fries. Share it with a friend, or treat it as a whole meal unto itself (not a terrible idea), because the portion is definitely large. At a tavern where all of the main items are accompanied by french fries, they can be a make-or-break item. Here, the fries are particularly good, crispy and rich in potato flavor. You can get a plate of them as a starter as well, served with white truffle mayo. You probably should.
The lamb sandwich, an open-face twist on a gyro, is made with pulled lamb instead of the typical shaved meat. The result is moist, flavorful lamb that carries all the spices from its cooking to the plate, and is hard to stop eating — especially when combined with a healthy amount of refreshing tzatziki sauce. The Chief's Muffaletta is piled with salami, capicola and mortadella (the original bologna, garlicky and smooth and worth pulling off a piece or six to nibble on), and garnished with a savory tapenade. If you want to try a bite, you might want to order a second sandwich for yourself, as it seems to inspire a bit of greed at the table.
For those looking for greens, there are three options: a Caesar, a spinach salad, and a Michigan salad, filled here with dried cranberries and cherries, as well as fresh apples and a raspberry vinaigrette. That's more fruit than you find in many other Michigan salads, and makes for a particularly good salad, definitely worth a try. Chicken breasts can be added for $4 more, and the salads are generously portioned, making them a solid choice for a meal.
Tavern culture has always centered around the bar, however, and the liquors, spirits and personalities behind it: Firebird boasts a full bar and a small menu of special cocktails, with the clear ability to produce most anything to wet your whistle. The beer selection includes more than 40 different brews from Michigan and beyond, and several draft beers (changing periodically) are always available. The culture does not end at the bar, however: Fridays and Saturdays see the upstairs of the Tavern turned over to dancing with local DJs; it's also available for parties and events.
All in all, Firebird Tavern is a successful endeavor: The owners created a new place for a crowd and culture that has always been around. With good food, good drinks and a good atmosphere, Firebird Tavern is a welcome addition to Greektown, and a perfect place to gather in friendship and love around food and drink.