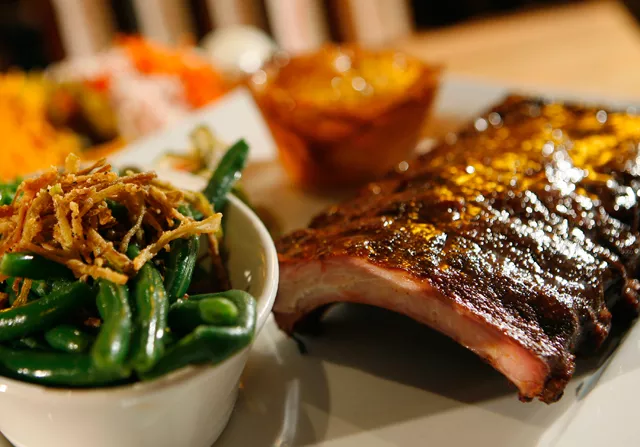 Red Smoke Barbeque
573 Monroe St., Detroit
313-962-2100
In the early 20th century, the area along Monroe Avenue between Brush and St. Antoine Streets saw a flood of Greek immigrants. Today, Greektown is primarily a commercial district and the most familiar area for daring suburbanites when they feel the urge to venture out into the exotic city of Detroit. In fact, according to a survey by Clarkston-based market researcher Intellitrends, more people were familiar with getting to Greektown (78 percent) than Hart Plaza (75 percent) or the riverfront (72 percent).
The more recent additions of a towering gaming casino, a franchise burger joint and an upscale "world cuisine" restaurant have drawn more than just the Red Wings game day crowd filling up on gyros and saganaki. Now add a barbecue joint to the ever-changing face of the neighborhood. When Tasso and Michael Teftsis, owners of the popular Astoria Bakery, questioned their customers about what kind of new business they would like to see in Greektown, none of them said Greek food. Thus the idea for Red Smoke Barbeque was born.
It's barbecue that's somewhat upscale. The decor is clean and modern, with comfortably soft lighting. The brick walls are finished with a thin layer of translucent plaster, and the open kitchen sports shiny, rust-colored ceramic tiles and a wheeled cart full of split hickory logs. Black cloth napkins rest on varnished wood tables. A couple of large flat screen televisions play the local sporting games with the volume off. At one point, the music felt like it came straight from an '80s roller-skating party. Fortunately, the volume is restrained.
Pepper-laden deep-fried pickle chips are a spicy, pre-meal indulgence that won't fill your belly before a plateful of smoked meat arrives. They're only $4, and come with a side of creamy remoulade. For $9, you get six whole unbreaded, fried chicken wings. Ours couldn't have been cooked better, the outside skin crisp, the inside wholly moist. Order them naked to try out all the sauces. There is sweet and smoky Mississippi mud, tangy honey mustard, fruity cherry molasses, smoky roasted poblano, and the spiciest sauce of them all carries the house moniker.
Another way to try the sauces is with a plate of pulled pork. Like the wings, the texture of the pork couldn't be any better. The beef brisket was also fork tender, though still had a bit more solid fat between the muscle strands than is typically ideal. Both the pork and brisket had obvious smoke rings — telltale marks of proper barbecue — yet were unfortunately only subtly flavored with smoke.
The pork ribs were dry-rubbed and far tastier. The meat had just enough connective tissue left to keep it attached to the bone but it came right off in the teeth, again, perfectly cooked. They needed no sauce. Beef ribs were a bit tougher, but this is merely due to the nature of beef ribs — and why you don't often see this cut in barbecue houses. Though they had just as much flavor as the pork ribs, they are better suited for braising.
All of the side dishes sampled were good to excellent. A forkful of garlic-laden green beans received a bit of crunch with strands of fried leek. Collard greens with hunks of pork would have benefited from a few dashes of Carolina-style hot pepper vinegar. The mac and cheese was made with radiatore pasta, thick, creamy and steaming beneath a thin, crunchy breadcrumb crust. And the cheddar, jalapeño cornbread muffin that comes with a meal is no mere afterthought.
Even taking home half the meat we ordered, three of us working together still could not finish a dessert of bananas Foster bread pudding. A huge, hot square of the pudding is doused in caramelized bananas with a side of vanilla ice cream and whipped cream, a fine deviation from the always-pleasing Southern bread pudding.
If you're drinking the hard stuff, the best bet is draft beer. The specialty cocktail menu is a peculiar list of drinks fashioned with numerous syrupy ingredients, such as peach schnapps, Mountain Dew and Southern Comfort — one particular toothache-inducing mixture a combination of all three. There is a small assortment of red and white wine. The bottled beer offerings are just about the same as the standard strip mall pub, but there are eight Michigan beers on draft, from such venerable mainstays as Bell's Two Hearted Ale and New Holland Full Circle to local brews from Dragonmead and Motor City Brewing Works.
Though urban sophisticates and hardcore barbecue snobs might find a few details lacking, most folks that frequent the neighborhood will be easily satisfied with the tender meats, flavorful sauces, solid side dishes, and small but quality draft beer list. Given the success of another well-known Detroit barbecue restaurant, it seems that Red Smoke was practically inevitable.
Red Smoke is open Sunday through Thursday, 11 a.m.-midnight, and Friday and Saturday, 11 a.m.-1 a.m.