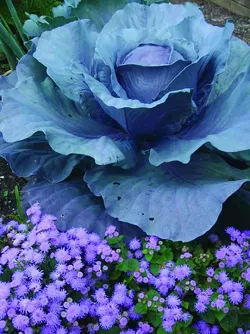 Every autumn, folks pack the kids in the car and head out to the country, looking for a connection to the land by visiting apple orchards. But has anybody considered that the city and its suburbs are increasingly places where you can also feel that connection? We've put together a nowhere-near-exhaustive list of some of those places, and zoomed in on what they have to offer and how they manage to thrive even though they're not out in the country. Have a look. —Michael Jackman
D-Town Farms 3800 Puritan St., Detroit; 313-345-3663; [email protected]; dtownfarm.blogspot.com: Here's where the Detroit Black Community Food Security Network does its trailblazing work, in the city's Rouge Park neighborhood. In additional to traditional row crops, D-Town Farms has several beehives, a large-scale composting operation and four hoop houses. Anybody wanting an extensive tour, especially for groups, should contact their office and make arrangements for somebody to meet them. Or, if you'd like to hang back and watch the volunteers at work, their hours are 8 a.m.-noon Saturdays, 9 a.m.-noon Sundays. — MJ
Earthworks Urban Farm 1264 Meldrum St., Detroit; 313-579-2100, Ext. 204; [email protected]: cskdetroit.org: Founded in 1997, Earthworks Urban Farm is the oldest certified organic farm in Detroit. It consists of about seven gardens over 20 city blocks within a two-mile radius of headquarters. The farm's mission is to restore a connection between the environment and the community. In 2001, working with the Wayne County Department of Health to develop ways to promote the consumption of fresh vegetables in low-income families with children, Earthworks began hosting weekly vegetable markets at health clinics. The program was expanded to include canned tomatoes, pickled beets and jams. A hive of honeybees was donated and has grown to more than 40 hives. In 2004, the garden added a 1,300-square-foot greenhouse. It's a site not just for agriculture but potlucks for neighbors and supporters, food policy discussions and distributing seedlings as part of the Garden Resource Program. Earthworks Urban Farm offers educational workshops and classes related to agriculture. The farm also has volunteer hours 9 a.m.-noon Wednesdays, with lunch afterward at Capuchin Soup Kitchen. —Ashley Fagan
The Edible Hut [email protected]; ediblehutdetroit.com: With an outdoor sculpture that serves not only as a gardening area, but a gathering space for outdoor classes, summer lunches and music performances, the Edible Hut brings together its surrounding community. Located in Calimera Park on the east side of Detroit, an entire community came together to build the hut, including a team of artists, architects, youth from the neighborhood, and teachers and students from local schools. The roof is a garden of perennial plants including sage, thyme, lavender and oregano. The inside of the hut incorporates many colors to create a peaceful space. Members of the group sell vegetables from the garden here. —Yara Beydoun
Georgia Street Community Collective 8902 Vinton St., Detroit; 313-458-7052; georgiastreetcc.com: Comprising 13 lots, this community collective, spearheaded by organizer Mark Covington, has been growing for years. With 45 chickens (ranging from full-grown roosters to baby chicks), three turkeys, two ducks, several goats, a fruit orchard, row crops and more, Covington says he gets people coming through all the time. "Sometimes they ride through, sometimes they get out and look. It's all accessible except for the community center when I'm not there." — MJ
Hope Takes Root Wabash and Temple Streets, Detroit: Hope Takes Root is one of the oldest gardens in its area. With only five current members, they have continued to maintain a vast vegetable garden and an orchard. Crops include radishes, kale, nuts and much more. People from the neighborhood are welcome to pick fruit and walk through the garden without any charge. Cathy Snygg, who helps manage the garden, says they are always looking for volunteers to help. Each year, the Garden Resource Program takes a tour of the garden, bringing food and agriculture enthusiasts. But you can find some of Hope Takes Root's healthy goodies at the Grown in Detroit table at the Eastern Market as well. Snygg says, "It's a great garden. This time of year is not the best time, as we're getting ready for winter, but if people want to come, I'd be happy to welcome anybody." Volunteers usually work in the garden 11 a.m.-2 p.m. Sundays, depending on the weather. — YB
Lafayette Greens Shelby Street at Michigan Avenue, Detroit; 313-227-5555: Lafayette Greens is an urban garden located on the site of the former Lafayette Building. In 2009, after standing abandoned for many yearsit was demolished. The space is funded by Compuware Corporation with the intention of beautifying downtown Detroit and creating a space where their employees and the public could learn about and enjoy gardening, and "to encourage other downtown-based businesses and residents to reach out and transform the spaces that surround them."
The space uses reclaimed and repurposed pallets, doors, food-grade stainless steel drums and cement. Little flourishes include "bloom boxes" donated by local artist Emily Thornhill, vertical gardens of box-shaped flower planters in the shape of a '90s boom box, and a "peace mosaic" of marbles, glass, and ceramics created by children.
Lafayette Greens' Devin Kuziel says there are more than 200 types of organically grown vegetables, flowers, herbs and plants that can be traded in and out of the garden, depending on the needs and wants of the community. The produce grown is donated to Gleaners Community Food Bank, Alternatives for Girls among other groups. Volunteers who work and help maintain the space are also able to take food home. Kuziel stresses that Lafayette Greens is a public space, open to anyone during its hours of operation Monday-Friday. Fall hours are 9 a.m.-5 p.m., and winter hours are 10 a.m.-2 p.m. — AF
Market at the Marquee 15145 Beech Daly Rd., Redford; 313-387-2504; [email protected]; redfordtwp.com: The Market at the Marquee in Redford is full of pleasant surprises. It runs 10 a.m.-3 p.m. Sundays. With a little more than a dozen kiosks, it's relatively intimate, with palpable camaraderie between the vendors. Shoppers can find locally made honey, lemonade and cider (served hot and cold), but the main attraction is the fresh produce. On a recent visit, one long table was weighed down heavily with produce, which is fresh and reasonably priced. Other vendors sold flowers, potted or cut. At a table representing a co-op of small local growers, it was obvious they believed in their product and their pride was refreshing. More than one heavily laden customer commented, "I only came for one or two items." This place is a nice little excursion on a summer afternoon. — Larry Lehna
North Cass Community Garden West Willis Street at Second Avenue, Detroit; 313-420-6000; midtowndetroitinc.org: This garden has been active for five seasons, having begun as an kind of outreach to the neighborhood to see if anyone wanted a small garden. It resulted in a community effort to build structures and plant an array of unusual greenery, from berries and purple cabbage to liatris (a lavender-looking flower) and marigolds. People living in the community can rent plots for a year. Gardeners are responsible for maintaining their plots, but utilities and water are provided. In essence, the multitude of colors, shapes and sizes of the diverse plants comes from the heart of the community, as gardeners choose and plant whatever they want. As the winter season approaches, around Nov. 10, North Cass closes down. Experienced gardeners, however, can choose to continue their plot using their own utilities and water. The garden's special project manager, Annmarie Borucki, has been an active member of this community garden from the beginning, and says: "North Cass provides gardens for people who live in apartments. It gives them access to some real green space." — YB
Rising Pheasant Farms Frederick Street just east of Moran Street, Detroit; [email protected]; risingpheasantfarms.blogspot.com: Rising Pheasant Farms was founded in 2009 as a family-owned and -operated farm on the Detroit's east side. Specializing in microgreens for local farmers' markets and restaurants, the farm has sold at Eastern Market since 2009, and started operating an on-site farm stand last year. The bicycle-based business moves all produce and supplies using pedal power. The produce itself is all-natural produce grown using only organic seeds. Rising Pheasant's Carolyn Leadley has been working in urban agriculture since 2006, with such organizations as Greening of Detroit, Earthworks Urban Farm and Seed Wayne. At the time urban agriculture was dominated by non-profit projects, and Leadley was inspired to try out an actual farm business in the city to see if it would work.
This year, they marked five years in business, and they hope to have their greenhouse up and running by next year. Leadley and company ask that visitors or prospective volunteers email them to arrange a time and day to stop by the farm.
Ropteri's Turkey Farm 34700 Five Mile Rd., Livonia; 734-464-6546: A field of turkeys is an unexpected sight while driving through the well-manicured neighborhoods of Livonia. Yet this local turkey farm has been here longer than most of its neighbors. It was established by Tom Roperti in 1948 when Livonia was still a township. Nearby businesses included sod farms and apple orchards. Nowadays, the field of white feathers presents an arresting sight for motorists driving down suburban Five Mile Road. It's run by Tom's daughter Christine, who continues to uphold the principles her father taught her. Their feed is all natural — corn, wheat, oats and water (and nothing else, no preservatives) — and these are true free-range birds, with a full five acres at their disposal. "I do it the same way my father did, no short-cuts," Christine says. She urges people to try her turkeys just once, as she believes that most individuals have never tasted a real turkey. Her list of regular clients increases every year. They sell turkeys Oct. 1-Dec. 31, though their busiest period is during the four days preceding the holiday. Call a day ahead and your turkey will be ready. Christine admits her birds are higher-priced than the frozen turkeys in grocery stores, but she says that once you taste a Roperti turkey, the quality and taste will win your loyalty. — LL
Tuthill Farms & Composting 10505 Tuthill Rd., South Lyon; 734-449-8100: Tuthill Farms is another jewel in the local "growing scene." The farm is also the family home of the seventh generation of Tuthills. Established in 1864, it has produced crops, dairy products, hogs, chickens, eggs and beef over the years, though today they focus on naturally raised eggs and goats' milk, along with the composting. They even board horses and have free-range chickens walking around. Catering to many landscaping companies, private homeowners, they are a key supplier of compost to the Greening of Detroit program.
As the area where they are located became more developed, Tuthill looked for alternatives to traditional farming. Composting was a perfect fit: The operation only takes up 16 of the farm's 180 acres. The beauty of it is that they are paid to receive the materials, and, after the composting process, they sell the finished product. They don't use any chemical fertilizers, herbicides, insecticides or fungicides. They have a formula for mixing the compost, using three parts leaves and woodchips to one part grass and manure. They closely monitor their product for odor. (That was a huge concern of the neighbors.) If done properly, the process produces little or no odor. It's a very well-run operation. It is also quite environmentally prudent. They actually use more of the compost than they sell, utilizing it as a nutrient source for the crops they raise to support the boarded horses. The farm is used to visitors, and open 7 a.m.-5 p.m. — LL
Special thanks to editorial interns Ashley Fagan, Larry Lehna, Tyler Martin and Yara Beydoun for their contributions. Send comments to [email protected]
The Food Field
605 Edison St., Detroit; 313-312-7235
In the distance, a bobbing baseball cap in the field can be identified as that of Frankie Silvia, a worker on an urban farm who will likely slide the dirt-caked gloves from his hands to greet you with a handshake and a smile.
In the Boston-Edison Historic District, surrounded by many of Detroit's historically significant homes, a tire-mark trail worn into the grassy terrain leads straight to Food Field, a local farm that provides fresh, affordable produce for the city.
Despite experiencing a robbery earlier this summer, a time when the farm lost some of its most expensive tools, it is still moving forward. Noah Link, co-owner and manager, admits that he finds value in having the field remain somewhat accessible to neighbors.
"We didn't want to wall off the property and keep people out," he says. "We wanted them to see what's going on and what we're growing — and even allow neighbors to cut across the field. We like to keep it open as a community space."
The land is in fact open, all four acres falling easily within the field of vision. The greenhouse, fenced-off chicken coop, and little blue building can all be seen from the entrance. Ash-purple kale, hot red peppers, amber tomatoes, modest pumpkins, thick carpets of sweet potato vines and more grow within. Between the rows of greenery, the dirt paths are paved with potatoes and loudly mating crickets.
At the hen house, the crickets occasionally fall silent and a few bees drone nearby. The chickens crowd around, clucking softly as they stamp their twiggy feet into the vegetable scraps on the ground.
"It's like a little oasis," Silvia adds, walking away from the chickens toward the fruit trees. The trees, fruitless this time of year, are one of the ways that Food Field has grown since its establishment in 2011. According to Link, the farm has been moving in new directions since he and co-owner Alex Bryan established it. With an orchard of about 120 fruit trees, a flock of chickens and ducks, a solar-powered generator, and the beginnings of an aquaponics system, it is expanding to include more than vegetables.
"I feel like we're actually making an impact with what we're doing, although we still have a long way to go," Link says. "I think a lot of people were just inspired by seeing what used to be an empty, overgrown piece of property being turned into this vibrant space, and being turned into something productive." —Tyler Martin
Though the easiest way to score a quick tour of the farm is to drop by, it is helpful to call ahead, as tours can be problematic during busier times. Food Field also sells its produce at Eastern Market 9 a.m.-3 p.m. Tuesdays, and the farm also offers a five-month CSA program offering the chance to buy a share in the farm and get a weekly box of produce. Food Field can be reached at 605 Edison St., Detroit; 313-312-7235; [email protected]; foodfielddetroit.com.
Click here for a virtual tour of the farms and gardens.