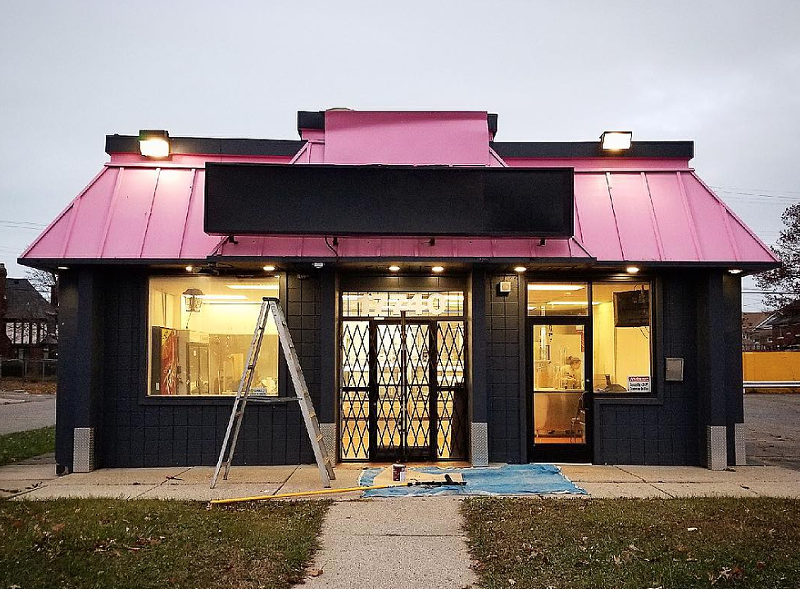 Guerrilla Food, which is behind North Corktown's Pink Flamingo pop-up, is expanding with a brick and mortar restaurant across Woodward Avenue from Palmer Park.
Like Pink Flamingo, the menu at the new restaurant will focus on owner Meiko Krishok's "food as medicine" philosophy. That means farm-to-table, seasonal cuisine made with nutrient dense whole foods grown in Detroit as much as possible.
The grab-and-go items will include a small, rotating hot food menu that changes seasonally, as well as salads and soups by the quart. Krishok says Guerrilla Food will expand its wintertime soup subscription to be a year-round program, and includes options like vegan coconut curry soup and black-eyed peas with greens.
Guerrilla will also sell packaged items like its sauces — banana ketchup, miso chipotle, and a seasonal green sauce. Drinks will include smoothies, different types of tea, housemade hibiscus lemonade, and more.
Krishok sources from Detroit farms like Fisheye, Coriander, Brother Nature, Rising Pheasant, and Farm Field Table.
"The idea is pretty much to use everything as fresh and as local as possible, and doing everything from scratch, and then using as many whole foods as possible," Krishok says. "We do a lot of stuff with beans, greens, lots of herbs, garlic, ginger, lots of different spices — just really focusing on vegetables that are being grown here."
She adds that the building at 17740 Woodward Ave. was a good fit because Guerrilla Food needed a kitchen that's already built out. The building used to house a Bread Basket Deli, and mostly just needed a deep cleaning.
"We've been cooking out of kitchens in Hamtramck and Brightmoor, and we're outgrowing them, so we were ready to have a home base for catering and pop ups," Krishok says.
The space may have a table or two, but Krishok said people can grab items and head cross Woodward to the park when the weather is nice. She doesn't have an opening date yet, but the restaurant is waiting on final city inspections. In the meantime, Pink Flamingo will continue running out of a vintage Airstream at its North Corktown location, and starts serving for the season on May 2.
So many restaurants, so little time. Find out the latest Detroit dining news with our weekly food newsletter delivered every Friday morning.