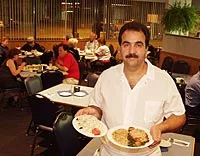 Every neighborhood should have a Jennifer's Café: good food and reasonable prices on anything from a salad or a sandwich to an elaborate dinner. Customers know each other; friends greet friends as they walk through the 50-seat dining room.
Jennifer's Café is a family project for the Suidan family. Brothers Jack and Eddie are chefs, but Jack adds, "The whole family is involved." The restaurant was named for Jack's daughter, whose birth coincided with the opening of the restaurant 16 years ago. Jennifer, now a high-school senior, waits tables at her namesake two or three days a week.
Jack Suidan adds: "I always wanted to do great food at affordable prices, and that's what we've done. We didn't have a liquor license so we couldn't go after an exclusive audience. A wide range of people come in. You can get veal as good as any in the city, or you can just have a tossed salad."
Twenty varieties of sandwiches are offered, most wrapped in a thin pita, neat and tight so that none of the juicy contents will dribble down your chin. Our teenager enjoyed a sandwich of charbroiled chicken breast with Havarti cheese, honey mustard, Maurice dressing, lettuce and tomato ($7.25). All are served with the restaurant's homemade potato chips, made with the peel still on the potato, semicrisp and lightly salted.
Chicken, veal and fish predominate on the menu. Only one beef dish is offered, tenderloin tips ($16.95), which was outstanding, prepared rare as ordered, trimmed of fat and tender enough to cut with a butter knife. The beef was sautéed with mushrooms and onions and served on rice pilaf.
Atlantic salmon Dijon ($15.95) was served on a large portion of spinach with a lovely creamy sauce seasoned with chervil. Lingonberry veal ($16.95) had a sweet/tart sauce; the sauce is imported from Sweden.
There is a Middle Eastern section with grape leaves, baked kibbe, sambossic (meat pies), shish kafta, falafel, hummus and tabbouleh. No exotica like lamb tongues, and, unfortunately, no shish kebab.
Dinner comes with soup or salad. The excellent house soup is a thick chicken broth with small balls of ground lamb. The chicken noodle soup was equally good.
The contents of the salad varied from one night to the next, but both were good. A children's menu carries family-friendly to the extreme of offering a peanut butter-and-jelly sandwich to the under-10 set.
A small dessert menu, reasonably priced, includes things such as apple crisp, rice pudding, and an interesting pastry stuffed with walnuts, sprinkled with pistachios and served with a yummy, not-too-sweet vanilla sauce. The chocolate mousse is served in a little cupcake holder made of chocolate.
When I told Jack Suidan that I'd like a restaurant like this in my neighborhood, he knew just what I was talking about. "We see the same faces all the time, and they see each other and know each other," he said. "The same two people come in every Wednesday and order the Maurice salad. Two electricians are always our first customers of the day; they come in four or five times a week."
If your neighborhood is nearby, I can't see why you wouldn't be a regular.
Elissa Karg dines for Metro Times. E-mail [email protected].