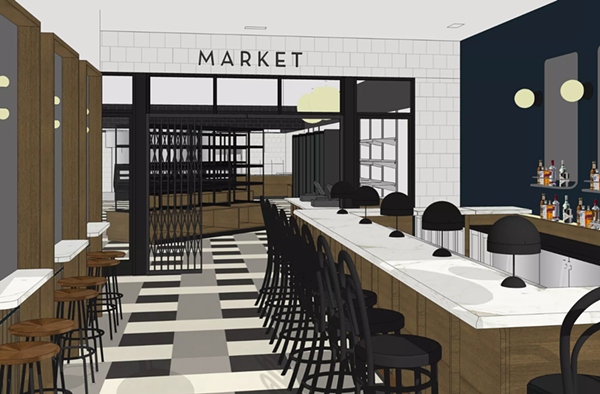 The long-awaited Eatori Market is now targeting an August opening in Capitol Park's Malcomson Building at 1215 Griswold St.
The 2,500-square-foot space will function as a bar/restaurant with seating for 25 up front, and a specialty market offering grab-and-go items; dry goods; fresh produce; prepared foods; a soup and salad bar; and beer and wine.
According to a release from Eatori, the Malcomson Building's deco feel inspired Eatori's design, which is being handled by Kyle Evans Design.
For example, an existing art deco-era railing provided the initial design direction, and a period-correct scissor gate was added to separate the restaurant from the market.
"We knew this was going to be a unique design challenge," owner Zak Yatim says. "I was looking for a hip Paris or New York-like vibe for both the market and restaurant space. We need to accommodate shoppers as well as neighbors who want to come in for a bite to eat or a drink with friends."
Eatori Market will be open from 8 a.m. to 10 p.m. daily, and the restaurant will serve lunch and dinner until midnight Sunday through Wednesday, and until 2 a.m. on Thursday, Friday, and Saturday.