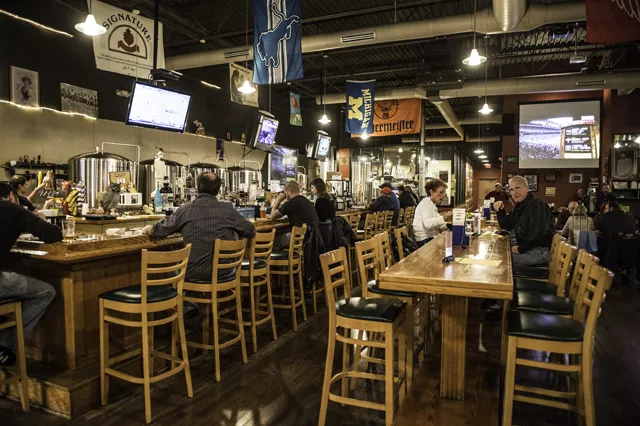 Angelina's Mexican 8425 Allen Rd., Allen Park; 313-216-7181; angelinasfreshmex.com; $: Warm service, colorful dishes, generous cheese-to-tortilla ratio, and a lunch menu with prices hovering around $5 per meal make this authentic eatery a prime location in the constellation of metro Detroit's Mexican restaurants.
Auburn Café 3520 W. Jefferson Ave., Ecorse; 313-381-8133; facebook.com/AuburnCafe: $$: Brick archways and a pretend grape arbor overhead contribute to the atmosphere, but it's basically your family bar scene — and people love this place. Both lamb and chicken gyros are nicely done, wrapped in an excellent warm, thick pita. Then there's the famous chicken salad, a Greek salad with feta, Greek olives, mild peppers, cukes, tomatoes, homemade dressing and chicken char-broiled by the cook. What's more, Auburn's meat is always fresh, never frozen.
Belmar Lanes 4035 Fort St., Lincoln Park; 313-381-4242; $: You don't even have to pick up a bowling ball to have a good time here. Roll inside and look for the bar. It's a quaint little space serving the usual bar fare: Expect nachos and cheese, chicken tenders, french fries, cheese sticks, hot dogs, mini-tacos, mini-pizzas, hamburgers, as well as complimentary popcorn. So why pay $3 for a beer? Character, baby. This place is loaded with character — and characters! On one visit, we spotted one of our friends from Cass Cafe in the midst of league play, and she showed us the shortcut from the bar to go outside and smoke.
Big League Brews 20428 Ecorse Rd., Taylor; 313-406-6931; facebook.com/bigleaguebrews; $: Metro Detroit must be the capital of claims of peerlessness. Self-proclaimed as the "best new bar in the world," Big League Brews is the consummate sports bar. The tavern often has deals on buckets of beer, and serves some tasty brews, such as Newcastle Brown Ale and Detroit Dwarf.
Black Pine Tree 18700 Eureka Rd., Southgate; 734-284-8700; blackpinetreesushi.com; $$: Lunch and dinner for dine-in or carry out, serving authentic Japanese cuisine, including sushi. Menu includes noodles, donburi, teriyaki, yakisaba, tonkatsu, as well as a few Korean specialties. Full bar. Open 11 a.m.-10 p.m. Monday-Friday, 1 p.m.-10 p.m. Saturdays, 4-9 p.m. Sundays.
The Broadcast Booth 6550 Allen Rd., Allen Park; 313-389-5050; thebroadcastbooth.com; $$: More a restaurant than a sports bar, yes, the lounge is dominated by a huge U-shaped bar and scores of TVs, but other areas are sedate. The joint's informality — wooden tables and paper napkins — reflect the menu's budget-friendly meals. For example, only $8.95 will score a "Hat Trick" appetizer composed of four buffalo wings, five crispy fried-ravioli bites stuffed with cheese and jalapeño, and tortilla chips with a lively spinach dip. The ample portion of deep-fried but mercifully lightly floured little calamari rings with marinara is another decent starter. Among the other traditional bar-food appetizers, which average around $7, are steak bites, quesadillas, and "Katie Bar the Door" chili over mac 'n' cheese. There are burgers, pastas, pizzas and more. Most mains are less than $17, with the kitchen justifiably proud of its tender, fall-off-the-bone baby-back ribs basted with a mild hickory barbecue sauce.
Brown Derby 10661 W. Jefferson Ave., River Rouge; 313-843-0380; $: Right down the street from River Rouge's police department, this little hole-in-the-wall is a relatively quiet place to sit down for a few brews, with a short menu that includes burgers as well as steak and onions. Ask if the jukebox works before using it.
Café West 2775 W. Jefferson Ave., Trenton; 734-676-2233; cafewest.biz; $$: Fresh seafood, steaks, chicken, entrée salads and lots of appetizers. Full bar.
Cloverleaf Bar 12625 Dix Toledo Rd., Southgate; 734-284-7211; $: It's an unassuming, boxy building from the outside, with just a green metal door under a goose-neck lamp. But walk in and you'll find an old-fashioned shot-and-beer bar with character to spare. The bar is in the actual shape of three-leafed clover, all under a scooped-out ceiling — a la the Bronx Bar. It sort of looks like a hipster bar without hipsters, or as our co-drinker joked, "a Downriver Donovan's." Though there were only a few old-timers when we visited — briefly singing along to "I'll Never Smoke Weed With Willie Again" — we hear it can get packed on a Friday night when they have karaoke. There's also a short menu of bar food, including burgers, mini-burritos, pierogies, poppers and more.
Dohickey's 232 Maple St., Wyandotte; 734-285-8370; $: Irish pub. Beer, wine and liquor, lunch and dinner featuring classic Irish fare like shepherd's pie, billiards and darts.
Fort Street Brewery 1660 Fort St., Lincoln Park; 313-389-9620; fortstreetbeer.com; $$: Brewpub and restaurant with a friendly atmosphere, games, and a selection of house-brewed beers, including "Doug's Turbo Sarsaparilla," a root beer flavored beer, and "Motor City Mocha," a robust porter-style brew whose ingredients include fudge. Entrées include chicken and waffles, pierogies and bratwurst, tilapia tacos and beer-battered cod. A generous assortment of sandwiches, burgers and pizzas rounds out the menu. Reservations recommended for parties larger than four.
Hunan Hunan 4327 Allen Rd., Allen Park; 313-389-0939; $: Offering traditional Chinese fare, plus Cantonese and Mandarin dishes that are done particularly well.
Hungarian-American Cultural Center 26257 Goddard Rd., Taylor; 734-946-6261; hungariandetroit.com; $: Good, solid meals, mostly in the $7 range. Portions are generous. Made-from-scratch dishes, open only on Friday 5- 9 p.m., Christmas Eve and New Year's Eve.
Hungarian Rhapsody 14315 Northline Rd, Southgate; 734-283-9622; therhapsodyrestaurant.com; $$: Authentic Hungarian cuisine like chicken paprikas with dumplings, stuffed cabbage, and Hungarian goulash satisfy a yearning for the old country, while handmade Kalocsa linens adorn each table and Hungarian artifacts line the walls.
Hurry Back Bar 3764 W. Jefferson Ave., Ecorse; 313-382-8730; $$: In the old days, it was called the "Hurry Back Inn." (Get it?) The bar still exists, although without the euphonious wordplay, in all its shot-and-beer glory. No food.
Joey's Famous Philly Cheesesteaks 14625 Northline Rd., Southgate; 734-281-4444; joeysfamousphilly.com; $: Welcome to hoagie heaven. Sherri Abbulone, from South Philly, and husband Joey, from Woodhaven, have taken on the challenge of creating authentic Philly cheesesteaks Downriver. In their eight-seat storefront they display a testimonial from a retired Ford employee who moved here 44 years ago; he spent that time vainly searching for a real cheesesteak — until Joey's opened in August 2005. The term "cheesesteak" is misleading, since the sandwich is mostly meat. Three cheese choices are traditionally offered: the Whiz, American or provolone. At Joey's, it's made like this: Thinly slice rib-eye steak and fry a heap of it on the griddle. Grill sweet Vidalias at the same time. If you're using American or provolone, lay the cheese over the frying steak, to melt it. Turn the whole thing onto a roll flown in from Amoroso's Bakery in Philadelphia. If you're a Cheez Whiz traditionalist, that's dolloped directly onto the roll. The result should be juicy — the life is not cooked out of the steak.
Magdaleno Italiano 962 Dix Hwy., Lincoln Park; 313-386-0260; $$: Chef-owner Ernesto Magdaleno, born in Puebla, Mexico, has worked in New York's Little Italy, and for seven years was a chef at top-flight Bacco Ristorante in Southfield. Now he's intent on replicating the elegance of the dishes he practiced there, at half the price. The result is a disconnect: You just don't expect such quality ingredients — house-made pastas, for instance — and such from-scratch attention to detail in a place with no liquor license. Besides embarrassingly low prices and excellent tastes, the other thing to know about Magdaleno is that you'll end up with plenty of food. Both the meat and the pasta entrées come with soup or salad, and the soups are large and thick, full of goodies cut with a generous hand. Of Magdaleno's 13 pasta dishes, 11 cost $10 or less. They are gems of fresh flavors. Take a simple ricotta ravioli — the little pillows are bathed in a tomato sauce that's not bright red but mellowed with cream. Gemelli Norcina, the signature dish, is twisted pasta with a sauce made of house-made sausage, truffle oil and tomato cream sauce — a disconcerting orange color but sublime. Cavatelli funghi is for mushroom lovers, with wild ones and porcini in a strong, winy sauce. There's also a seafood soup with salmon, calamari and a lot more; veal Marsala, Parmesan and Milanese (the latter topped with arugula); and, if you must, a New York strip. Hell, there's even an American section with ribs, wings and an $8 half-pound ground sirloin burger. What's more, diners should be able to figure out an easy way around the lack of a liquor license — ask about bringing your own, perhaps.
Mallie's Sports Bar & Grill 19400 Northline Rd., Southgate; 734-287-0800; malliesbar.com; $$: Maybe you saw Mallie's on an episode of Man vs. Food, the one where they cook up a 190-pound burger as big as a car tire. Not only does Mallie's regularly serve 10-pounders, they recently broke their own Guinness World Record, creating a 338.6-pound hamburger. Well done!
Michelangelo's Italian Bistro 152 Elm St., Wyandotte; 734-283-8200; michelangelositalianbistro.com; $$: Lunch and dinner menus; serves "true Italian cuisine."
Moro's Dining 6535 Allen Rd., Allen Park; 313-382-7152; morosdining.com; $$: Time warp! Old-fashioned (tuxedoed) professional service. Most entrées cost around $12 and include everything from soup to nuts. Owner Thomas Moro butchers his own veal, the house specialty.
Oak Café 1167 Oak St., Wyandotte; 734-283-8380; oakcafe.com; $: A quasi-dive bar that compensates not accepting credit cards with reasonable pricing. The minimal lighting and tightly-packed seating arrangement might be off-putting for some patrons; but a look at their extensive beer selection on tap, including favorites like Moose Drool and Founder's Oatmeal Stout, and the seasonal Great Lakes Christmas Ale will surely lighten those woes. The Oak doesn't put all its eggs in a laundry list of booze though. There are enough greasy, palette-pleasing plates to choose from, including the peculiar mac 'n' cheese bites, crispy, beer-battered pub pickles, pulled pork sandwiches, half-pound burgers and more.
O'Samurai Japanese Steakhouse 23471 Eureka Rd., Taylor; 734-720-4768; osamurairestaurant.com; $$: The full sushi bar serves traditional rolls as well as the chef's own creations. If you're in the mood for something cooked, the teppanyaki chefs grill hibachi-style, flinging shrimp into their hats and setting steak ablaze.
Pier 500 507 Biddle Ave., Wyandotte; 734-281-0530; pier500.com; $$: Relax alongside the river by day; by night, put on your dancing shoes. Look for weekly dance party events and special cruises. Special in some folks' hearts for its reunion shows by George Young & the Youngsters.
Portofino 3455 Biddle Ave., Wyandotte; 734-281-6700; $$$; portofinoontheriver.com: Panoramic water views, Italian cuisine like chicken carbonara and veal marsala, an extensive wine list, and monthly events make this upscale restaurant the perfect place to celebrate a special occasion. If you have a boat, the best way to come in is off the water, tie up and enjoy the sunset.
Prush's Bar and Grill 1212 Eureka St., Wyandotte; 734-282-6535; facebook.com/PrushsBarGrill $: Another time warp! With tin ceilings, a modest dining area, hanging lamps, and neon in the front windows, you could picture Jimmy Stewart coming in and brushing the snow off his overcoat. They have a handsome copper bar and free pool. Their kitchen's menu includes appetizers, sandwiches, soups, salads and pan-fried lake perch.
The Rockery 1175 Eureka Rd., Wyandotte; 734-281-4629; rockerywyandotte.com; $$: Specializing in Michigan brews, beer nuts can expect suds from everyplace from Arbor Brewing to Short's, as well as cider from J.K.'s Scrumpy and meads from B. Nektar Meadery. The four taps all pour Michigan beer, and there are more than 90 Michigan bottles to choose from. Burgers, chicken strips and other finger foods will help bring you back from the brink. Expect free pool on Tuesdays, beer specials Wednesdays, "metal night" on Thursday nights, live music Friday and Saturday nights, and open mics on Sunday.
Round House BBQ 2760 W. Jefferson Ave., Trenton; 734-671-6100; roundhousebbq.com $$: Architecturally unique, you enter a breezeway connecting a stainless steel diner to a round-shaped former ice-cream parlor. The stainless steel number is part-kitchen, part high-key dining area, whereas the round house has a moodier setup with a small bar. Either way, it's a family restaurant and a crowd-pleaser at that, thanks to the quality barbecue. Our pulled pork could have been a little crispier (we love the burnt ends), but the brisket was perfect — a hard feat to accomplish — the ribs were excellent, and the sides were pretty darn good too.
Sabina's Restaurant 3840 Oakwood Blvd, Melvindale; 313-388-5171; $: Pierogi, paczki, kielbasa and golambki reign supreme at this homegrown Polish eatery. Try the farmer's cheese pierogi, made in-house.
Shish Garden 22673 Allen Rd., Woodhaven; 734-362-6600; and 15612 Fort St. Southgate 734-285-6900; shishgarden.com; $$: Middle Eastern cuisine, with an emphasis on the Mediterranean fare of Lebanon.
Shong Hey Restaurant 3480 West Rd., Trenton; 734-676-0686; $: Dependable, if typical, Chinese-American fare.
Smokie's Restaurant & Tavern 930 Biddle Ave., Wyandotte; 734-283-3228; smokiestavern.com; $$: Open since 1998, steaks, seafood, pasta, ribs, pizzas and more in a casual dining environment.
Speed Boat Bar & Grill 749 Biddle Ave., Wyandotte; 734-282-5750; $: Famous for their "Swine Burger," Speed Boat also hosts a particularly satisfying fish fry on Fridays, with walleye and perch done properly instead of greasily.
Sportsman's Pizzeria 2425 Fort St., Wyandotte; 734-284-6770; sportsmanspizzeria.net; $: Delivery or pickup only. Established in 1989 with customer service in mind, this pizzeria has taken the principle to heart, delivering specialty pizzas and warm service. Pizzas are made with fresh, unique ingredients; try the Mediterranean (Sliced lamb, onions, red peppers, tomatoes, goat cheese and tzatziki sauce) or the Mighty Meat (Steak, chorizo, chicken, and hand cut pepperoni). There's no seating, so it's delivery or pickup only, but they often deliver to area bars, in Wyandotte, Lincoln Park, pretty much anywhere south of Southfield and Allen Road, as far south as Southgate.
Star Diner 15170 Southfield Rd., Allen Park; 313-388-5520; thestardiner.com; $: Toledo-area diner chain's sole Michigan location, seems to specialize in diner fare that's a cut above.
Thai Place 15230 Eureka Rd., Southgate; 734-225-6409; thaiplace.comcastbiz.net; $$: Simple, cozy joint serves a menu of classic Thai fare.
Three Nicks Tap Room 14594 Eureka Rd., Southgate; 734-282-7722; 3nicksbars.com/ $: Ever wonder what a solar-powered bar would be like? Check out the tap room, with its solar reflective roof system and solar panel electrical system. And enjoy the bar's large plasma televisions and daily drink and food specials with a slightly cleaner conscience.
Tijuana's Mexican Kitchen 1679 Dix Hwy., Lincoln Park; 313-383-9100; tijuanasmexicankitchen.com; 13312 Fort St., Southgate; 734-285-6430 $: Once the famed restaurant in Dearborn, there are now two locations serving Downriver. Expect Tex-Mex-leaning fare (including gorditas, chimichangas, fajitas, botanas), dozens of entrée choices, and a bomb breakfast menu — with huevos con chorizo, huevos rancheros, chilaquiles, machacado con huevo and more.
TV's Deli & Diner 2441 Fort St., Trenton; 734-671-9005; tvsdelidiner.com; $$: Diner drawing inspiration from the Golden Era of TV — the 1950s. Quite a pedigree too: The owners met while working for Rattlesnake Club's Jimmy Schmidt. Chef Victor's menu is, therefore, a little more refined than the usual diner fare.
Wheat & Rye 7721 Allen Rd., Allen Park; 313-928-4322; $: The sports bar exemplified with high-top tables, lots of shots and a bazillion televisions.
Zukin's Rib Shack 967 Dix Hwy., Lincoln Park; 313-388-1170; $$: Pickup or delivery only. A classic barbecue joint, Zurkin's serves classic home-cooked fare like fried chicken, butterfly shrimp and steak subs, but the restaurant is famous for its spare ribs, which are coated in a tangy homemade sauce. There's no sit-down dining, but you can pick up or ask for delivery, available for Lincoln Park, Allen Park and Melvindale.
See any inaccuracies or omissions in this column? Let us know! Call 313-202-8043 or e-mail [email protected].