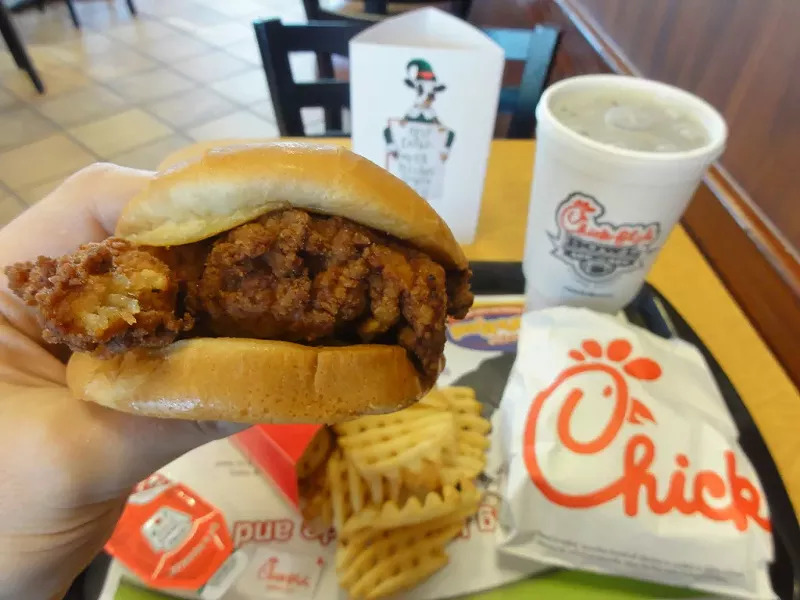 Chick-fil-A, an Atlanta-based fast food behemoth known for its chicken sandwiches and its support of anti-LGBTQ causes, is spreading like a homophobic cancer across metro Detroit.
The Detroit Free Press
reports that the fast-growing chain is now planning locations in Allen Park, Novi, Roseville, and Shelby Township. That's in addition to restaurants that opened in recent years in Detroit, Troy, and Ypsilanti.
Chick-fil-A does so as it faces renewed criticism for its support of anti-LGBTQ organizations.
In 2013, CEO Dan Cathy
denounced
the U.S. Supreme Court ruling that struck down laws barring same-sex marriage, and has made other public
anti-LGBTQ statements
like "we are inviting God's judgment on our nation when we shake our fist at him and say, 'We know better than you as to what constitutes a marriage.'" The company also donated to anti-LGBTQ organizations, and generally spoke out against civil rights for LGBTQ people.
After backlash, and perhaps sensing the direction the wind is blowing, the company said it would "leave the policy debate over same-sex marriage to the government."
That may be, but its foundation is still giving to fairly lousy organizations. Most recently, the Chick-fil-A Foundation
donated more than $1.65 million
to the Fellowship of Christian Athletes, which bans "homosexual acts" and has a "sexual purity" policy for its employees. Another $150,000 went to the Salvation Army, which
doesn't have a great record on LGBTQ issues
. In recent years it's been accused of discrimination, and its
PR person once said
gay people deserve to die. Chick-fil-A also made a small donation to the Paul Anderson Youth Home, which holds anti-LGBTQ views, but the former announced it would no longer send money to the home.
The company faces boycotts and bans as it tries to opens stores across the country. One of the first locations in Michigan on Eastern Michigan University's campus was
met with opposition and calls for a boycott
.
Don't want to support a shady chain? Find excellent fried chicken at spots like Lovers Only, Kuzzo's, Baker's Keyboard Lounge, Pollo Chapin, Asty Time, Savannah Blue, Gold Cash Gold, Common Pub, and elsewhere.
So many restaurants, so little time. Find out the latest Detroit dining news with our weekly food newsletter delivered every Friday morning.