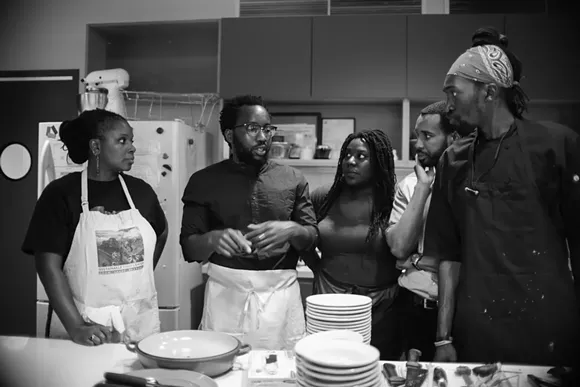 Central among the questions that renowned chef Tunde Wey, food justice warrior Devita Davison, and I will be tackling in a panel discussion Jan. 16 (MLK Day of Service) is who benefits from Detroit's new food movement.
It's a topic that many of us whose careers revolve around the dining scene ponder, mostly privately, amongst ourselves. And not just here in Detroit. Most recently, after
NY Times
food critic Pete Wells offered a
scathing, zero-star review
of the fast-casual eatery/social enterprise Locol last week, food folks all over the country
have been thinking about the role of privilege in the restaurant industry.
When we meet
(and I invite all of you to the talk – 6 p.m. at the Urban Consulate, 4470 Second Ave.)
, it will be a chance to bring it out in an open forum.
It's a theme that the three of us panelists explore in different ways in our careers.
Wey, the Nigerian-born chef, who lived in Detroit and co-founded the Hamtramck pop-up venue (revolver), has spent almost the past year traveling the country, hosting his "Blackness in America" dinner series, which forces diners to have difficult discussions about race and class.
Davison, who heads marketing for FoodLab Detroit, is tasked with advocating for and empowering entrepreneurs of color so they can have a place in the city's revival. And as for myself, part of my job is to report on the intersection of food and culture.
I'm reminded of this question of who benefits every day. Take a look at my inbox and it's filled with press releases hyping up chefs, restaurants, and bars. More often than not, the subject is white and male. Many are the benificiaries of a wealthy angel investor. They've got a stealthy PR arsenal to promote every aspect of their success. Their teams invite me to intimate media previews to try their new menus, to cut the ribbon at their new brick and mortar, to offer me "exclusive" interview access so they can promote their book or their appearance on a reality cooking show. All this to put them on my radar when I'm writing up that listicle about "best new" fill-in-the-blank.
The stories add up. When the James Beard Foundation folks come knocking, they look at the reviews and the accolades and the listicles. Then said subjects get that coveted stamp of approval and all of us food writers blog the glowing story about it and how the dining scene has made a comeback.
What I don't see as much of in my emails are stories of the black restaurateur on the west side whose bistro attracts local hip hop stars. Nor do I get the preview dinner invitations for the Dominican spot in southwest Detroit, or the pitch from the spokeswoman who represents the iconic Lebanese restaurant in Dearborn. If I want my reporting to reflect the actual diversity of the city, I have to close the laptop and interact with the folks who are doing it on their own, without propping up from dollars and media campaigns.
It reminds me of my own career and how race and class keeps people of color out of journalism. Myself, a Mexican American woman raised by a single mother, the path to my writing career was winding. In school, I took unpaid internships, worked two, sometimes three jobs at a time on top of classes. My first reporting job out of college paid less than what I was earning out of high school, but I did it all so that I could break into the business.
Working my way up, I had to learn a delicate balancing act of code switching in order to appease my mostly white, male bosses.
But I'm lucky. I have a platform to seek out those chefs of color and to tell their stories with the same respect that I would for an award-winning, $100-a-meal restaurant. Most of my j-school classmates are no longer in the field. After all, if you're still making $30,000 a year after a decade in an industry that's got problems of its own, can you really afford to keep journalism as a career?
Asian-Canadian writer Lorraine Chuen perfectly
illustrates how the power structure influences our food culture,
in a recent post in
Intersectional Analyst
in which she dissects the recipe section of the NY Times. In her reporting, she finds that but a tiny fraction of "ethnic" recipes featured in the daily are written by people of color.
As Chuen so eloquently ponders, "what becomes of dishes when they are prepared for the white gaze - or in this case, white palette? What remains of food, after it's been decontextualized? What are flavours without stories? What are recipes without histories? Why are people of colour forgotten, over and over again, while their food (also: vocabulary, music, art, hair, clothing) are consumed and adopted?"
It's these questions and more that I look forward to exploring as we consider Detroit's new food revival.