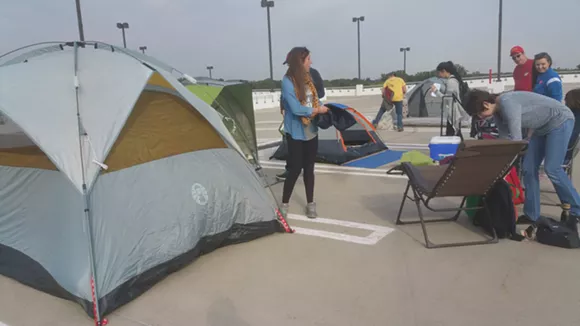 We told you not too long ago that
Michigan's first two full-scale Chick-fil-A locations
would be coming this month.
The reactions were vast, with many of you referring to the Atlanta-based chain as "Hate Chicken," while others rejoiced over the prospect of getting more access to those famous fried chicken sandwiches.
Regardless of what you think of Chick-fil-A (many are put off by the founder's polarizing 2012 stance against gay marriage), franchisees are expecting plenty of fans to flock outside of the state's first two locations at Somerset Collection North in Troy and Lansing today, ahead of their openings. The first 100 to line up for the opening at each will win free Chick-fil-A for a year.
Already more than a dozen people are milling about at Somerset Collection North, vying to secure their spot in line. The winners will be awarded between 9:30 a.m. and 10 a.m. Thursday (Oct. 13). In the meantime, fans will be entertained with a live DJ and dancing and fed in the fourth level parking lot.
The other location is at 5617 w. Saginaw Highway in Lansing, where fans are also lining up. The giveaway at that store takes place at 6 a.m. Thursday.
The camp outs are part of a chain-wide tradition of "First 100" parties, in which the first 100 customers to line up at a new location are awarded 52 meals consisting of a Chick-fil-A chicken sandwich, waffle fries and a medium drink. In order to score a place in line, guests have to live within specific zip codes surrounding the restaurants.
These openings mark the first in Chick-fil-A's expansion into Michigan. Both franchises are run by Blake Dennard and Kate McNerney. Prior to these openings, the McNamara terminal at DTW and Oakland University held the only two licensed locations in the state.

See also:
Michigan to welcome first full-scale Chick-fil-A's next month