The latest outpost of the Barbieri family's Da Edoardo Italian restaurant empire is making the most of its 60-year-old downtown roots. A portrait of patriarch Edoardo Barbieri, clad in a V-neck-sweater, pipe in hand, adorns a wall. A framed April 1958 copy of Michigan Restaurateur headlines, "A Rigid Standard of Quality at La Lanterna Pays Off!"
La Lanterna is named after Barbieri's very first restaurant, opened in 1956 just across Capitol Park from the current location. Now it's housed in an Albert Kahn-designed 1929 building that's in the National Register of Historic Places.
So history is invoked — even in the red-and-white-checked napkins on every table. (It used to be more or less a mandate: All Italian-American restaurants had red-and-white-checked tablecloths and stuck candles into empty Chianti bottles, which would soon become covered in drippings of wax.)
The menu, though, does not hark back to the 1950s and the days of red sauce and meatballs. The narrow space is minimal and modern, with a friendly three-sided bar, street-side seating, and engaging touches like a picture of a glass of red wine shattering, throwing spray and shards. The menu is modern, too, with inventive pizzas (pizze is the official plural) and lots of fresh mozzarella.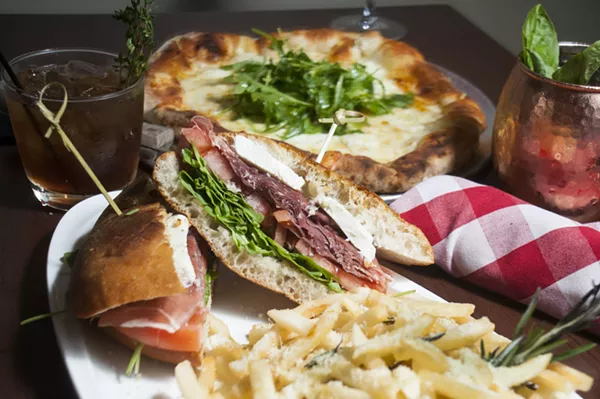 Meatballs are in fact on the menu, as an appetizer with ricotta and basil, but I went for calamari arrabbiata (spicy — literally, "angry") — a generous pile that could serve four, plated on pretty shell-shaped dishes. There's lots of breading, but that doesn't weigh them down, and a few red and yellow and hot peppers are part of the mix. Recommended.
Another possibility would be an antipasto plate of mortadella, prosciutto, salami, and Parmigiano. And I liked a chock-full chop salad, replete with artichoke hearts, salami, and hard-boiled egg, and laced with a bracing red-wine vinaigrette. It was filling, and not just because it was large.
From the pasta list, I most liked silky ravioli filled with ricotta and served with a creamy burnt-sage-butter sauce, the little plumped-up pillows looking like elegant poached eggs. One night the sage was distinctive, another night I detected nutmeg. Tagliatelle alla Bolognese, though meaty, was less successful, not a lot of zing to the sauce. Ditto for gnocchi palmina, in a very fresh tomato cream sauce. I admit gnocchi is a dish I just don't get — so bland!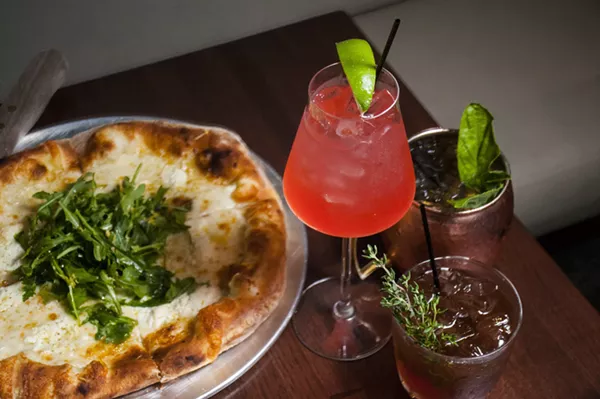 One night the special was Tortellini Hazan — from the great Italian cookbook author Marcella Hazan. Another night it was a luscious $22 seafood salad: lobster, crab claw, calamari with arugula. Some smart chef knew how well a humble potato and cooked carrot will go with seafood.
La Lanterna features a gas-fired brick pizza oven whose parts came from Italy to be assembled in Baltimore. Grandson Eduardo Barbieri, who is running the new place, kept with the theme by specifying a bright red-and-white checked outer surface on the oven's dome, which is visible from the dining floor.
Because one night I was accompanied by a 4-year-old, we ordered the Americana pizza, one of eight reds, the only one on the menu with pepperoni. (The child carefully deleted all traces of mushroom from its surface.) Far from the too-common shoe-leather pepperoni, these were spicy little cups of tender sausage, with character. The reds in general looked less interesting than the white pizzas, though the list does offer anchovies, fresh mozzarella, prosciutto, and olives along with more frequently seen toppings like Italian sausage.
I found it hard to choose among the seven whites, which offered shrimp with artichoke hearts, roasted tomatoes, blue cheese, and prosciutto. It was a revelation to settle on the Rocket (the British term for arugula). Besides a generous handful of the greens, its fresh mozzarella, nutty Fontina, and tangy goat cheese were perfectly set off by, of all things, lemon zest. Who would have thought so much cheese could feel so light and refreshing?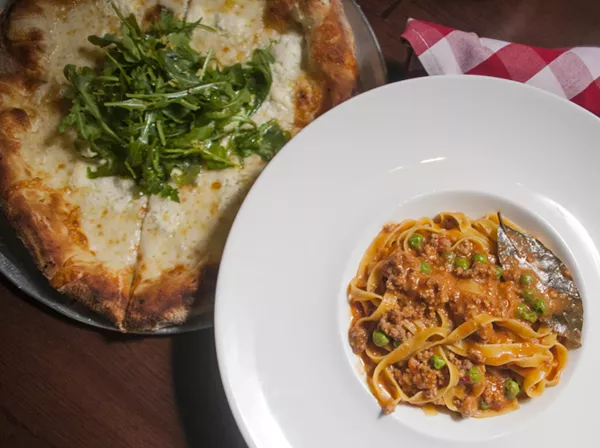 Desserts change daily, including sorbets, peanut butter pie, and tortes with fresh berries. I was lucky to catch a chocolate sea salt caramel gelato that was dense and yes, salty, but just in the right proportion. It's worth calling ahead to check if it's available.
The wine list, from California and Italy, is short at La Lanterna, and I wish the by-the-glass offerings were less expensive. I liked a California Pinot Noir despite its alarming brownish color, and a Chardonnay (the only other choice under $10) turned out to be surprisingly complex, with another taster and I disagreeing whether it was more vanilla or more mineral.
Until 4 p.m. La Lanterna also serves panini, including a grilled cheese that either a grown-up or a 4-year-old could love. Just pick out the arugula.