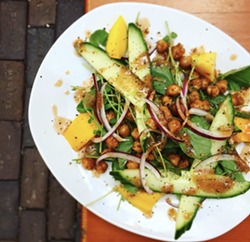 The Detroit Street Filling Station vegan restaurant and bar at 300 Detroit St. in Ann Arbor opens on Aug. 25, while sister eatery Lunch Room Restaurant & Bar is preparing to introduce an updated menu and concept.
Co-owner Phillis Engelbert tells
Metro Times
that the Filling Station will offer "international vegan cuisine with a seasonally changing menu" along with a full bar that features craft cocktails, mocktails, and an "expertly curated wine and beer selection." For dessert, diners will choose from items in its vegan ice cream parlor.
Engelbert describes the Filling Station as a modern-yet-casual "date night" spot at which one can get slightly more sophisticated dishes along with a bottle of good wine. The expansion allows the Lunch Room team "to stretch our creative legs," Engelbert says.
That means a menu with dishes like a Vietnamese bahn mi (marinated tofu, marinated carrots, cucumbers, daikon, cilantro, mint, basil, green chiles, and spicy mayo on a baguette), steamed bao buns (sriracha hoisin jackfruit, Asian marinated vegetables, and scallions), cauliflower truffle mac (cashew cheese, thyme and black pepper panko, and haricot vert), or the Power Up Bowl (brown rice, kale, peppers, onions, tofu, carrot bacon, avocado, toasted walnuts, and maple balsamic.)
The vegan ice cream parlor will use Detroit-based Reilly Craft Creamery coconut-milk based ice creams and offer homemade waffle cones, banana splits, hot fudge brownie sundaes, cookie sandwiches, pie a la mode, and more. And a bar and ice cream parlor under one roof means a selection boozy sundaes and floats — all vegan, of course.
Engelbert says the menu will highlight produce grown on The Lunch Room's farm just outside Belleville called Lunch Room Acres.
"We practice vegetable-forward cuisine that starts with fresh seasonal produce, some of which is harvested from our own farm, Lunch Room Acres," says chef Emil Boch. "Other ingredients are sourced from small businesses and local farms to bring you a menu of seasonally-inspired global cuisine."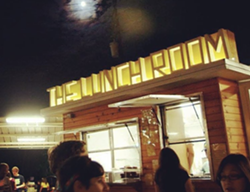 The restaurant is opening in the former Argiero's space and its name is derived from the original building, built in 1925 as the Staebler Family Oil Company filling station. The new space is more than twice the size of The Lunch Room in Kerrytown, holds a patio, and will offer table service and allow for reservations.
Meanwhile, the Lunch Room Restaurant & Bar will become The Lunch Room Diner & Canteen. Its menu holds American vegan comfort foods like sandwiches, a rotating selection of housemade burgers, mac and cheese, chili mac, tempeh Ruebens, soups, and salads. Engelbert says Lunch Room diners will be familiar with most of the dishes, and notes that one of its brunch favorites — biscuits and gravy with homemade seitan sausage — will now be offered every day.
The Lunch Room closes Aug. 13 through 15 for renovations, and will reopen on Aug. 16 with the new menu.
Detroit Street Filling Station is the fourth food operation for co-owners Engelbert and Joel Panozzo. They debuted The Lunch Room food cart in 2011; opened their first brick and mortar in Kerrytown, The Lunch Room Restaurant & Bar, in 2013; and started The Lunch Room Bakery & Cafe in Huron Towers Apartments in 2015.
The Lunch Room generated $35,000 for the Detroit Street space's renovation by selling "meal plans", or pre-purchased food. Parties and soft openings for those who bought food ahead of time start on Aug. 17.