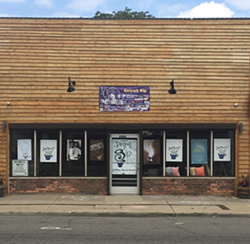 McNichols Avenue will get a jolt of caffeine on Saturday when Detroit Sip opens near Livernois Avenue.
Owner Jevona Watson says that she first wants to provide a coffee shop that will cater to students and others on a strip now short on good java, but she also wants the 62-seat shop to lift up other Detroit food businesses and entrepreneurs – both established and up and coming brands.
That means beans from Germack and Ashe Supply Co., and pastries and savory dishes by Dutch Girl Donuts, Better Made Chips, A-Team Cheesecakes,
Brooklyn Brownies,
Soups by Jane, Pinky's Shuga Shack, and more.


"I'm just really using this as a platform for all of us doing something food based in the city of Detroit," Watson tells us.

"I am a Detroiter, born and raised, and this journey has really enlightened me to some of the struggles opening a food business in the city entails, and
I want to be a supportive for those of us going through similar situations."
Though Watson is the sole owner, she notes the support of her family, including her 11-year-old daughter who helped her name the drinks, like the
Livernois Latte, McNichols Morning, and Coleman Young Cappuccino in honor of Detroit's first African-American mayor.
Watson says that her shop is more evidence that there's more to the city's food community than greater downtown. Something she has always known as someone who grew up nearby.
"I'm just a Detroiter, this is my city, and I'm proud to be a Detroiter – the good, the bad, and the ugly," she says.

Detroit Sip opens this Saturday at 9 a.m. and the ribbon cutting is at 11 a.m. The event will also include live music and a raffle to raise funds for Watson to become part of the city's Project Green Light program. For more info, check Detroit Sip's Facebook page. The shop is at 7240 W. McNichols.

Regular hours through the remainder of 2017 will be Thursday from 6 a.m. to 6 p.m.; Friday from 6 a.m. to 7 p.m.; Saturday from 8 a.m. to 7 p.m.; and Sunday from 10 a.m. to 6 p.m. Those are trial hours, and may change after the New Year.