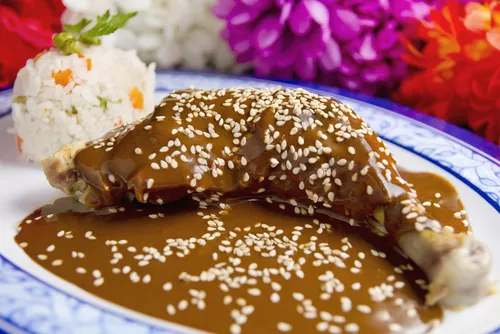 The DIA's blockbuster Diego Rivera and Frida Kahlo in Detroit opens March 15 and runs through July 12. Besides paintings by and photographs of the two, it will include the full-size drawings Rivera made to prepare his work on the DIA's frescoes. For both painters, their time in Detroit was foundational for the work they did for the rest of their careers.
At the same time, the Michigan Opera Theatre will present the opera Frida, by Robert Xavier Rodriguez, with shows beginning at the Macomb Center for the Performing Arts on March 7, and then moving to the DIA and the Berman Center for the Performing Arts in West Bloomfield later in the month.
And to make sure all senses are gratified, two Southwest Detroit restaurants will serve special dishes to celebrate the Kahlo and Rivera achievements in art and at the table.

El Barzon, at 3710 Junction (313-894-2070), has long served mole poblano — a complex sauce from Puebla, hometown of owner Norberto Garcia. There are as many recipes as there are chefs, but mole poblano is likely to contain three types of roasted chiles, sesame seeds, chocolate, raisins and almonds. Through the run of the Rivera and Kahlo exhibition Garcia will add a traditional Oaxacan mole negro (black sauce), which contains some of the same ingredients but different chiles plus peanuts and cloves.

These days most restaurants, even in Oaxaca where moles reign, serve the mole over a chicken breast, but to hew more closely to tradition, Garcia will use turkey legs. He will keep the new dish on the menu if customer response is good.

He will also tinker with his chiles en nogada, another dish from Puebla, by using cream cheese and sherry in the sauce. Poblano chiles are stuffed with picadillo (shredded meat and fruit), covered in walnut-cream sauce and sprinkled with pomegranate seeds, reproducing the red-green-white of the Mexican flag.

And at El Asador Steakhouse (1312 Springwells, 313-297-2360), chef-owner Luis Garcia is adding pork in yellow mole to his already ambitious menu. Every recipe is different, but common ingredients are guajillo chiles, tomatillos and the leaves of hierba santa. Garcia will also serve poblano chiles stuffed with picadillo or cheese, chicken pipián (güero chiles, pumpkin seeds, almonds or peanuts), flan and red snapper a la Veracruz.

Read our "Guide to Diego Rivera and Frida Kahlo in the kitchen" feature story in MT this week.