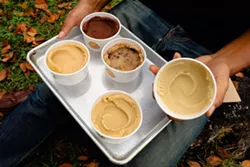 The owners of Detroit Dough, a forthcoming shipping container
"cookie dough cafe"
planned for the Northwest Goldberg neighborhood, say one of its founders will step down.
In
a statement
posted Saturday on Detroit Dough's Facebook page, co-founders Autumn Kyles and Victoria Washington alluded to a "recent allegation" and said Daniel A. Washington "will step down effective immediately until this matter is resolved."
a Facebook post
, alleging that one of the owners had previously sexually assaulted her. "I was too afraid to speak up sooner, but I think now more than ever with all that is going on in the world, it is an important time for women to stand tall," she wrote. "The pop-up shop opens this weekend, and while the decision is yours, I ask that you consider not supporting this business."
It's not the first time the company has courted controversy. A Plymouth-based sugar cookie company that launched in February 2017 has
accused the Detroit-based company
of stealing its name.
We have sent requests for additional comment from both Genrich and Detroit Dough. Both original statements are below.