Dearborn Meat Market is one of those Dearborn restaurants that seems to be gaining steam in recent months. The skewers that the tiny Lebanese restaurant grills above flames in its dining room come up in conversation with frequency. It helps that it's gotten a little hype from local food Instagram personalities, and its Yelp rating is a rare 5 out of 5 stars based on 60 reviews. Since July 'tis the season for grilled meats, we decided to pay a few visits.
The one surprise is the menu's length — it's short. But that's not a bad thing, and it's built around seven skewers that run a more-than-reasonable $2.50 each: beef kabob, chicken tawook, beef makanek sausage, beef kafta, beef heart, beef liver, and beef kidney. On the side, choose from hummus, parsley salad, and baba ghanouj. The retail component also includes raw meats and steaks, but we stuck with the carryout and dine-in menu.
Order the skewers if you want to get the meat's full flavor unimpeded by the works that are rolled into each sandwich. Or mix and match with the sides and grilled whole tomatoes and onions to build the best bites.
On a first visit — in which we explored only the skewer side of the menu — the clear standout arrived in the beef makanek, tiny Lebanese sausage links that are a little sour with a few sweet notes, likely from a healthy dose of cinnamon or nutmeg or a combination of the two. And though it's among the best skewers on its own, it's even better rolled up in pita bread with parsley, oil, tomatoes, onions, and garlic sauce that enhance the makanek. The package produces something more memorable than the results you'll get by cutting a piece off the skewer and poking it around the assorted side plates in an effort to assemble a better bite. The former is easier and tastier.
The beef kafta is similar to the makanek with its clove and cinnamon component and is almost sausage-like in form, but stands apart with the parsley, onion, and tomato rolled in. It's also solid standing alone, but similarly rides better in sandwich form.
Ditto for the chicken tawook, which are spice-crusted (though not hot) and charred nugs that satisfied when pulled from the skewer, though they don't rank among Dearborn's very best tawook. But roll them up with the oily parsley salad, lay on the garlic sauce and sumac, and suddenly you're wielding something formidable.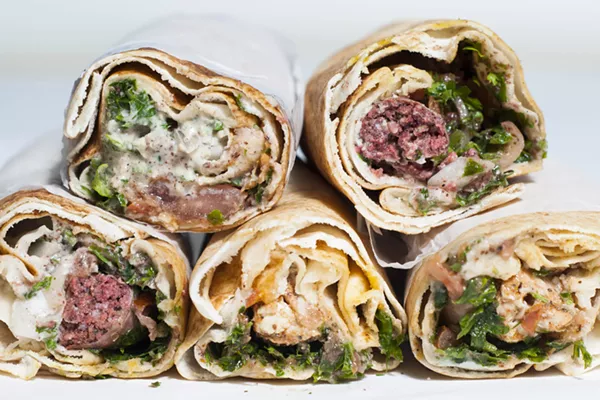 The beef kabob was charred, fresh, and tender, but didn't dazzle on the skewer or in the sandwich like its counterparts, which isn't necessarily a dig against it — the others are just more noteworthy.
Beyond that, Dearborn Meat Market offers offals, and though people are usually either into organ meat or they aren't, these are somewhat punchless skewers that could benefit from more seasoning. But if offals are your thing, then that's where you should look on the menu.
A small selection of drinks are available in a cooler ranging from a yogurt-based concoction that's like liquified cottage cheese to your standard selection of pops and water.
Dearborn Meat Market is small, with two rooms connected by a short hallway and a handful of tables. Since it gets busy (especially during lunch hour, from 10 a.m. to 6 p.m.), prepare to wait. And with sandwiches this good and the market's growing social media presence, the lunch rush appears ready to get busier. Call ahead.