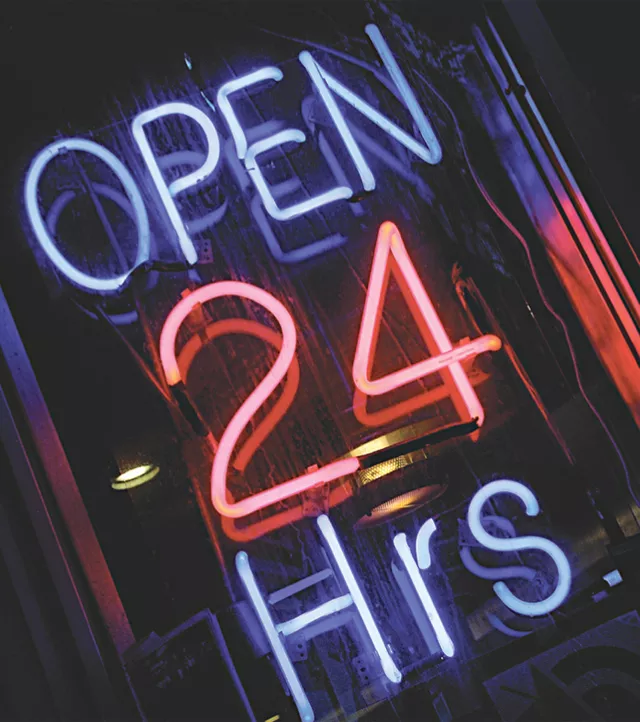 $=$5-$10; $$=$10-$25; $$$=$25-$50; $$$$=$50+
Armando's 4242 W. Vernor Hwy., Detroit; 313-554-0666: Armando's opens at 10:30 a.m. daily and stays open until 4 a.m. Fridays and Saturdays (until 2 a.m. the rest of the week), and the post-bar crowd that spills over from Dearborn and downtown Detroit's clubs can choose from the regular Mexican fare or Mexican breakfast selections. They roll in at 2-3 a.m., and, depending on what's happening in town, there can be a line outside at 3 a.m. The management approves of the late-night crowd, saying that watching buzzed patrons, churlish lovers and new friends can make it worth working late.
Bray's Hamburger 22941 Dequindre Rd., Hazel Park; 248-542-8878: Anybody who's driven by this 24-hour Hazeltucky greasy spoon can recall its dramatic mascot, a braying donkey. And the bar crowd answers the donkey's call, soaking up the booze with cheapie hamburgers that come with mustard, ketchup, pickles and onions. Seats 15.
Campau Tower 10337 Joseph Campau St., Hamtramck; 313-873-7330: They've been a fixture in Hamtramck for as long as anybody can remember, as a ghost of the old White Tower chain, a tiny building that looks like it had to wedge in between those on either side of it. And, day after day, this slider joint serves the few characters who always seem to be waiting for a burger. But at night, when the bar crowd rolls in, the handful of stools in front of the counter fills up with night-clubbers and bar-hoppers, still eager to fill up on Campau's sturdy fare.
Comet Burger 207 S. Main St., Royal Oak; 248-414-4567: Comet is your classic post-bar eatery, pulling in a crowd from Royal Oak's many bars, and serving solid greasy-spoon fare in a charming classic diner environment enlivened with such music memorabilia as framed LPs. Thursday through Saturday nights they're open til 3 a.m., and the grill is so jammed with boozy burgerphiles that it can get livelier than many watering holes. Open until midnight Sunday-Wednesday.
Country Boy 821 E. Nine Mile Rd., Hazel Park; 248-543-7080: If it's 3 a.m. on any night of the week and you're a Southern-transplant insomniac (or barfly) and happen to be in the Hazel Park area, Country Boy is worth checking out. Family-owned since it opened 47 years ago, CB's food smacks of Mom's kitchen with everything made from scratch daily. Everything from the grits to the biscuits and gravy, soup, cornbread and pinto beans get made fresh daily. The Super Special breakfast is a pile o' meaty goodness, with ham, bacon, sausage, eggs, hash browns (or grits), and biscuits and gravy. The ham and scalloped potatoes pack the locals in on Wednesdays. Fried okra is always up, just like everything else on the menu. Open 24 hours.
Duly's Place 5458 W. Vernor Hwy., Detroit; 313-554-3076: Duly's is a tiny coney island with counter stools and a few tables in the back. They have a whole legion of followers raving about things like their chili cheeseburgers and atmosphere of controlled chaos. They've got breakfasts and coney dogs and they serve it all up 24 hours a day, seven days a week. The staff might be a little gruff with you, but it's a fun kind of gruff, and if you're really nice they'll tell you which pie is fresh and might even give you a lollipop when you leave. Duly's is cash only, and doesn't abide indecision when they're slammed (this truly is a tiny space, folks), so hit the ATM on the way over and be sure to know what you want.
Dutch Girl Donuts 19000 Woodward Ave., Detroit; 313-368-3020: They've got a loyal following — perhaps because $6 a dozen makes the most economic sense in the middle of the night. Open 24 hours except Saturday afternoon through Sunday evening, Dutch Girl has been slinging fried dough without pause since 1942. The fryer runs all day and night to bring you crispy-on-the-outside, cakey-on-the-inside blueberry, chocolate, maple, crumb and other classic donuts. Sneak around the corner of Seven Mile on your way to or from Club Gold Coast for a mixed dozen, or the highly recommended cinnamon rolls.
Fleetwood Diner 300 S. Ashley St., Ann Arbor; 734-995-5502: The Fleetwood Diner is distinctly Ann Arbor but the only place there that's open 24 hours a day. You can get a mysterious-sounding dish called "Hippie Hash" — hash browns grilled with onions, tomatoes, mushrooms, green peppers, broccoli and feta cheese — with eggs and toast for a paltry $6.35. Adding meat costs extra, but they make their own corned beef, gyros and chicken gyros. On any given night you might find hungover hipsters scarfing down breakfast or a few night owl students drawing comics and talking over coffee and fish and chips.
Grandy's Coney Island 4004 E. Outer Dr., Detroit, 313-368-8180; 1200 Holbrook St., Detroit, 313-875-3000; several other locations: Grandy's isn't a true 24-7-365 joint, 'cause they do in fact close every Sunday at 5 a.m. and resume service Monday morning at 6:30. But you can get coney island favorites and hearty breakfasts at whatever weird hour you want — people rave on its huge portions, great when you're more than a little unsober, and cheap to boot. Hey, where else can you get a 7-piece jumbo shrimp dinner at three in the morning?
Greene's Hamburgers 24155 Orchard Lake Rd., Farmington; 248-474-7980: Greene's has been family-owned and packing them in for 53 years now. They still serve old-fashioned sliders to the tune of $1.40 for regular and $1.50 if you want cheese. The people are friendly and service is fast. It's a classic joint, serving greasy, deliciously unhealthy little burgers with grilled onions. The menu is limited, but who really wants to read more than a handful of words when they're looking for sliders at 2:30 a.m.? It may not be as gourmet as Denny's (or even White Castle), but if your arteries survive you will enjoy it. Open 24 hours a day; closed holidays.
Joseph's Coney Island 12500 E. Jefferson Ave., Detroit; 313-824-4900: Here, night owls and arterially clogged foodies rub elbows with workers from the nearby Chrysler plant. Joseph's offerings include a marinated chicken pita and the "special omelet" — three eggs folded around three kinds of pig meat and two cheeses. After tax, many menu items land on quarter and dime price points — a real help for the drink-addled brain. The 24-hour joint keeps their drive-through open around the clock for those on the run, except on Sundays, when the place takes a day off.
Krispy Kreme 15050 Southfield Rd., Allen Park, 313-388-8533; 208 W. 14 Mile Rd., Troy, 248-583-1902; krispykreme.com: Pretend it's 4 in the morning, the Kwik-E-Mart closest to your house has closed, and you're going to die if you don't get some Krispy Kreme donuts or perhaps a whipped-cream-topped frozen fruit drink or some strong coffee in the next 20 minutes. Well, never fear, if you can make it to the Krispy Kreme drive through, you just may live. Indoor service ends at 10 p.m. (11 p.m. on weekends), but the next best thing is pulling up to the donut stop in your car, getting your sweet treats and coffee, and parking at the edge of the lot to see how many kreme-filleds you can stuff into your mouth in less than 60 seconds. All in the comfort and safety of your own vehicle, where you can be barefoot and wearing pajama bottoms and nobody will care.
Lafayette Coney Island 118 W. Lafayette Blvd., Detroit; 313-964-8198: Many late-night music lovers head here for tube steaks after leaving concert venues, as it's open until 4:30 a.m. And the waitstaff, presumably to better serve their temporarily deaf clientele, bellow food orders to the kitchen at maximum volume. Lafayette serves up only all-meat franks — not the filler-laden "hot dogs" on the menu at lesser eateries. FYI: The restrooms are, appropriately, located within the bowels of the establishment. We've heard tales that this place is open in the daytime too — starting at 8 a.m.
Leo's Coney Island dozens of locations throughout metro Detroit; leosconeyisland.com; $: Chances are that if you're walking out of a bar in metro Detroit, there's a Leo's location within striking distance. Though they're all classics, the location on Main Street in downtown Royal Oak is the archetypal suburban coney island: bright, clean and filled with a fleet of cushy booths stocked with condiments. Expect the usual tasty lineup of coney dog classics, Greek specialties, melt sandwiches and breakfast plates 24 hours a day, seven days a week. The cooks crank out orders with military precision while the dinnerware clatters amid amicable chatter. A colleague tells us it's good for a greasy breakfast, "and you can still keep your flirting on because everyone's still drunk."
National Coney Island 21 southeast Michigan locations, including Detroit, Roseville, Royal Oak and Clinton Twp.; nationalconeyisland.com: Chances are you're never more than a few miles from a National Coney Island or three. Like Twinkies and Joan Rivers, they never seem to go away. But like your car keys or postage stamps, you can never remember where you saw one when you're looking for it — so check the website or plug those suckers into your GPS for easy finding, no matter what time it is and no matter how bleary-eyed you may be. Hand-dipped milkshakes and Sanders hot fudge sundaes (plus the standard coney island fare) will never be too far beyond your grasp. The Roseville (two of 'em — on Gratiot and Grosebeck) and Royal Oak locations are open 24 hours a day, 7 days a week; but the ones in Clinton Township and Warren are 24-hour gigs on Fridays and Saturdays. Which might not be very helpful if you're in dire need of pancakes and chili dogs at 2 a.m. on a Tuesday, but it's better than trying to find something edible under the heat lamps at 7-11. And, hey, some of 'em even have booze!
Plaka 535 Monroe St., Detroit; 313-962-4687: As the casino encroaches and Greektown gets increasingly less Greek, Plaka is one of the holdouts on the not-casino side of the street that keeps churning out good Greek diner fare at the cheapest prices on Monroe Street. They're also the last place that's open all day and all night so you can grab some fluffy golden French toast or a gyro combo whenever the fancy strikes. The people are beyond friendly even when it's late. Dinners are always cheap and tasty, the omelets are giant and fluffy and come with enough grilled potatoes to stuff yourself silly, and there's always a table, no matter what hour it is.
Ram's Horn 2940 Rochester Rd., Troy; 248-528-1620; and many other locations; ramshornrestaurants.com: Ram's Horn is yet another in the long line of "family" restaurants with vinyl booths and low-key lighting, catering to people who love to use senior citizen discounts whenever possible. But those folks all clear out by nine or so, making the vinyl fair game for bar-hoppers and other late-night denizens who want clam chowder or a chicken sandwich when nobody else is open. Sometimes, it's nice to go to a place like you went to with your grandparents as a kid, to mix nostalgia and night action. See if the night crew will give you crayons — even if you don't have kids in tow — for extra fun.
Telly's Restaurant 32040 Van Dyke Ave., Warren; 586-939-5630: Telly's is your standard eastern Michigan Greek-American place (OK, so maybe a lot of the 24-hour places around here are coney island-type things, but hey, this is Michigan) with gyros and breakfasts and typical mom-and-pop restaurant fare. It's small and unassuming but you can get a "Steak 'N' Eggs" breakfast or pie or any number of Greek dishes on the cheap, no matter how late it gets.
Telway 6820 Michigan Ave., Detroit; 313-843-2146: This seven-seat, white-tiled burger joint might be called a dive. But when Telway's half-empty, it's still half full with an attitudinal waitstaff and a smattering of gossipy regulars. The 4/$2 sliders are the most popular, but the chicken sandwiches are the pièce de résistance. Best of all is watching the late-night cabbies and cops drop in for their double-doubles to go.
Travis Coffee Shop 23500 Greater Mack, St. Clair Shores; 586-778-0101: This is a quirky corner diner in the heart of St. Clair Shores. Walk in at 3 a.m. to find the night owls of the Nautical Mile bar scene intermingled with the locals grabbing a late night snack. Open 24 hours every day except Sunday, when they close 10 p.m. until 5 a.m. Monday, Travis has it all, whether you grab an item off their breakfast menu or bite into a greasy but tasty burger.
United Cafe 3641 Grand River Ave., Detroit; 313-993-7040: It's a drive-thru on Grand River that has a more massive menu than most restaurants! It's open 24 hours for impulse buys. Where else can you get a 21-piece shrimp dinner for $8.30 at 3 a.m.? Best of all, they never seem to close. Most citywide chains take Sundays off, locking their bullet-resistant Lockaire carousels for the Sabbath, but United stays open for your late-night salvation.
Village Place 4710 Cooley Lake Rd., Waterford; 248-683-3340: A haven of the bluehairs in search of the daily special (the same thing every week — you can tell it's Thursday because it's shrimp day) and families by day, Village Place entertains its fair share of worn-out partiers and insomniacs by night. The staff is "nice" to the point where it could give you an aneurysm, and the food's decent enough. But the real draw is truly the 24-hour factor.
Xochimilco 3409 Bagley St., Detroit; 313-843-0179; $$: On a normal evening, this popular Mexicantown eatery often has a dining crowd filling its three rooms downstairs, spilling over onto the second floor, drawn by its large portions and inexpensive menu. Because it closes at 2 a.m., it doesn't draw those who wander from the bar late, but it can be quite busy after midnight, depending on what's happening downtown. And thanks to Xochi's liquor license, your friends can keep on tippling while you enjoy a restorative burrito, enchilada or the "super nachos" with ground beef and diced veggies smothered in melted cheese and jalapenos.
Zack's of Plymouth 9468 S Main St., Plymouth; 734-459-2066; plymouthrocbar.com: Zack's has a cloud of regulars when the morning rush gets there, but it's the place to be after 2 a.m. when they start packing in the after-the-bar crowd. The cheese fries are raved about, and the breakfasts will send you back home fat and happy and fully prepared to sleep off the ... um ... festivities.
Special thanks to editorial interns Benjamin Solis and Aaron Mondry for their assistance researching this column.
See any errors or omissions? Do let us know! Send an e-mail to [email protected] or call 313-202-8043.