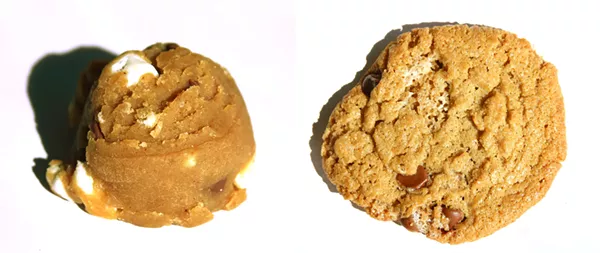 Cookies are one of those foods in which it's difficult for things to go wrong. After all, it's a small baked good packed with sweet things like chocolate, peanut butter, sugar, frosting, and so on, and it's one of our most common desserts.
But that makes it difficult to bake a cookie that is uncommonly good; that distinguishes itself from the gooey, sugary, crumbly, creamy pack; and is a morsel that keeps you coming back despite a flooded cookie market. It's possible to count on one hand the cookies in Detroit that meet that threshold.

What Up Dough?!, a Detroit-based company that produces rolls of frozen cookie dough, makes the type of cookies that one thinks about when they're not around. That's partly a result of owner Mary Beth Carolan's cookie-crafting philosophy - she makes what she explains are "hopped up cookies that we put inside other cookies - it's cookie cannibalism."

"I believe that if you're going to treat yourself, do it right. I'm trying to make the most decadent cookie possible," she tells MT. "If you've heard of super premium ice cream, it's like that. There's four times as many eggs and more butter than most cookies, because I'm forced to get people with that one cookie and have them be satisfied.

"For me it's as over decadent and as over-the-top as I can go."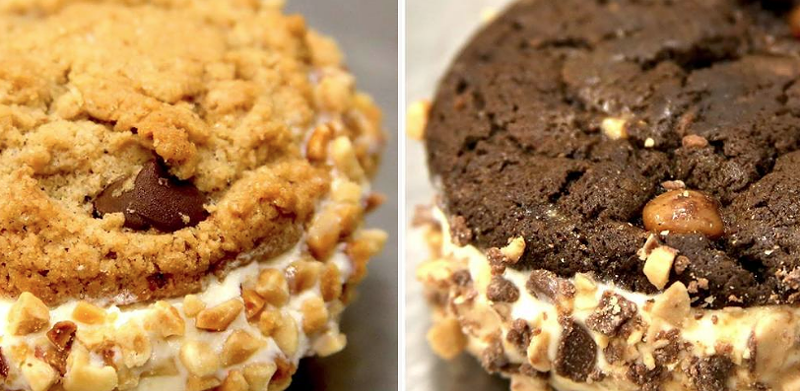 That means What Up Dough?!'s chocolate chip isn't just a chocolate chip cookie, but the Southern Seduction with milk chocolate chips, dark chocolate shavings, pecans, orange zest, oats, bourbon, and spices. The classic peanut butter cookie is the P'nut Butter S'more, a dense, chewy peanut butter cookie with milk chocolate chips, natural marshmallows, and graham flour. And the Mint Chocolate Chip is a chewy/crispy chocolate cookie loaded with peppermint, semi-sweet chocolate chips, organic coconut oil, and bananas.
"I'm sure that it's not economically good for my business because I'm putting so many pecans, the best chocolate chips, high quality vanilla, free range eggs - I pack all that good stuff in. But do you buy the pint of Ben and Jerry's so you don't get ice crystals? Or do you buy the cheap stuff?" Carolan asks.
Rolls of frozen dough retail in $6.99- $8.99 range, and each roll yields six giant cookies. Since they come frozen some assembly is required, though Carolan makes it simple by providing properly proportioned serving scoops and a short instructional video on her website that make it easy to get the correct texture.
Ideally, the cookies are a little crispy on the outside, but dense and chewy on the inside. Carolan partly achieves that by packing in extra egg and butter - an approach that's in some ways similar to ice cream's denser, higher fat cousin, frozen custard. The cookies are also hand scooped, which leaves a better texture after the cookies bake, and it doesn't feel mechanized as the big, mass produced brands do.
Of course, there's always the option of skipping the oven and eating the dough raw, which, admittedly we do with a good portion of each package. Carolan points out that you do so at your own peril - there's lots of raw egg - but maybe that's part of the appeal.
"They're not meant to be eaten raw, but I think people like the element of danger, so eating it raw makes it taste better," Carolan says.
Beyond the straightforward cookies, the other hit at What Up Dough?! is its Icebergers - an ice cream sandwich made with hand scooped ice cream packed between between two frozen cookies, though those are on hold this year as Carolan raises her new daughter.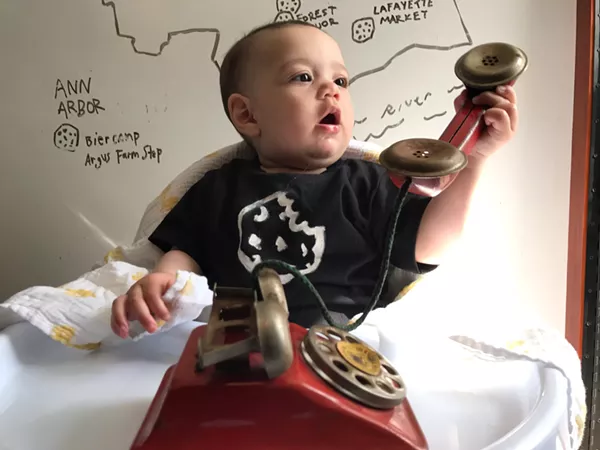 What Up Dough?! currently operates out of the kitchen in Corktown's Detroit Institute of the Bagels where Carolan and one assistant produce weekly, but the company is at a crossroads and that could soon change.
It started as many small food companies seem to - as an idea for a delicious Christmas present that grew into something more with the help of family and friends. But Carolan is considering the next step, which could mean a move into her own space in a building she owns on Detroit's east side.
In the meantime, find What Up Dough?! at
eight metro Detroit stores.