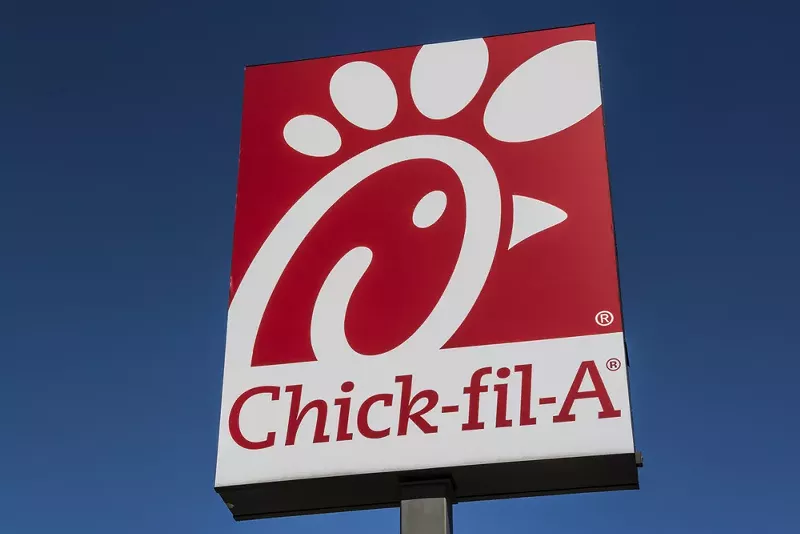 Here's some good news for local fans of problematic fave Chick-fil-A: the fried-chicken fast food restaurant chain is opening another location in metro Detroit.
The company's latest store will open on Thursday at 11700 Middlebelt Rd., Livonia.
Chick-fil-A says the restaurant will create 130 full- and part-time jobs in the community. It's owned and operated by Vikki Hardy Brown, a Detroiter and graduate of Cass Technical High School and the University of Michigan.
According to a press release, Brown and her family always made a point to stop at Chick-fil-A restaurants while on vacation in the South, hoping the Atlanta-based chain would one day expand into Michigan.
The company has opened a number of restaurants in the Great Lakes State in recent years, and the Livonia store joins 12 other Chick-fil-A restaurants in metro Detroit, including at the Somerset Collection and the Detroit Metropolitan Wayne County Airport. Still a novelty up here in the North, many of the metro Detroit locations are known for long lines that can spill into the streets, so hopefully this new store will ease demand.
"At our restaurant, we're committed to infusing joy within the Livonia community through our passionate Team Members, great-tasting food and signature hospitality," Brown said in a statement. "We have so many opportunities to show care, and I look forward to Chick-fil-A Livonia serving as a place where our guests can create memorable moments with their friends and family."
The chain is known for its owners' staunch Christian values, including closing its stores on Sundays. It has faced backlash for donating to conservative causes, though Chick-fil-A has distanced itself from its anti-LGBT+ stance in recent years.
The company says its Livonia location will donate $25,000 to Feeding America to aid in the fight against hunger in the community and also participate in Chick-fil-A Shared Table, a program that redirects surplus food from the restaurant to local soup kitchens, shelters, food banks, and nonprofits.
The company says the Livonia location will also recognize 100 "local heroes" making an impact in the community by providing them with free Chick-fil-A meals for a year.
Coming soon: Metro Times Daily newsletter. We'll send you a handful of interesting Detroit stories every morning. Subscribe now to not miss a thing.

Follow us: Google News | NewsBreak | Reddit | Instagram | Facebook | Twitter