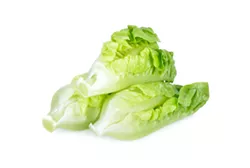 The Center for Community Disease Control and Prevention
issued a statement
on Wednesday declaring that an outbreak of E. Coli linked to romaine lettuce appears to be over.
Romaine lettuce tainted with E. Coli is believed to have sickened 66 people in North America, including Michigan. It also killed one person in the U.S. and one in Canada. The strain of E. Coli O157: H7 also led to illnesses in 15 other states, leading food safety experts to urge people to throw out their romaine lettuce starting late last month.
The 17 U.S. cases were reported from Nov. 15 to Dec. 8, while Canada reported 49 cases. E. Coli outbreaks in lettuce usually flare up and disappear relatively quickly because of the leafy greens' short shelf life.
Thus Canadian officials declared the outbreak over earlier this week, and American officials followed suit, though public health officials are still urging people to avoid romaine.
Canadian health officials identified contaminated romaine as the source of the outbreak, and officials matched the DNA of an E. Coli strain found in the U.S. to that in Canada.
Leafy greens, including romaine lettuce, were the cause of outbreaks from E. coli 0157:H7 in 2006, 2011, 2012, and 2013.
The source of E. Coli is typically animal poop from an infected animal. While E. Coli can survive a good scrubbing, the idea that animal poop makes it onto your lettuce should be enough to prompt you to keep your leafy greens under the faucet for at least a few extra seconds.