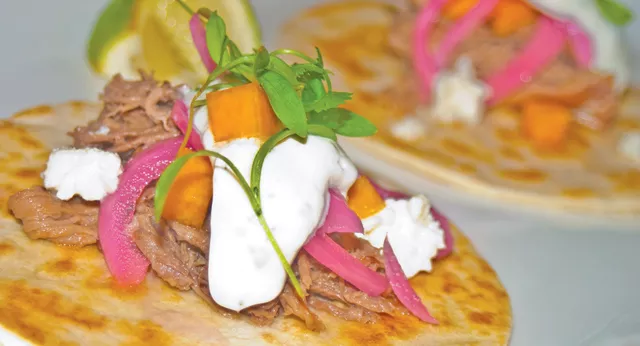 Tria
Inside the Henry Hotel, 300 Town Center Dr., Dearborn
313-253-4475
The Tria staff aims to please! As my party left one evening, even the parking director rushed up to tell us, "It's less formal now, but we still have the same chef, so they still really know what they're doing in the kitchen."
That guy was trying to cover all bases, but it seems nobody wants to be known as "formal" anymore. The image of the Ritz-Carlton in Dearborn was on the stuffy side, and its Grill was a clubby affair. The Ritz became a Marriott and changed its name to please-like-me "The Henry" a year ago. The Grill was completely redecorated to create Tria, opened in April, a decidedly unstuffy place serving surprisingly affordable mostly small plates.
You can still stuff yourself, though, and you'll want to; the food is amazingly good. The idea seems to be still to appeal to the business travelers who make up the bulk of the weekday traffic, who are assumed to want meat and lots of it, but to change the vibe to one still classy but up-to-date.
The wine is offered in a way that makes for fun: You can order 2-ounce, 5-ounce or 8-ounce portions, allowing you to create your own flights. I had a Malbec and a Merlot that were appropriately astringent with the deliciously fatty foods. And for the first six months, bottles are being offered virtually at cost. (Remember that Michigan law allows you to take home unfinished bottles.)
At the top of the menu are charcuterie and cheeses. If you do so just once in your life, you must try lardo. This is Italian cured fatback, not a sixth-grade term of derision. It is pure white, not a speck of lean meat anywhere, and its creaminess melts into the warm toast underneath. "Be still my beating heart," I thought, meaning this is one of the best things I've ever tasted — and realizing that the phrase could refer to clogged arteries too.
Almost as good was the duck prosciutto, which is to regular prosciutto as duck is to chicken: more fat, more delicious. This one is a little peppery. I'd love to try it in holdover executive chef Woody Woodward's fettuccini carbonara too.
Also possible (three for $9) are speck, breseola, and a host of cheeses like Fourme d'Ambert (one of France's oldest blue cheeses) and Zamorano (Spanish). We liked Le Chevrot, a creamy but assertive goat's milk cheese. Tria is worth visiting just to sample all 16 of the possibilities here, such as cacciatorini, dry salami and guanciale — pork-cheeks bacon.
But there is much, much more to love. Flatbreads with woodland mushrooms, arugula and caramelized onions had me making embarrassing noises of appreciation. Luscious lamb tacos were dressed up with pickled squash. A $5 side of mac and cheese is actually giant rotini with smoked Gouda, but with the ratio reversed. Lamb ragout with pappardelle, the lamb-and-tomatoes flavors vivid, actually had my carnivorous companion declaring, "too rich for me" — a first, but this was post-lardo. A side of simple garlic-studded grilled asparagus is refreshing and lemony.
A field greens salad with roasted beets, both red and golden, slim green beans (haricots verts), chevre and toasted walnuts was perfect except for a sweet celery seed dressing; I'd ask for a substitute. Traditional favorites Caesar salad and French onion soup are also possible, as well as tomato and cheddar ale soups. Black Angus burgers can be had with pork confit and Muenster or as sliders with red onion jam and blue cheese.
Another night we ordered from the "large plates" — and they are indeed large. The pork plate, which Woodward says is his favorite, is served in a cast-iron dish. It's slices of roast tenderloin, a big heap of shredded shoulder, lusciously braised, and crisp chunks of multi-layer belly, with a heap of shredded green apple on the side, so much cooler than applesauce. The Brussels sprouts that came with were, unfortunately, unevenly done.
A large ruby trout was firm but delicate, served with beautiful vegetables and potato medallions. Also in the large plates column are scallops, braised lamb and fried chicken — how often do you see that on a fancy menu?
A nice feature is the chance to buy some dishes in half sizes, facilitating sampling. Desserts come as "small bites" or "big bites," the latter $8, the former a selection of little pastries. One night we tried a peanut butter cheesecake pop — pretty much a Reese's Cup — a Key lime tart and a coffee-soaked tiramisu. Another night I gave myself the thrill of breaking through the crust of a creme brulée; not the most intense ever, but the berries on top were a perfect counterpoint. Dessert or no, three house-made candies are brought with your check.
I have one serious complaint about Tria, one so incongruous one wonders who's in charge. The piped-in music, some sort of undifferentiated pop, is so bad that each of my companions felt moved to mention it to one of the hovering staffers. On a Thursday, that sound was competing with a loud rock band outside on the patio and driveway. Both were bad — and together they were worse.
But come for the happy hour "artisan station," with either free food treats or sample-size drinks for a dollar. On seafood night, Friday, we had celery stuffed with spicy ceviche; Mondays are "art of the cocktail." The 4-6 p.m. happy hour also means glasses of wine and draft beer for half the price.
Tria is open from 6:30 a.m. to 10 p.m. Monday through Saturday and till midnight on Sundays.