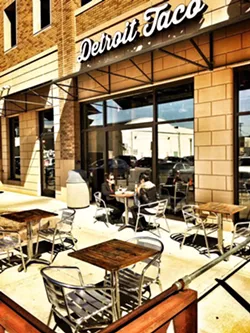 A year ago, Royal Oak welcomed the Detroit Taco Company, a fast-casual spot next to the Emagine Theatre, where one could score a burrito bowl, nachos, and tacos before hitting the movies.
Recently added to the mix, Café Succo Royal Oak, a sister restaurant within the same address. While the two restaurants operate independently they share the same address and offer diners a bit of variety.
On the menu, a variety of "Health Bowls loaded with acai, steel cut oats, and fruit, smoothies, spinach and kale salads, muffins, and egg sandwiches.
Owned by Jeffery Omtvedt, this is the second location for Café Succo. Its original spot is in s in Birmingham.
Café Succo Royal Oak is open 9 a.m.-6 p.m., Monday-Friday 9 a.m.-4 p.m. Detroit Taco Company is open 11am-9pm seven days a week. The eateries are at 304 N. Main St.


See also:
Zumba's Mexican Grille to rebrand as Detroit Taco Company