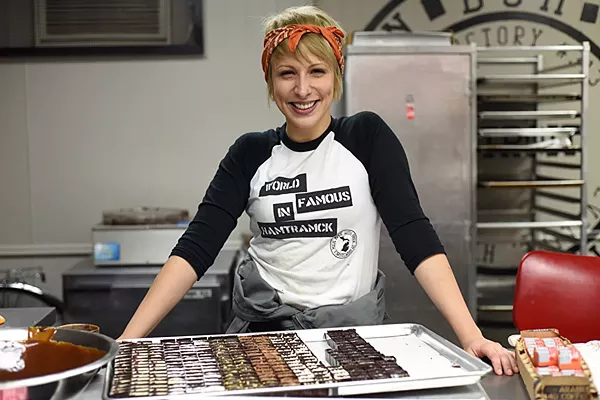 Bon Bon Bon will debut to the public its new 6,000-square-foot chocolate factory in downtown Hamtramck on Wednesday.
The opening comes after several months of working behind papered windows and putting the finishing touches on the building, including
another insane Jimbo Easter mural
.
Owner Alexandra Clark tells
MT
that the extra real estate — about ten times the square footage of the old space — allows Bon Bon Bon to remain open six days per week instead of just Saturday, and to develop an online store that will launch in October. She says she expects that the company can at least triple its output.
The move also allows Bon Bon Bon "to make smart decisions instead of scrappy decisions," Clark adds.
"We can hustle with the best of them, but there are things that we've been wanting to do that we just haven't because we've been 'making it work', so having enough space is huge," she says."Owning our own building is an extra source of pride for our whole company - it's good to be home!"
In a fun twist, the second story of her 92-year-old building used to be home to the Hamtramck Businessman's Club, so it's nice to see it put to use by one of the town's top businesswomen.
And Clark says she's thrilled to stay in Hamtramck.
"As a chocolatier, I don't think that there's a better place to be than Hamtramck," she says. "Hamtramck is the most diverse city in the state with the second most diverse agricultural economy in the country. For us, this means endless access to inspiration, and the ingredients we need to implement whatever our community helps us dream up."
But though Bon Bon Bon will grow in a wonderful new chocolate factory in the perfect city, Clark
previously told us
that her ambitions are relatively modest.
"We're not going to try to take on Godiva. I don't know what else to want. I get to make chocolates in a really neat town and operate as a real business," she says.