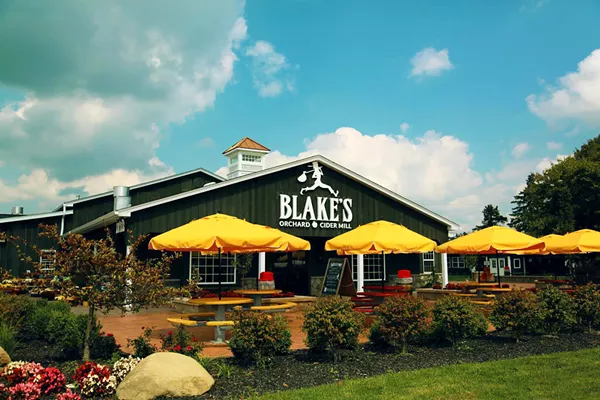 Lovers of all things autumn are in for a treat.
After 72 years in business, and for the first time ever, Blake's Orchard and Cider Mill will now be open to the public. All. Year. Long.
Owner, Paul Blake gives a nod to their loyal customers and supportive Armada community for helping making this happen.
"There have been some tough years, but with hard work and some creativity, we adapted," Blake says in a press release. "Our customers are the reason we have been able to grow, and we want to show them we were listening to their requests to stay open throughout the year."
The Blake's complex is known for having pick-your-own fruits and vegetables, as well as an enormous haunted attraction every fall. In the last few years they've also rolled out a hard cider brand known signatures such as Flannel Mouth and El Chavo. The cider mill has been an essential part in the brand's success.
Blake's has also rolled out some events that keep customers coming in throughout the week. The venue hosts murder mystery dinners, yoga and pints, paint and pour, and more.
Now, the Cider Mill will feature hot coffee, premium hot chocolate, fresh pressed (non-alcoholic) cider and everyone's' favorite doughnuts throughout the week and year
The Tasting Room will feature a full menu, Sunday brunches, wine and craft beer, as well as speciality ciders.
Additionally, Blake's is expanding hard cider into three more states this week, totaling 16 in the Midwest and beyond. You can already find them in Meijer, Kroger, and 7-Eleven stores throughout Michigan.
New hours begin Sunday, Jan. 21. The Cider Mill will be open Thursday-Sunday 9 a.m. to 5 p.m. each week. The Tasting Room will be open Wednesday 2 p.m. to 9 p.m., and Thursday through Saturday from 11 a.m. to 11 p.m., and Sundays from 11 a.m. to 6 p.m. Brunches is available on Sundays from 10 a.m. to 2 p.m. Live music is featured every Friday night.
For more information visit
blakeshardcider.com
or
blakefarms.com


Mallary Becker is an editorial intern at Metro Times and communication undergraduate at Oakland University in Rochester, Michigan.