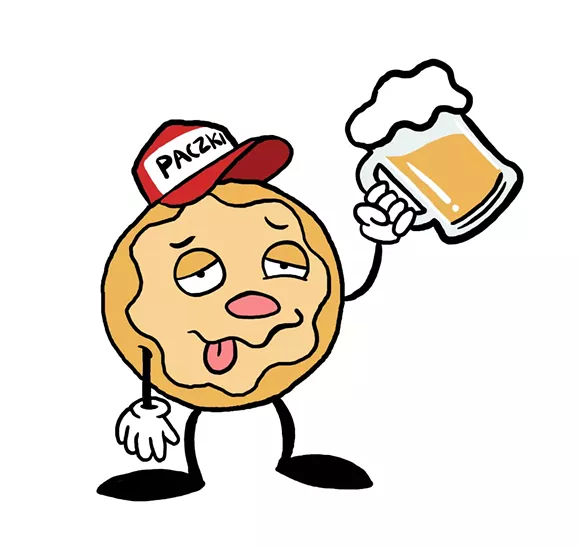 With the annual arrival of Fat Tuesday, we also see the return of our own local Polish-inspired habit of celebrating it with brandy, bar crawls, and the confections known as paczki.
Polish your Polish
It's best to get the words and pronunciation correct. Paczki (POON-shkee) is plural in Polish; so you can't eat one paczki. That would be a paczek (PON-check).
Jog before you hog
Thousands will participate in a fun run on Saturday that will help burn off the calories that are sure to be packed back on the coming Tuesday. It's the Fifth Annual 5K Paczki Run, and it begins at 10 a.m. Feb. 25 at the corner of Joseph Campau Avenue and Hanley Street. Registration is $40 at tour-de-troit.org, and $45 on the morning of. Proceeds benefit the city's parks and the Hamtramck Downtown Development Authority. Everyone who finishes the race gets a paczek and a beer.
Yeah, it has something to do with religion
Fat Tuesday is, of course, the big celebration before the onset of Lent. And real Polish paczki, they say, were literally made of everything rich in the pantry, since religious law forbade the consumption of lard, sugar, and eggs during the Lenten fasting season. That's where this whole thing comes from, though packzi are still as sweet to Christians as they are to Muslims, Jews, Hindus, and atheists. The origins are religious, but the packzi themselves are sweetly secular.
So it's the same as in Poland, except totally different, right?
Yup. Poles eat packzi on a different day. Plus, American packzi are bigger. According to one visitor to Poland who was there the week before Lent, Polish paczki were very small, and with just a little bit of rose petal or prune jam inside.
The really, really big one
Some paczki are bigger than others. A few years ago, Hamtramck Mayor Karen Majewski asked the good people at the New Martha Washington Bakery to make the "world's biggest paczek." Patriarch Petar Petrovic experimented until he found a way to make a 27-ounce pastry, light enough to eat, with good texture, and, at more than 9 inches in diameter, big enough to fit the bill. But, at press time, the family is still preparing to make one final, unbeatable batch in time for Hamtramck's VIPs. If anybody can do it, they can.
Night crawling or day drinking?
For drinkers and bar crawlers, the big question is whether to take Tuesday or Wednesday off. It depends on your love of (and tolerance for) day drinking. The bars will open earlier than usual in Hamtramck on Tuesday, and all but the most athletic drinkers will be shitfaced by 5 p.m. and ready for bed. Some find it more fun to encounter these rascals at 5:30 p.m., enjoy their antics, and have a somewhat irregular night at the bar as nighttime revelers pour in.
The toast of Hamtramck
If you've never done a Hamtramck bar crawl, you should order at least one shot of Jezy (YEZ-she), a syrupy blackberry brandy that will trickle into your veins and make you impervious to sugar crashes, sobriety, and frowning.
Glutton for punishment
Last year, competitive eating champion Matt Holowicki defended his title for the ninth year in a row, eating 22 of the pastries in 15 minutes. (His record is 23.) No word yet on whether he'll compete this year.
"The paczki contest is probably the worst contest I do in regards to my health," he tells us. The event usually begins around noon. It will be held Feb. 28 at Polish League of American Veterans Post #10, 11824 Joseph Campau Ave., Hamtramck; 313-893-1355.
Down the hatch
The Paczki Bomb is a drink invented at Small's Bar in Hamtramck. It's really just vodka poured into a raspberry paczek. After four or five of them, we imagine it gets kind of messy. We don't remember.
As seen on TV
If you're a fan of the Starz network's Ash vs Evil Dead, you may have seen character Chet Kaminski wearing a T-shirt that says "paczki" on it. Actor Ted Raimi, a metro Detroit native, says he always tries to work some homage to home into his characters. The packzi reference, he says, is an in-joke only Detroiters seem to get. "Sometimes I get people from Chicago, but mostly everyone else is like, 'What the hell is that crap all over his shirt?' They do not even know it's Polish."
So many restaurants, so little time. Sign up for our weekly food newsletter delivered every Friday morning for the latest Detroit dining news.