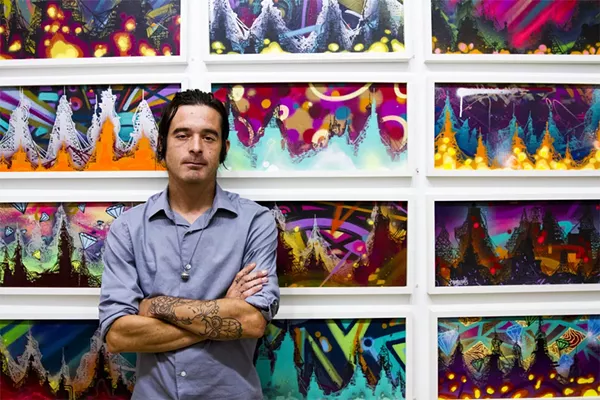 Detroit's art community is still healing following the death of popular street artist Jordan Vaughn, perhaps best known by his alias "Tead," who died at the age of 34 last week.
The artist was critically injured on Sunday, April 30, after falling through the roof at Detroit's sprawling Make Art Work complex while working on art with permission from the building owners. The Detroit Free Press originally reported the artist to be in critical condition as of last Wednesday, but later a Henry Ford Hospital spokeswoman told the paper he had died on Monday, May 1. According to sources close to the situation, Vaughn had made the decision to be an organ donor and was kept on life support while arrangements were being made.
The Trenton native's untimely death comes just as he was starting to reach a wider recognition as a gallery artist, a career which he had been working toward for the past 20 years.
"People were really starting to identify his work — from the graffiti, to the murals, to the gallery work — because his style was very unique to his own," says Jesse Cory of Detroit print shop 1xRUN, which has exhibited Vaughn's work as part of its Inner State Art Gallery and employed Vaughn for a time as a production assistant.
A recurring motif in Vaughn's work were industrial silhouettes, juxtaposed by bursts of color. Cory says it was a reflection of the artist's views of Detroit, which included driving past the Marathon oil refinery on his way north from downriver and writing graffiti on freight cars in rail yards. "The tranquility and the sense of solitude and peace that happens in those rail yards is something that I understood ... he was very drawn to," Cory says. "Those were just quiet places in the middle of nowhere."
Cory says it was Vaughn's pride in his work that drew admiration from both within and outside of the graffiti community. "So much about being a graffiti writer and participating in the graffiti movement is it's a craft, and in that comes craftsmanship, which is a lot of time shared through mentorship and sharing knowledge with others," he says.
One of those younger writers who followed in his footsteps is Freddy Diaz of Detroit. Diaz, now 24, says he met Vaughn when he was just 15.
"Before I even met Jordan, I admired his work," he says. "As a kid, I was like, 'Man, I don't know who that is, but I want to paint like that.'"
Diaz says he first became interested in Detroit's graffiti at a young age. "Graffiti's always been a big subculture in Detroit," he says. "All the art school programs in Detroit are really underfunded. And it's ironic because our art culture's so rich. There's a lot of talent, but as far as that went, we never really had an outlet."
Diaz was introduced to Vaughn through a mutual friend. "I was a little nervous because I was just a kid," he says. One day, Diaz says he was watching Vaughn painting on train track walls. "Jordan was like, 'Hey, you want to get on this wall and paint with us?'" he says. "I couldn't believe it. As soon as I was done, he said, 'Hey man, we're going to paint another wall tomorrow. You want to come with us?' After that I never left their side. I was like a little brother."
Diaz says Vaughn served as a mentor for him over the years, teaching him new techniques and building him up as an artist. "Every time I did something cool, or started to do better work, it was like the best thing ever for him," he says.
Another thing Diaz says he learned from Vaughn was perseverance. "He always wanted to do art ... but Detroit didn't even really have any money to sustain itself alone," he says. "It was really rough. He made a lot of sacrifices in terms of trying to be a great artist. But he jumped in nose-first, because he really wanted to be an artist. He really wanted to make a living off of art, and nobody was telling him how to do it."
And it was Vaughn who helped Diaz realize he could take his art to the next level. "He explained to me things like doing graffiti for the love of it, for the love of being good at what you do, not just going out and vandalizing people's stuff," Diaz says. "His thing was, 'If my stuff's going to be painted for the public viewer, it better be good.' I didn't want to be around graffiti artists who were just vandalizing. I wanted to be around somebody who was going to make me better every day. I didn't want to half-ass it."
Most recently, Vaughn and Diaz worked on a high-profile commission for the Lear Corporation's new building in Detroit's Capitol Park, where they each were paid to paint the center's stairwells.
"He set a bar for being a graffiti artist to being an artist," Diaz says. "You're either one or the other, in most cases. But he was so versatile. He'd write it in a way that was so universal that people would look at it and say, 'That's not a graffiti artist. That's art.'"
A GoFundMe campaign was started to raise funds to release a retrospective book of Vaughn's work. It has already surpassed its $10,000 goal, and organizers say any further money donated will go to Vaughn's family: gofundme.com/jordan-tead-vaughn-retrospective