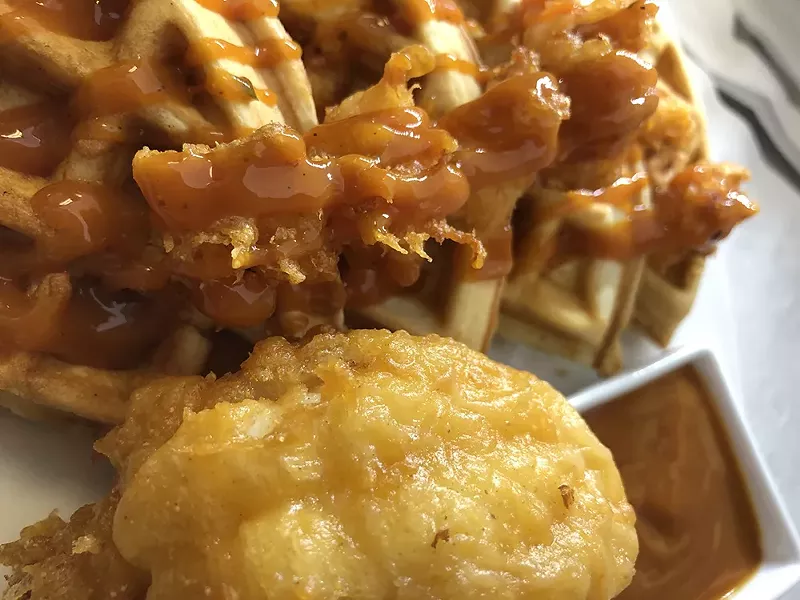 The Avenue of Fashion is getting more waffles.
A new restaurant called Waffle Café Detroit plans to open for business at noon on Thursday, June 1 in the former Lana's Bake Shop at 18685 Livernois Ave., Detroit.
It teases more than 45 different "gourmet waffles" with straightforward flavors like Classic Belgian and French Toast along with more out-there offerings like a "Bacon, Egg and Cheese Waffle Burrito" or a "Loaded Baked Potato" waffle.
The business also plans to sell ice cream and custard year-round, as well as seasonal offerings like soup in a waffle bowls.
It says it will use locally sourced ingredients and have vegetarian and vegan options.
The Black-owned business is the creation of artists and entrepreneurs Kimyana Freeman (ZanYé) and Larry Phillips aka DJ BOOG.
"Our mission is to provide amazing food with friendly service in a relaxing environment," Freeman said in a statement. "Waffle Café Detroit is not just a place to grab a bite to eat, it's a place to restore relationships, a place to create memories, and a place to bring families together."
She added, "I love being able to help people bring their dreams, goals and aspirations to pass. This year is about taking collaborative efforts and partnerships to the next level."
The project traces its origins to 2017 as a restaurant called Just A Bit of Soul Breakfast Café. It closed during the pandemic and was reimagined as Waffle Café Detroit.
It will be located just down the street from Kuzzo's Chicken & Waffles, the chicken and waffles restaurant launched by former Detroit Lions player Ron Bartell in 2015. According to its Instagram page, Kuzzo's temporarily closed for renovations in January. The restaurant previously closed for remodeling in 2019 while a construction project on Livernois Avenue put a squeeze on local businesses, reopening in early 2020 amid the COVID-19 pandemic, where it pivoted for a time to carry-out.
Coming soon: Metro Times Daily newsletter. We'll send you a handful of interesting Detroit stories every morning. Subscribe now to not miss a thing.

Follow us: Google News | NewsBreak | Reddit | Instagram | Facebook | Twitter