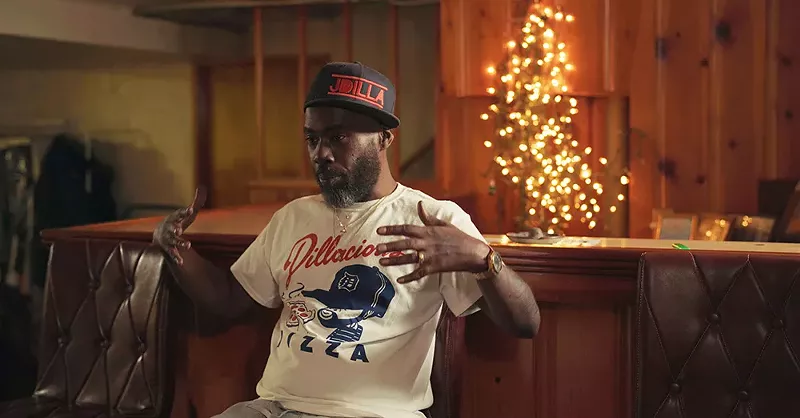 When James Yancey aka J Dilla died on February 10, 2006, at age 32 following a battle with a rare blood disease, the hip-hop community was stunned as many peers and fans weren't aware of the severity of the Detroit beatmaker and Slum Village member's health. As the years have gone by his reputation has only been enhanced via posthumous releases and "Dilla Day" celebrations held in Detroit and other cities. He was indeed your favorite producer's favorite producer.
Enter "The Legacy of J Dilla," a documentary produced by The New York Times and airing on FX and Hulu this week that seeks to put his legacy in perspective.
The doc starts by giving a short historical summary of Detroit's Conant Gardens neighborhood courtesy of emcee and friend Frank Nitt (of rap duo and J Dilla collaborators Frank n Dank, who appears throughout all of the documentary). Dilla's mother Maureen Yancey, brother John Yancey, and sister Martha Yancey speak on his childhood and his early beginnings into music (with plenty of photographs to show). But the backbone of the documentary is an audio interview with famed Swedish music journalist Mats Nileskär that was conducted during one of Dilla's European tours. I'm not certain whether this interview was previously released (or if it was ever widely circulated), but hearing Dilla's voice throughout the documentary is refreshing.
Philly's DJ Jazzy Jeff plays the role of beat analyst. He's there to explain the mechanics of Dilla's musical wizardry in a way that makes it digestible to the common viewer.
Detroit hip-hop artists DJ House Shoes, Black Milk, and Phat Kat share their viewpoints, while journalists Lauren Herstik, Edwin Houghton, and Detroit's own Kelley Carter weigh in throughout the documentary to provide context to Dilla's cultural impact.
Nationally renowned artists Raphael Saadiq and Robert Glasper also speak on Dilla's time with the Ummah and the Soulquarianas, and there's a litany of artist interviews borrowed from other platforms.
The most compelling parts of the documentary are when Maureen Yancey and Jonathan Dworkin (a former member of Dilla's management team) both weigh in on the infighting and disputes that took place over Dilla's estate. The documentary stays neutral, and allows the viewer to come to their own conclusions.
The doc is a must-see because it's the first to include his family, and details his frustrations, his musical accomplishments, and other lesser-known facts. The New York Times Presents: "The Legacy of J Dilla" premiers at 10 p.m. EST on Friday, April 7 on FX and Hulu.
J Dilla was one of the most influential producers in hip-hop. He died when only 32.

Our documentary, premiering on Friday on FX and Hulu, charts a life and career that left an indelible mark on music as well as the fraught negotiations over his legacy. https://t.co/a7mBAyirVx pic.twitter.com/t14YLusUnt

— The New York Times (@nytimes) April 3, 2023
Coming soon: Metro Times Daily newsletter. We'll send you a handful of interesting Detroit stories every morning. Subscribe now to not miss a thing.

Follow us: Google News | NewsBreak | Reddit | Instagram | Facebook | Twitter