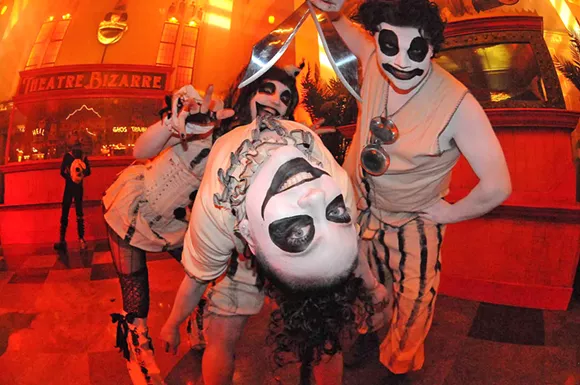 Turns out Theatre Bizarre isn't going anywhere.
In fact, it's expanding.
The epic, two-day masquerade that takes place Masonic Temple has a cult following and draws sell-out crowds. But, while tickets can cost guests upwards of $250, the costly party doesn't bring in a ton of dough, according to mastermind John Dunivant.
In hopes of making the whole thing a little more profitable, and thus more worthwhile for organizers, Theatre Bizarre is
expanding
to two weekends of dancing, fire-breathers, acrobats, and intricate, over-the-top costumes galore.
The event will take place on Friday-Saturday, October 14-15 and then Friday-Saturday, October 21-22. Friday is the Gala Masquerade where attendees will be able to explore the Masonic Temple all the while enjoying an open bar, strolling gourmet dinner, valet parking, and unique performances from David J of Bauhaus and the Theatre Bizarre Orchestra.
Saturday is way more of a party, filled with 20 bands playing at five different stages within the Masonic, burlesque performers, carnival games, ariel performers, and of course eye candy from all the costumes and decorations.
So prepare thyself and get those costumes ready (our favorites include this
Baphomet babe
) because Theatre Bizarre will be here before you know it.
To relive some of the magic, check out our photos from
last year's
spooky Masquerade.