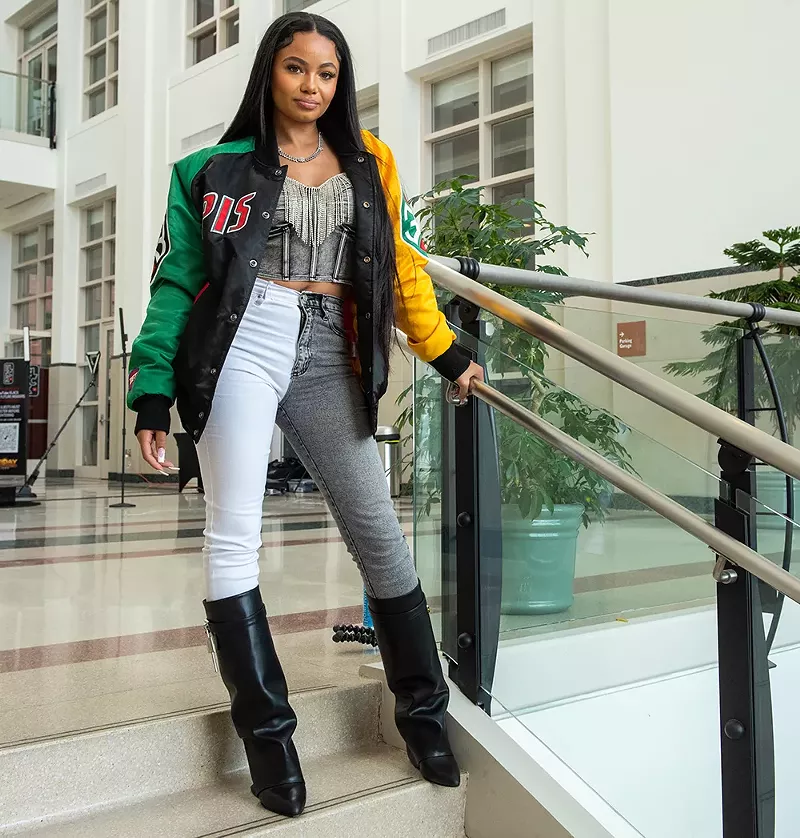 It's 90 minutes before showtime and 17-year-old hip-hop artist Brooklyn Queen is relaxed and carefree. She's dressed in a gray denim outfit, black boots, and a baggy leather Detroit Pistons jacket, and talking to the other hip-hop artists in the room while trading laughs with friend and collaborator Yanni Monett. There's not one sign of nervousness, and nor should there be — she's been on stages before she was old enough to pedal a bike.
"I started when I was 5," she says. "I did a school talent show. My parents wrote me this rap and that's when I knew I loved performing in front of people."
Broolyn's parents, both from Detroit, were hip-hop fans and even known to spit a bar or two. Her mother, a manicurist who goes by Nailtorious Kim, took Brooklyn's early interest in music and actively sought opportunities for her. She performed in showcases, non-profit events like "Coats for Kids," and even did a kid-friendly remake of the DoughboyzCashout hit "Good Ass Day" when she was just 8.
During this time Brooklyn's parents had developed a friendship with BMB Records owners Brian "Peanut Brown" and his wife Akia. BMB took Brooklyn under their wing, and Brooklyn's breakout moment came when she was 11.
"They called me at two in the morning like, 'You wanna come in the studio, an artist is acting up right now but we need to use the studio time,'" she says. "So I went to the studio and that's when I made 'Keke Taught Me,' which is one of my biggest songs now."
"Keke Taught Me" instantly became a teeny-bopper viral hit, amassing nearly 60 million YouTube views since it was uploaded in 2017. The bass-heavy bouncy track came with its own dance, and was essentially a TikTok song before TikTok. Brooklyn officially signed to BMB shortly after and has since established not only a career in music but also as a vlogger and influencer as well. (Both her YouTube and Instagram accounts have more than 1 million followers.)
"It was the first song that I ever seriously put out and it blew up!" Brooklyn says. "It was unreal. I'm thinking I'm living in a dream, like, this is not happening right now. And still today it's unreal."
Brooklyn has consistently dropped new music ever since. "Feeling So Wavy" was girly and cute, "Cowboy Slide" was another kiddie banger that came with its own dance, and songs like "Can't Loose" and "Crop 'Em Out" started to usher in her teenage maturity. Brooklyn will turn 18 this July, and she's content letting the changes in her music happen naturally.
"If you look back at my older music, they are like real kiddie songs, but I'm growing up and going into my more mature music. ... I feel like it just comes naturally," she says. "A lot of people that I talk to before, they like, 'So you're going to stay kiddie and then when you turn 18 you're going to transition?' But I'm just me, so I'm going to act like me, so it's natural."
Her new music reflects that. Her song "Receipts" featuring Yanni Monett has a Kash Doll-ish aggressiveness and Detroit punch to it as she raps: "Bitch you weak, and you know not to do that shit with me / Yeah, you know not to play with BMB, yeah you never match the energy you seek / Chill on me bitch, chill on me."
"I'm like, this is not Miley Cyrus," she says through a laugh.

tweet this
Meanwhile, on "Trying to Breathe," Brooklyn offers an authentic conscious hip-hop perspective on racial equality and police brutality: "Four hundred years we've been fighting for this / Living just to fight / We're just fighting to live / It's like we fighting for our rights / And a right to exist / Imagine how the world looks through the life of a kid."
"I'm like, this is not Miley Cyrus," she says through a laugh. "I'm going to act like me, I'm going to do me, and y'all are going to see that. And I feel like my supporters grow with me."
Her journey has not been without bumps. Earlier this month, Booklyn and her parents made an appearance on Dr. Phil to address a woman that has been sending Brooklyn messages claiming that she is her real mother.
"She started contacting me through Instagram DM and at first I thought it was just a fan playing around," Brooklyn says. "But over the years it was still the same lady reaching out that really thinks I'm her daughter."
The woman commented while Brookyn was on Instagram Live last year, and Brooklyn quickly decided to add her to the Live session and address her for the first time — in front of her fans.
"I [thought] if I did that she may get it through her head that I'm not her daughter," Brooklyn says. "She was like, 'Let's take this to Maury (Povich),' and I said, 'Let's take it to Dr. Phil.'"
Although the woman wasn't present at the Dr. Phil show, Brooklyn and her parents explained the issue, took a paternity test, and cleared any doubt about their daughter's parentage. Even though they've taken the matter public, Brooklyn says the woman is still trying to make contact with her. She says she tried to file a restraining order but couldn't, since the woman doesn't live in Michigan. "They need to fix the laws because a lot of people have stalkers like this," Brooklyn says.
Brooklyn and her parents even recorded and released a diss song about the woman. The song, titled, "Parental Advisory," has added an entertaining twist to a very serious matter — and might be the first time a hip-hop artist has had her parents join her on a diss track.
"I just feel like it's been a very stressful situation we've been going through and I'm one of those people that likes to express myself through music," Brooklyn says. "So let's just make a song about it, let's just diss her."
Despite the talk show detour, Brooklyn says she's more focused on her career and music now more than ever. She's a lifelong fan for Beyoncé and has similar aspirations.
"In 10 years Brooklyn Queen will most definitely have a Grammy," she boastfully predicts. "I'll be in a big film or a TV show. By 27 I'll probably have a family, but I'm not worried about that right now. I just feel like I'll be doing the same things I'm doing now but on a bigger level — acting, modeling, rapping, all that good stuff."
From the 2023 new Detroit music issue.
Coming soon: Metro Times Daily newsletter. We'll send you a handful of interesting Detroit stories every morning. Subscribe now to not miss a thing.

Follow us: Google News | NewsBreak | Reddit | Instagram | Facebook | Twitter