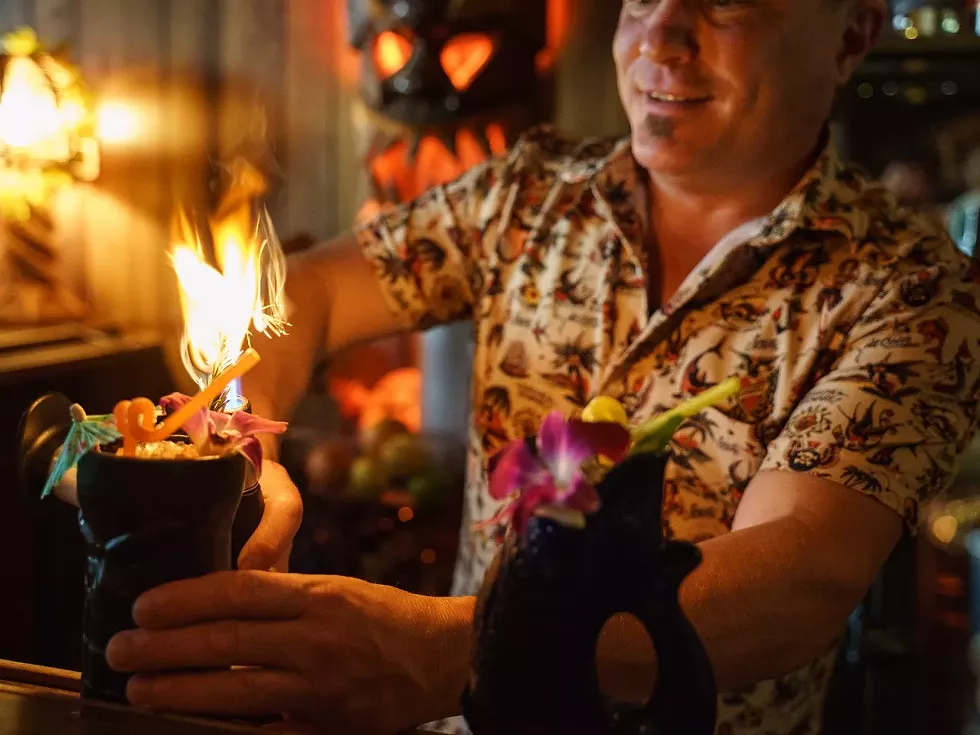 You're cozied up under a thatched roof, wearing a Hawaiian shirt and a lei, sipping a sweet drink out of a coconut with a tiny umbrella in it. The beach, however, is nowhere to be found. You can only be in one place — the ersatz oasis of the tiki bar.
Especially in the winter, and especially in a place like Detroit, it's easy to understand the appeal.
"You come in, it's 20 degrees outside, you're freezing all day," says Chris Vanderginst, one of the owners and general manager of Southwest Detroit's Mutiny Bar. "We keep it a little bit warmer than it should be, luckily because we have a boiler. There's wicker chairs, there's a shark hanging from the ceiling. There's the netting, and the Christmas lights overhead. It feels like you're just on a getaway — we are your vacation for the next two hours."
Once considered passé, tropical-themed tiki bars are making a comeback in cities across the country, and Detroit is no exception. In November 2017, Mutiny Bar opened its doors in Southwest Detroit, and in June 2018, Lost River started slinging drinks on the east side. In recent years, Ferndale's Oakland Novelty Co. hosted Honi Honi, a tiki-themed pop-up.
The tiki bar rose to prominence in the 20th century, when spots like Don the Beachcomber in Los Angeles and Trader Vic's in Oakland opened in the 1930s, creating a cheap respite from the doldrums of the Great Depression. But the genre really took off after World War II, when military vets — including Don the Beachcomber proprietor Ernest Gantt, aka "Donn Beach" — returned home after serving stints in the Pacific with an appreciation for all things Polynesian.
With its "primitive" island motifs and strong beverages, the tiki bar contrasted with the clean lines and buttoned-up style of mid-century modernism. Soon, tiki bars began appearing all across America, including Detroit. By the 1960s, the Motor City had its own Trader Vic's outpost in downtown's former Hotel Statler, and former Ford engineer Marvin Chin opened Chin Tiki in the Cass Corridor. Then there was the Mauna Loa on West Grand Boulevard, with its grand tiki statues, transplanted palm trees, and even an indoor waterfall.
Tastes change and the tiki bar fell out of style, with Detroit's tiki bars shuttering as the city's economy bottomed out in the 1970s. But within the past decade, there's been a nationwide tiki bar revival, led by spots like San Francisco's Smuggler's Cove, Chicago's Three Dots and a Dash, and New Orleans' Latitude 29.
Lost River co-owner Matt Mergener says he was inspired to open a bar after visiting spots like those on his travels. "Five or six years ago I was traveling and I started to see the tiki bar starting to come back," he says. "I had the idea at the time that this would be a cool thing to start and to bring to Detroit. I like craft cocktails, but I like the more easygoing and less-stuffy nature of tropical cocktails."
Vanderginst echoes the sentiment, having served as general manager of the high-class Detroit craft cocktail bar Sugar House. After Sugar House experimented with a tiki-themed summer menu, he started Mutiny Bar along with Sugar House owners Dave and John Kwiatkowski. Like Sugar House, the idea was Mutiny would have flashy, inventive drinks, but at a more accessible price point.
"That's a big part of tiki, and craft cocktails in general, is the show and the entertainment," he says. "The bartender — they're almost like little rock stars, you know what I mean? They're entertaining. They're providing more than just a beer and a shot."
At tiki bars, that showmanship extends to drinks like the Scorpion Bowl, which is lit on fire, reminiscent of a tropical volcano. Another tiki bar tradition is to serve the drinks in ornate glassware — often in the shapes of coconuts, statuettes, or other island motifs. Half the delight of tiki drinks is the surprise at seeing what sort of vessel the drink will come in, and the tactile experience of twirling the mug around and admiring it.
"It's kind of a kitschy tiki bar thing to have the glassware," Mergener admits. "Some tiki bars will do it, some won't. We definitely wanted to do it — it's fun."
Of course, it comes at a cost.
"I buy like 48 at a time because it's an unfortunate byproduct of having a tiki bar with really fancy, nice glassware that people tend to sneak out the door with them," says Vanderginst.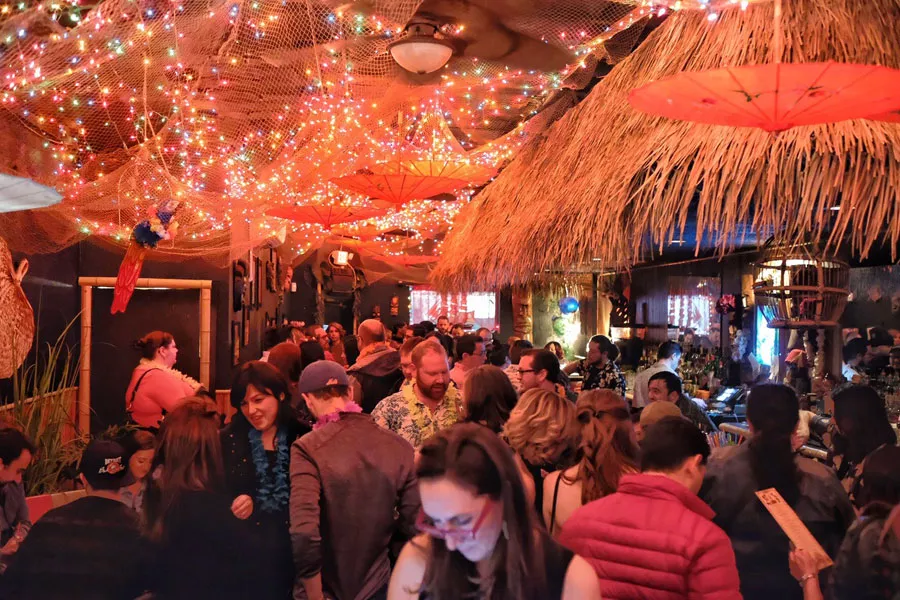 One surprising aspect of the tiki bar revival, however, is its timing. The trend comes just as there is a growing awareness and sensitivity to concepts like cultural appropriation, but it seems that so far, these neo-tiki bars have evaded such criticism.
Part of the reason for this could be that tiki bars have always been more of a romanticisation and amalgamation of different tropical motifs, rather than outright appropriation.
"Trader Vic started with a collection of knick knacks that he had collected from his travels," Vanderginst says. "A lot of that stuff is a mix and match from all over the place, and it all kind of became known as 'Polynesian.'" (The proprietor of the now-defunct Trader Dick's in Reno was forthcoming about the inauthenticity, confessing in the bar's menu, "Folks, I've never been to the South Seas... none of these recipes are mine...")
That said, both bar owners say they are careful in terms of the references they use, eschewing tribal or totem imagery in favor of more universal tropical motifs.
"I think a lot of the tiki bars that are opening, they don't necessarily resemble the old tiki bars because I think there is more of an awareness of that," Mergener says.
The word "Tiki" comes from the name of the first man in Maori mythology, and has since become used as a catch-all name for any sort of humanoid form carved out of wood. For this reason, Mergener says he prefers to call Lost River a "tropical bar" rather than a "tiki bar."
He says that some tiki "purists" — if there can even be such a thing — can be critical of this new crop of tiki bars. "That's our reaction, comically, when people are like, 'You're not tiki enough to us.' We're like, 'tiki' is not a real thing," he says. "It's an appropriation, it's a bastardization of other cultures. The mugs are from Japan. The recipes are from Filipino bartenders. And then you have the weird kitschy American elements to it from the '50s." In a sense, then, perhaps tiki bars are as American as apple pie.
"It can go in so many different directions," he says. "That's why tiki can be whatever you want it to be."
While these new tiki bars are not based in any particular culture, one common trend is a reverence for history, and what both bars do reference explicitly is tiki bar culture, and especially Detroit's tiki culture. Both Mutiny and Lost River have amassed a small trove of ephemera, including mugs, menus, and signs from Detroit's bygone tiki bars, which are on display. Meanwhile, Lost River has light fixtures carved by noted tiki bar designer "Bamboo Ben" Bassham.
There's also the canon of tiki drinks, with both bars adhering to and riffing off the recipes of classics like Mai Tais, Painkillers, and Zombies.
For example, for its Painkiller, Lost River uses Pusser's, a rum based on old British Navy recipe, just as the original Painkiller recipe calls for. "I mean, there's some variations that you have to make because of history and time, and some things aren't available," Mergener says. "But where possible we use a lot of the original rums that were called for." Meanwhile, at Mutiny, Vanderginst says they tweaked the classic recipes to make them more balanced and less sweet.
As far as there being room enough in this town for two tiki bars, neither bar owner sees a problem. After all, tiki bars are all about conviviality. "We're friends with them. The nice part is they're on the west side of town, and we're on the east side of town," Mergener says. "All tiki bars are going to have a similar vibe to them. You're probably going to end up serving some of the same drinks. But if you do it right, you're going to have your own vibe. Detroit is too small of a town to not run into each other."
And anyway, both bar owners say they just wanted to create a no-frills neighborhood spot to enjoy a drink. Again, there's that idea of escapism.
"We don't want to be a snobby bar where you come in and I tell you about your 23-year-old rum that I have and where it's from and whatever," Vanderginst says. "I can answer all those questions, but I'd rather just make you a drink, make you laugh, and have a good time."
Mutiny Bar is located at 4654 Vernor Hwy., Detroit; 313-406-4043; mutinybar.com. Lost River is located at 15421 Mack Ave., Detroit; 313-720-0673; lostrivertiki.com.
So many restaurants, so little time. Sign up for our weekly food newsletter delivered every Friday morning for the latest Detroit dining news.